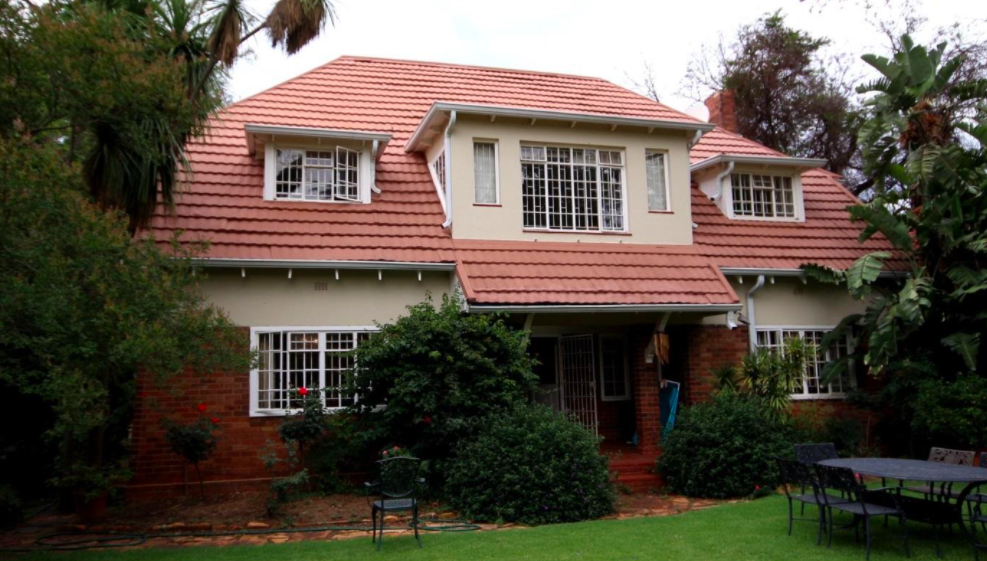 Thursday, June 10, 2021 - 09:04
It is with regret that I inform the heritage community of Johannesburg that a special Robert Howden house has been demolished. No application for demolition was received by the Joint Plans Committee East of the Johannesburg Heritage Foundation and it would appear that an application for demolition was neither received nor approved by the Provincial Heritage Resources Agency of Gauteng (PHRAG).
I mourn the loss of this lovely heritage home. It happened in a flash with a new owner choosing demolition ahead of preservation. Bulldozers have flattened all. Lorry tracks form ridges on the friable red earth. At the rear of the property, the original double garage and the staff quarters still stand; probably still useful to store building material or be a building site office or house a security guard.
The Robert Howden home has been demolished (Kathy Munro)
At the front of the property on 4th Avenue there is a front boundary wall and stylish main driveway gates. But those are not heritage features. Although in keeping with the arts and crafts style of the house, the wall and gates were erected in the last decade.
Main Gate (Kathy Munro)
The red earth of what will soon be a building site stretches across this Houghton acre. It is quite likely that the new owner of this Houghton acre plans to construct multiple housing units. Instead of a single family dwelling there will probably be a crowding in of 12 townhouse units not dissimilar to a development on 11th Avenue; a few years ago another Howden house was also demolished, garden destroyed and trees felled. Small expensive town houses with front walls almost at pavement edge make for much higher densities and crowded living yet the exclusive address of Houghton is retained.
The loss of the trees is as distressing as the loss of the house. The fine trees, jacarandas, oaks, palms - all planted some 80 years ago have been felled. A beautiful established garden cultivated over the decades is no more. The tennis court and the swimming pool are gone. The loss of a house of this character and type speaks too to the loss of a lifestyle of an older generation of Houghton people who put down roots in the thirties when JCI began to sell off stands once Munro drive created a pass from Upper to Lower Houghton.
Old postcard of Munro Drive
  
The economics of property has turned against old Houghton; the market for large old beautiful single family older homes has shrunk. Older mansion style homes were set in the middle of a generous sized garden. It was a lifestyle supported by servants, garages for several cars, tea on the lawns, afternoon tennis and an evening dip in a crystal blue pool. Today there appears to be a new class of property developer with his eye strictly on the profits that can be made from redevelopment. The land of a Houghton acre is more valuable taken back to raw earth and then recycled and reused for new housing units. Instead of a single grand home with garden, tennis court and swimming pool, the preference is to densify with a secure multi dwelling housing complex. From the perspective of the developer, large profits are to be made from the purchase of an older home and bold demolition. Scant regard is paid to heritage, preserving a prior architectural gem. A new town house complex of 10, 12 or even 15 new units appears on the erf within a year.
Do the older heritage homes have a future? Who will conserve and preserve and value heritage architecture? The Houghton Residents Association and the Johannesburg East Joint Plans Committee of the Johannesburg Heritage Foundation keep an eye on such happenings but the legal authority which should act to ensure due process and fulfil the heritage mandate is the Provincial Heritage authority of Gauteng.
Below is an article I compiled in 2018 on the significance of the house. Many of the photographs were taken by Gail Wilson.
The significance of 32 4th Avenue Houghton
A heritage house of significance has been identified. The address is 32 4th Avenue Houghton and the stand number is 1352. This home was designed by the renowned early Johannesburg architect, Robert Howden in partnership with A J Stewart. The house was built in 1935. The 60-year rule applies to this house and hence it falls under the protection of the National Heritage Resources Act. Any proposal to alter the home or any application for demolition would need to be submitted to the Provincial Heritage Resources Authority of Gauteng. It is also advisable to consult the  Johannesburg East Plans committee of the Johannesburg Heritage Foundation, which assists and provides advice and guidance on heritage home and is recognized by the City Planning Department and the PHRAG.
There are a number of good Johannesburg architects with a hands on approach to Heritage properties. For example: Brendan Hart and Yasmin Mayet, Joy Campkin Smith is an architect who specialises in heritage developments; Marcus Homes is an expert architect and finally Clive Chipkin, premier Heritage historian and author of Johannesburg Style and Johannesburg Transition is a distinguished architect who would be able to develop a site plan and advise how a heritage property on a Houghton acre could be retained to add value to a new cluster home development. (Sadly Clive passed away in January 2021)
It should be noted though that in terms of the City of Johannesburg's Regional Spatial Development Framework a large part of Houghton and particularly Lower Houghton is currently undergoing extensive redevelopment.The new trend is to favour the construction of cluster homes and town house complexes, allowing for an increase in population densities on the Houghton acres. Redevelopment is not without controversy as commercial and business opportunities and new property investment in the suburb result in the destruction of fine old homes, of which this is a typical and particularly good example. Heritage thus confronts the process of rezoning, property renewal and redevelopment.
Houghton properties are particularly appealing because of their size, what is called a Houghton acre; the normal acre is 4046,86 square metres, whereas the old erven of Houghton usually measure 3950 square metres.
Nonetheless Heritage legislation applies to all proposed redevelopments. This house has heritage status. In this instance demolition will be opposed and challenged by the heritage community. The house is an expression of the work of a specific significant architect, the architecture is of considerable merit and the house speaks to the context of the history of Houghton, and most specifically Lower Houghton.
Some thirty years ago effort on the part of a nascent heritage community was poured into "saving the  old homes of Parktown". The Upper Houghton community pays close attention to its heritage homes - a fine study by the heritage architect Rocco Bosman in 2007 prepared a heritage survey of Upper Houghton (click here to view) and as a result of strong heritage representation and an awareness of the history of Upper Houghton, that suburb  has achieved recognition as a heritage suburb.
Upper Houghton photographed from the Wilds (The Heritage Portal)
Lower Houghton needs a heritage plan. As mentioned, the suburb is currently undergoing extensive review and renewal with many older homes facing demolition as land is retrieved for redevelopment. Johannesburg's architectural heritage is currently under threat.
Case study of a home, representative of the domestic architecture of Robert Howden and A  J Stewart (Howden and Stewart)
Located in Fourth Avenue Lower Houghton, this double storey family home comprises eight rooms and is in excellent condition. The house is well proportioned and is positioned centrally on just under an acre of ground, on what is called Houghton acre.
The design is strongly traditional in arts and crafts metier with face brick and plaster walls, cottage pane windows at ground floor level and dormer windows set in the roof at first floor level. There is an additional outbuildings wing at the rear of the house, garages, servants accommodation and storage rooms around an attractive back courtyard comprise the outbuildings.
Original plans of the house (Kathy Munro)
The house has been relatively little altered since it was built in 1935 although a new scullery was added to the kitchen at the rear (this was not a significant change) and the original shingles roof has been overlaid with Marley tiles. The shingles remain under the visible Marley tiles. It should be noted that in the South African climate shingles are a difficult to maintain roofing material so a change to a tiled roof painted a pleasing ochre colour is a logical decision and does not impact significantly on the heritage value of the house.
This is a heritage home worth preserving. It is a house that deserves a blue plaque. Robert Howden was responsible for the design of 17 homes in Parktown.
Photograph of Robert Howden as a young man. Born 1869. Died 1952.
The significance of this house lies in its location on the stand, it representing an original Houghton home from the 1930s, being designed by an important architect, the specific interior finishes and features (as evidenced in dormer windows, original fireplaces, doors, the staircase, flooring, clever wooden benches fitted into nooks). There are fireplaces in every major room and attention has been paid to craftsmanship in the surrounding woodwork (mainly teak). This is a well-proportioned house that makes full use of the interior spaces as the upper storey blends into the roof and the chimneys are distinctive and characteristic of the Howden and Stewart style. The house is an expression of a gracious though not ostentatious lifestyle of Houghton families who have made their homes in this type of home for nearly eighty plus years.
Over a period of  86 years there were four family owners. One family in particular was interested in the retention of the original look of the house. In the 1980s, they found that all the woodwork, the marble fireplace, and some floors were painted white. They restored the woodwork and marble fireplaces. They erected an external wall and gates on 4th Avenue in keeping with the architecture of their Howden and Stewart house.
View of the house from the driveway on the East side (Gail Wilson)
View of the house on the East side showing chimneys and rear dormer windows plus screening wall to rear courtyard (Gail Wilson)
Rear external view, from within court yard, south side. (Gail Wilson)
Original fireplace in the principal reception room with marble surround and wooden panelling and wooden (teak) plate rail. (Gail Wilson)
Fireplace with gas fire in main bedroom, fitted with a town gas period heater. (Gail Wilson)
Central staircase of the home with teak hand rails and recessed landing bench which doubles as a cupboard. (Gail Wilson)
Central ground floor hallway, octagonal shape giving access to each of the principal rooms, a passageway positioned at the centre gives access to the kitchen area, the closed door leads into the dining room. (Gail Wilson)
Original bath in the principal upstairs bathroom – cast iron on clawed feet with original brass fittings. (Gail Wilson)

Robert Howden was a Johannesburg architect of stature. He was born in 1869 in Yorkshire and died in Johannesburg in 1952. Howden was an Englishman from Yorkshire but emigrated first to Australia where he trained as an architect at the Royal Victorian Institute of Architects. He subsequently was elected a member of the Society of Architects, London and became a fellow of the Royal Institute of Architects. Howden arrived in Johannesburg in 1892 and in the early 1900s he went into partnership with Arthur James Stewart; they promoted their firm as "Architects and Engineers". This was an unusual combination of skills in a single firm as it combined design and technical engineering skills. Stewart was a Scottish immigrant. His dates were 1872-1942. He arrived in Johannesburg in 1903 and the partnership of Howden and Stewart lasted from 1904 until at least 1935.
Johannesburg of the 1890s was a blossoming mining town; the first phase of mining camp had disappeared and far more substantial edifices were planned and erected. Howden and Stewart were responsible for a number of important buildings in Johannesburg in the early years such as:
the Congregational Church in Bree Street,  
St George's Presbyterian Church in Noord Street
the Wesleyan Central Hall on Von Brandis Square
Mackay Brothers, Pritchard Street
the  Walter Wise building in Joubert Street
Howden's most important building was the Transvaal University College / School of Mines, facing Eloff Street, on Plein Square (later the Witwatersrand Technikon). Howden and Stewart won the competition for the design of the building (there were 29 submissions from 28 architects who together submitted some 270 drawings - see Michael Walker's The Pioneer Architects of Johannesburg pg 49). The original plans of Howden and Stewart show a grand plan for the Transvaal University College, meant to occupy the entire area of Plein Square. However, the actual building erected, though based on the winning plan was far more modest. It nonetheless was an important piece of civic architecture and the building is an expression of Howden's interpretation of Italian renaissance architecture. Erected in 1906, this handsome educational building spoke about Johannesburg as a colonial city coming of age with aspirations for its own university. It was Howden's most significant public commission.
Postcard of Transvaal University College

Howden and Stewart were also the nominated supervising local architect of erection of the Johannesburg Art Gallery, as designed from 1911 to 1915. Herbert Baker was also the collaborator of that project.
Johannesburg Art Gallery (The Heritage Portal)

Robert Howden was President of the Association of the Transvaal Architects in 1911 and its successor body, the Transvaal Provincial Institute. He became the President of the Institute of South African Architects. He worked towards the statutory registration of the profession of Architecture and Quantity Surveying in South Africa achieved in 1927. Howden was affectionately regarded as the father of the architectural profession in South Africa and his contribution was recognized with the creation of the Howden Scholarship.
Howden and Stewart were the architects of St Katherine's School in Westcliff, 43 Escombe Avenue (designed in 1918). The firm was also responsible for the design of several houses in suburbs such as Parktown, Parktown West, Forest Town, Houghton and Parkview. They were also active in shaping domestic architecture in Johannesburg. Howden did not slavishly follow the Baker Transvaal vernacular style then popular for the baronial homes of the Randlords. Jonathan Stone identifies Stoneleigh (no longer standing) at 14 Jan Smuts Avenue as Howden's "only grand mansion in Parktown". Erected in 1919 it was demolished in 1933 to be replaced by a modernist home, called Janeal, the home of the Miller family. Stoneleigh was in Palladian style and resembled Villa Capra at Vicenza Italy (Jonathan Stone).
Janeal (The Heritage Portal)

His other known houses were:
Merrowdown 19 Rhodes Avenue, Forest Town
9 Sherwood Road, Forest Town
14 Campbell  Road (1910)
7 Seymour Avenue (1917)
13 Pallinghurst Road (1919)
18 Doveton Road (1920)
23 Loch Avenue (1920)
8 Gale Road (1922)
19 Rockridge Road (1921)
14 Escombe Avenue (1922)
6 Federation Road (1923)
88 Westcliff Drive (1929)
14 Gale Road (1930)
1 Gale Road (1935)  
Howden's own home was at 6 Rhodes Avenue and he was the architect
Jonathan Stone and Leigh Jackson make the point that Howden and Stewart houses followed a stringent rule of a division of the façade vertically into three equal sections reflecting similar divisions internally. In Howden's domestic architecture there is a subtle switch from Italianate to English arts and crafts vernacular. Howden was never a "modernist architect". His houses were strictly of a fairly modest family type of dwelling for people who favoured traditional architecture. "Doors, windows, chimneys and gables are placed symmetrically even where the style changes from Italian to English vernacular" (Stone and Jackson)
In Upper Houghton, Howden and Stewart designed Cullinan House for Joseph Mitchell, the brother in law of Thomas Cullinan. The house was built by Thomas Cullinan. Located at 6 Ash Street, this home is in Italianate style but with a strong Arts and Crafts feel. It has been described as the only extant Art Nouveau house in Johannesburg. This house was declared a National Monument, despite some internal alterations, in the 1980s and so remains a provincial heritage site.
Cullinan House (The Heritage Portal)
In 2015, the Johannesburg Heritage Foundation was consulted about the proposed rezoning and then demolition of Stand 1796 in Lower Houghton, 30 11th Street. This home was also a heritage home by Howden and Stewart Stand, designed for Ethel Stucke. This too was a double storey house of considerable architectural merit and as a Howden and Stewart House dating from the early 1930s was worthy of conservation. The distinguishing features of this Howden and Stewart house were the wooden panelled original entrance, the fine wooden stair case, good old fireplaces in downstairs rooms, fine chimneys, quality natural wood parquet flooring and quality woodwork.
However, the interior had been significantly altered after 1990 and the house had been converted in the offices of an architectural practice to allow for open plan offices. This house was demolished, the property was rezoned and a fine example of the work of Howden and Stewart was lost. Noting that this property was in Lower Houghton, its loss makes the preservation of 32 Fourth Avenue even more desirable.
Robert Howden was also responsible for the design of a standard selection of  6 houses in Parkwood in 1920 built for the Transvaal Consolidated Land and Exploration Company. These were built by the  Company to be sold on a speculative basis. The prices ranged from £1 600 to £1 725. Potential purchasers were expected to put down £400 to £525 in cash and thereafter to pay monthly instalments of  £16-19 (source of information files of TCL company, Barlow Rand archives). These were simple detached bungalow style homes with tiled roofs, chimneys with strong symmetry in design retained.
Conclusion
A close study of this Houghton home raises the significance of the house as an example of the domestic architecture of Howden and Stewart. Clive Chipkin commented: "the house seems a good example of 1930s quality dormer residential; however it is difficult to fit it into any exact category with the original shingle roofing no longer visible. Nonetheless, I think it is worth keeping".
With reference to a future development; it is logical that the land, which has been subdivided and rezoned for further domestic / residential, awaits new housing inserts. Chipkin adds: "I cannot understand why a development cannot incorporate this existing house into a housing complex of 3, 4 villa-houses - with this residue adding value by its historic presence, which would be enhanced with sculptural glazed ceramic plaque celebrating its history & giving it a name like "Howden House". External garden stone work is of value. There is an opportunity to capitalise on the heritage advantages of this home, and ensure that both the original home and the well – established fine trees in  the mature garden are saved.
Essential bibliography
Anna Smith, Street Names of Jhb (1971)
Michael Walker, The Pioneer Architects of Johannesburg and their buildings 1886- 1899 (2013)
Jonathan Stone and Leigh Jackson: Robert Howden  A 7 in series on the Architects of Parktown (1991) 
Homes of the Golden City, Macmillan/ Rosenthal (1948)
G M van der Waal,  From Mining Camp to Metropolis, 1987
Clive Chipkin, Johannesburg Style (1993)
Original research in archives of the Johannesburg Heritage Foundation Resource Centre
Barlow Rand Mines Archive at Barlow Park (soon to be relocated to Wits)
Field and photographic visits to Houghton
Disclaimer: Any views expressed by individuals and organisations are their own and do not in any way represent the views of The Heritage Portal.