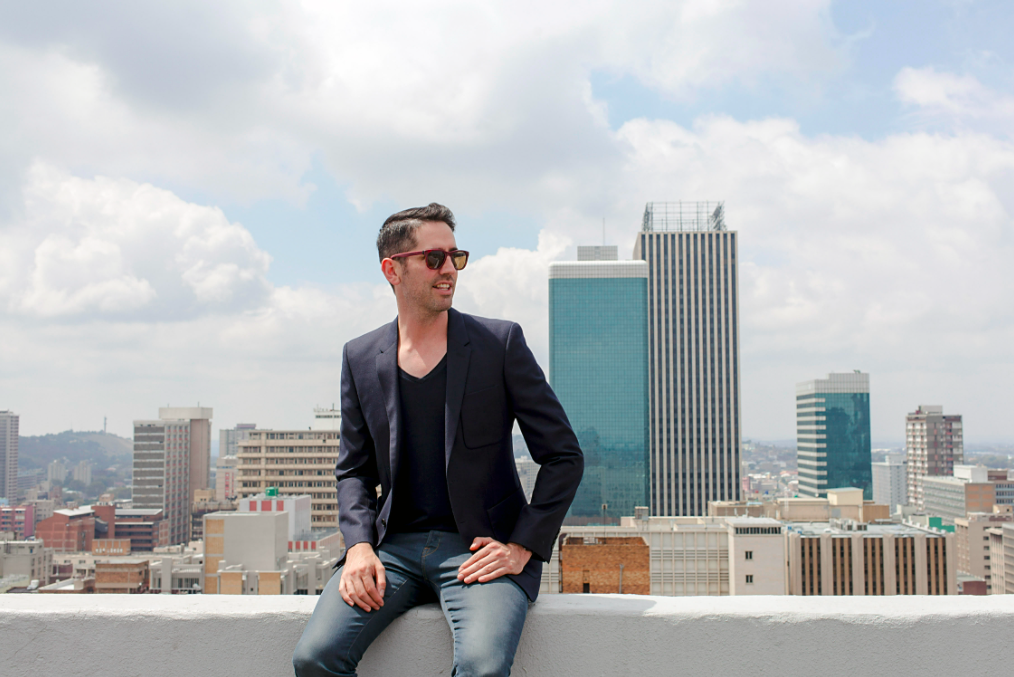 Wednesday, August 25, 2021 - 16:41
I have wondered for a while who the man behind the sauve and dashing whatsapp photo is. So, I called coffee, and discovered that heritage architect Brian McKechnie is a down-to-earth, relaxed bloke, passionate about the gracious old buildings in the city and still invested in one of them, Anstey's in Joubert Street. He laughs when I ask about the photo, saying he was asked to model for Meghan McCabe, who needed images for her photography portfolio.
Ansteys Building (Brian McKechnie)

His professional footprint is all over the place, stretching across some of the city's oldest suburbs – Victoria Yards, 1 Fox Street, Markham, Rand Club, the Kopanong Provincial Government Precinct, Villa Arcadia, Rand Steam, the Rand Club and Villa Arcadia.
Blue plaque unveiling at the Rand Club (Johannesburg Heritage Foundation)
"There is so much heritage architecture in Joburg," he says.
As a heritage architect, his focus involves research of buildings, analysing their significance and uses, and developing a conservation methodology, and guidelines for them. And their demands are varied - Rand Steam involved a clever reconstruction of a wilfully demolished site, while Vic Yards was a mishmash of old warehouse buildings, repurposed into a creative space of studios, community gardens and restaurants. 
Adaptive reuse at the Rand Steam Laundries site (The Heritage Portal)

When not working as an independent heritage architect, he is an associate architect at Activate Architects and has worked on significant projects with them, including Innes Chambers in Pritchard (the home of the National Prosecuting Authority), the Anglo American buildings in Main Street, and the Sol Plaatje University in Kimberley.
Innes Chambers (Brian McKechnie)

"The Anglo American buildings in Main Street have seen no change over the years, which is very different to Vic Yards, which has seen many changes over the years," he explains. And the two buildings have subsequently been well cared-for, but they are a different company these days, so are moving out this year. The buildings are to be made into a mixed-use precinct consisting perhaps of a business hub and a mining campus. Showcasing the gorgeous Art Deco features of the building, and Anglo's artworks, are also possibilities.
44 Main Street (The Heritage Portal)

His heritage enthusiasm goes further - he is serving a third term as a member of the Provincial Heritage Resources Agency of Gauteng (PHRA-G), the body responsible for looking after the heritage sites and buildings of Gauteng. For all the frustrations of working with a government department, his contribution there has been valuable.
"He has served on the PHRA-G, doing his best to protect what is worthy. He uses charm wherever possible but becomes firm if that fails," says fierce heritage champion Flo Bird. "I value his friendship and enormous contribution to saving the city's heritage from all architectural periods," she adds.
He contributes to the city's heritage in another way - as a member of the Johannesburg Heritage Foundation (JHF). "Brian has made a wonderful contribution to JHF with his entertaining virtual tour inputs. He is one of my favourite fellow heritage enthusiasts," says Kathry Munro, Honorary Associate Professor in the School of Architecture and Planning at Wits University, and long-time heritage enthusiast.
He has been involved in the grand Rand Club for a dozen years, bringing fresh ideas and energy to this treasure in the inner city, much needed after it went into a nosedive in 2015 but subsequently recovered admirably.
The Rand Club (The Heritage Portal)

Others have recognised his talents too. In 2015 he was selected as one of the 200 most influential young South Africans in the Mail & Guardian's annual feature. And in 2012 he was nominated for the Johannesburg Development Agency's Colosseum Award for conserving Joburg's heritage.
The Colosseum Award designed by Cecil Skotnes

City reached its pinnacle
Brian feels that the city reached its pinnacle in the build-up to 2010, when so many "positive things" were happening, besides the building and revamping of stadiums in the city. Turbine Hall was re-imagined for Anglo Ashanti Gold; Anglo American upgraded 44 Main Street; the Carlton Centre was occupied by Transnet and was almost 100% occupied; Mary Fitzgerald Square in Newtown was given a new face; the Nelson Mandela Bridge was built; Maboneng and 1 Fox Street, on either side of the inner city, took off; Braamfontein sparkled; and the big banks, FNB, Standard and Absa, stamped their presence firmly in the CBD.
Turbine Hall (The Heritage Portal)
Carlton Centre (The Heritage Portal)

"Jo [Buitendag, inner city graffiti tour guide] and I invested in Joburg as an extension of ourselves and our brands, as part of shaping the city," he says. An example is putting pressure on Old Mutual to halt the deterioration of the 1931 Barbican. It was eventually renovated in 2011.
Barbican Building (The Heritage Portal)

But after 2016 the city "hit a road bump and hasn't managed to find its stride again".
Then when the country and the city went into lockdown in March 2020, he feels that "the value of yourself devalued. I have had to divorce my identity from the city a bit." 
He laments: "I'm not always sure where the city is going anymore." Many would agree with that.
Architectural horrors
This is particularly the case when you see some of the "architectural horrors" in the city, he says. Examples are the Leonardo in Sandton, a gigantic sore thumb that sticks up into the sky in an ungainly manner; and 144 Oxford Road in Rosebank, with its two, large empty arms stretching out from a lifeless body that looks out on the world in a dispassionate manner.
Leonardo under construction (The Heritage Portal)

This doesn't mean that all is lost. "There is still great architecture in Joburg," he says. Circa art gallery in Rosebank is an example. "If you look at the building in 40 years' time, it will still be considered a great building". The new council chamber at the top of Rissik Street is another example of outstanding architecture. "It almost hovers, with the pool underneath the building, beautiful light inside, from where councillors can see the city they're serving." The architect of both buildings is Pierre Swanepoel, one of Brian's favourite city architects. Other favourites are Kate Otten and GASS Architects.
Circa Gallery (The Heritage Portal)
Council Chamber (The Heritage Portal)
Brian owns a house in Northcliff, designed by Koseff Van Der Walt Architects (they also designed Investec's building at 54 Fox Street). I haven't been inside it but photos reveal it to have floor to ceiling windows, big indoor spaces and big views across western Joburg.
I ask what his ideal house would look like. "If I designed my house from scratch - I change my mind all the time - but big windows with great views and open, light interior spaces."
So, what does he do when not filling his day with buildings and stuff? He's a regular gym goer, and enjoys swimming.
Brian owns three vintage cars – two Mercedes Benzes and a Jag, and he's eyeing a Merc convertible, but "will have to swap one of them for it". He drives the two older vehicles on the weekends. "The older one is quite temperamental, it's a 1974 XJ6, my grandfather's car."
I've asked to be taken for a spin in one of these beauties, which I hope won't be too far off. 
Cool cars, cool guy.
Lucille Davie has for many years written about South Africa's people and places, as well as the country's history and heritage. Take a look at lucilledavie.co.za
Disclaimer: Any views expressed by individuals and organisations are their own and do not in any way represent the views of The Heritage Portal.