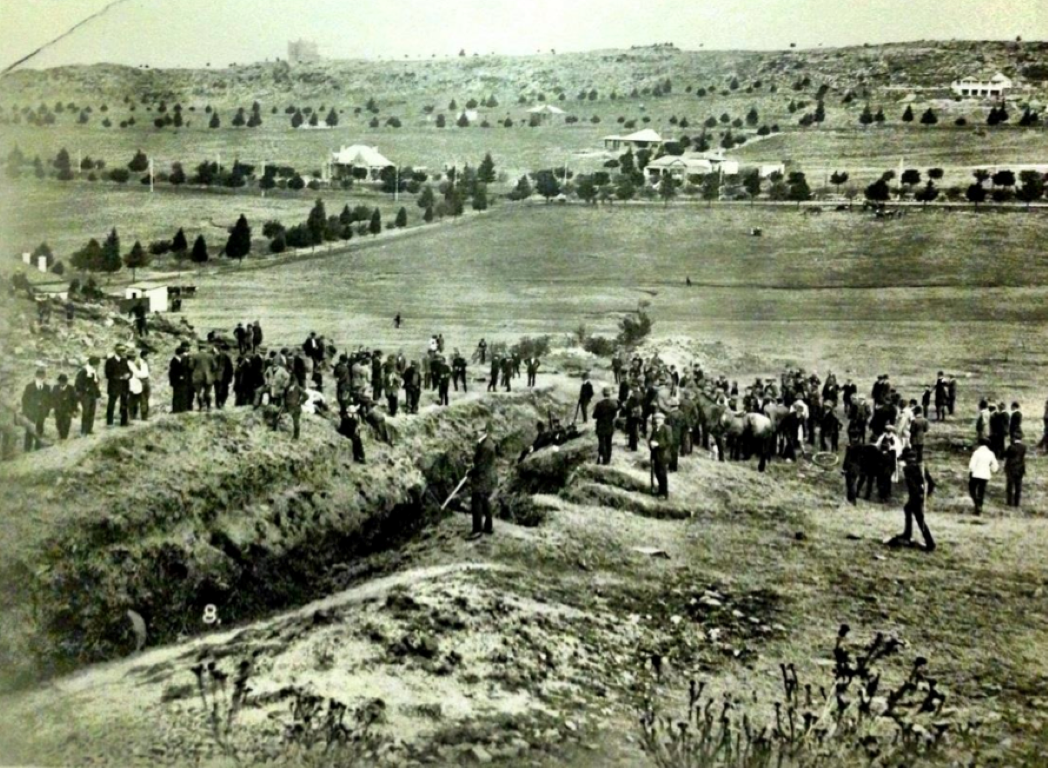 Friday, November 24, 2017 - 09:02
In the article below, Lucille Davie unpacks the story of the Foster Gang, a tale that continues to fascinate South Africans. The piece was first published on the City of Johannesburg's website on 3 January 2003. Davie has spent a large part of her life writing about the people and places of Johannesburg. Click here to view more of her work.
The police were out in force. Roadblocks were thrown up around the city. Residents were tittering with nervousness. Word spread: the gangsters had been traced to a hideout in a cave.
The crowd had to be held back behind a fence as the tension mounted. Then shots were heard from deep inside the cave, and it was all over. The Foster Gang, wanted for murder and robbery, had chosen to take their own lives rather than surrender to the police.
It was one of the most remarkable criminal sagas in early Johannesburg history. The gang, consisting of William Foster, John Maxim and Carl Mezar, had evaded police for months during the year 1914. They were wanted for a string of robberies across the Reef, and the murder of three policemen and a passerby. But nine other people also died because of the Foster Gang, among them a distinguished Boer war general.
Foster Gang Mug Shots (source unknown)
Tracker dogs had led the police to the cave on Wednesday, 16 September, 1914, where they camped out … and waited. The next day the gang, literally cornered, took their own lives. Their leader, William Foster, was only 28.
From the age of 22 he'd slid down the criminal slope very quickly, unable to stop himself, taking others, including his younger brother, with him.
William Foster (source unknown)
The Foster cave still exists, on private residential property. It is visible as a two-metre-across hole in the ground, just below a very attractive rock garden and house. Two large pepper trees stand tall on either side of the hole, with green Wandering Jew groundcover tumbling down into the gap and a rusty ladder against one side. The hole goes down three metres and from there a 40-metre tunnel runs north into the koppie.
It's an unremarkable tunnel, about two metres high in the middle, damp and dark, and a little eery. Its entrance is almost completely covered by a large rock but it is possible to squeeze past it.
The tunnel was originally a shallow cave, but in the 1890s prospectors tunnelled through it into the koppie, but found no gold. Foster grew up in nearby Fairview and had discovered it as a schoolboy, and played there with his brother Jimmy.
Foster was born in Griqualand East in 1886. His father was an Irishman, his mother an Englishwoman. Foster was the third of six children, and when he was 14 his parents moved to Johannesburg. His father was a builder who was often out of town on building sites. He left his wife with the children, and she didn't discipline Foster too strictly.
Henry May and Iain Hamilton describe him in The Foster Gang as "quick-tempered and obstinate and with a will of his own that sometimes amounted to rebelliousness..."
Foster was sent to the Catholic Marist Brothers school in the city centre. May and Hamilton paint a positive picture of him as a schoolboy: "William as a boy was lively and attractive, with strong features, bright grey eyes, and a ready smile. He held his head high and his shoulders straight, and when he walked he gave an extraordinary impression of electric energy, as if his body and limbs were tautened by some strange inner force."
Foster apparently "worked hard and played hard", and there were no signs of delinquency when he was growing up. His family was "a happy one". He showed particular talent for soccer and became known as "a wizard with the ball", and a minor celebrity. At 16 he was chosen to play in the senior Johannesburg city team in the annual match against Pretoria. His devotion to sport didn't mean he neglected his studies. He had "an agreeable personality", and it looked like he was headed for great things when he left school.
Surveyor and photographer
Foster matriculated and was accepted by one of the gold mines as an apprentice surveyor, to do a four-year course. He father bought him a motorcycle, and he gradually played less sport. He developed an interest in photography, and wanted to give up his apprenticeship to pursue his new passion. He father forbade it, and Foster reluctantly finished his apprenticeship. He combined the two skills, taking photographs underground for the mining magazines and making much more money as a photographer.
He converted the shed of his parents' house in Fairview (far eastern end of Commissioner Street) into a darkroom and workshop. He learnt how to cut keys.
He decided he wanted to travel and take photographs. He chose Namibia (German South West Africa then), and boarded a train, new camera over his shoulder. No one knows what he got up to in Namibia, but several months later he was found driving a pack of donkeys across the Cape border, with two companions. His clothes were torn, and he was unshaven. The German police arrested the young men and charged them with theft of the donkeys. Foster gave a false name and wouldn't give an address. He was sentenced to a month's imprisonment, which he served in a bad-tempered and unco-operative manner.
May and Hamilton indicate that he was a changed person after his jail term - he "was driven by some deeper force into an attitude of rebellion".
Several weeks after his release he turned up in Durban, several thousand kilometres away, having jumped a number of trains. In Durban he worked at the docks for three months. He got into a brawl and railway property was damaged. He was sentenced to £10 or a month's imprisonment. He did not have the money, but on the way to jail he escaped. Two days later he was caught on a Johannesburg-bound train, with no ticket.
He was sentenced to £3 or three weeks; for his earlier escape he was sentenced to a further two months in jail. He saw through his sentences, as a second offender. After his release he was caught again, jumping trains, trying to get to Johannesburg.
He gave a false name again, and was given a month for jumping the train, and another month for escaping. After his release he was caught stealing a kitbag - he was jailed for six months this time.
His slide into crime was firmly established - by now he had served almost a year in jail and he had a criminal record. He emerged as someone who disliked authority and rebelled against it. His family had no knowledge of his recent unhappy history - he had never given his address or his true name.
When he was released he telegrammed his father, asking for his train fare home. He came home to his room in his parents' house, and took up his life again as a photographer and sportsman. And he fell in love for the first time - with Peggy Korenico, a chorus girl, who was to prove a faithful partner.
They agreed to marry, but Foster wanted first to make money. Around 1910 or 1911, when he was about 24, Foster decided to go to England to see if he could make more money. The company he worked for gave him a grant and transferred him to London.
He stayed for some 18 months, and when the ship docked in Cape Town, he decided to stay there for a while, not having made his fortune yet. May and Hamilton imply that this was a big issue for Foster: "He was more deeply in love than ever with Peggy, but how could he face her feeling himself a failure, a man of no importance?"
Peggy Korenico (source unknown)
First burglary
Foster met a friend from Johannesburg, Fred Adamson, while still in Cape Town, and the two of them went to the circus. There they met John Maxwell or Jack Maxim, a 34-year-old American who had a cowboy and sharp-shooting act in the circus.
Maxim also had a history of petty crime and had served two short spells in jail, and like Foster, he had a short temper.
He was in and out of jobs, saying he got bored quickly. The three men spent time together, and soon Maxim was teaching Foster some of his circus skills - shooting, trick-riding on a motorbike, and the art of make-up and disguise. Maxim spoke about his plan to rob a jewellery store - here was Foster's chance to make some big money.
Rebellion in 1914
On 4 August 1914 Britain declared war on Germany. On 8 September prime minister Louis Botha said that South Africa would back Britain. Several Anglo Boer War generals, amongst them De la Rey, were disenchanted with this decision and resolved to gather their forces - remnants of the Boer army and poor whites - and set off on horseback for Pretoria.
Botha was aware of these rebellious rumblings and had approached De la Rey and the other Boer generals. It was clear that they were hostile to the government's stance, but Botha carelessly left them in charge of their garrisons, and they started planning for a mid-September takeover of the government. De la Rey and Beyers were on their way to Potchefstroom for the first phase of the takeover plan, when De la Rey was killed in Langlaagte.
Stone commemorating the centenary of the death of De la Rey (Rene De Villiers)
On 9 October one of the commanders, Lieutenant-Colonel Manie Maritz crossed over into Namibia (South West Africa) with 500 men in a show of anti-British solidarity, and this act mobilised government forces. By 16 November most of the rebels had scattered and the rebellion was over.
The plan involved four men, and Foster went to Johannesburg to fetch his younger brother, Jimmy, who had been caught some time before stealing a motorbike at a mine where he worked, but had managed to cover the crime and get away with it. Plans were carefully worked out - 19 March, 1913 was to be the day.
Maxim supplied the getaway car - he was the driver - and dropped his three companions with false moustaches outside the American Swiss Watch Company in Longmarket Street. Ten minutes later they came out with two suitcases filled with jewellery (including 308 diamonds), watches, Kruger sovereigns and cash. Maxim took £500 and headed off for Johannesburg, leaving the three in Cape Town.
The three burglars were soon arrested - Jimmy Foster and Adamson in Johannesburg, where they had sent the suitcases, and William Foster in Cape Town.
The three were sentenced to 12 years with hard labour at Pretoria Central Prison. Shortly before the trial began William and Peggy married and spent a short one-hour honeymoon in a nearby hotel.
Escape
Maxim soon joined them in prison. His previous convictions had been for selling liquor to blacks, and in June 1913 he was again charged with the same offence, and ended up in Pretoria Central. Maxim was due to be released in March 1914, but Foster decided he would be out before him.
He made friends with the prison tailors, and had a suit made for himself. On 27 February 1914, nine months after his arrival in prison, Foster escaped after his fellow prisoners arranged a fight. He cut his way through a wire fence during the distraction, put on the suit and disappeared. But the year was to unwind very quickly for Foster.
Peggy, in the meantime, had had their baby, a girl.
Once Maxim was released from jail in March, he teamed up again with Foster, and a newcomer, Carl Mezar, and a string of robberies across the Rand followed.
The first two were at the Roodepoort Post Office on the West Rand, where £1 876 in gold coins and notes were taken, in April. A short time later the Vrededorp Post Office was burgled, and several hundred pounds' worth of revenue stamps were taken.
The thieves had left a white cotton glove which happened to fit the hand of the postmaster. It transpired that the postmaster had "borrowed" £72 from the post office, when he had found himself short after buying a new car. He was given a suspended sentence in view of his long service in the post office - 33 years - but his career was ruined, and he committed suicide. He left his pregnant wife and four children. His was the first in the trail of deaths left by the Foster Gang.
On 17 July the threesome hit the National Bank in Boksburg North on the East Rand. A man was killed before they got into the bank, another was injured, but they left empty-handed.
The police sprung into action: roadblocks were put up, and a £500 reward for information leading to the arrest of the bank robbers was issued. The Gang had been in disguise, making the police's job more difficult. Ten days later the police issued the reward again, this time with a full description, including the names of the three robbers.
They took refuge in the cave in Kensington, 10 kilometres east of the city centre. The entrance to the cave was covered with undergrowth, and although the area had several groupings of houses and a tram line several hundred metres from the cave, it made an ideal hideout. The Gang stocked the cave with canned food, water, liquor and a paraffin lamp.
They left the cave and moved into a derelict cottage in Regent's Park, near Wemmer Pan, some 10 kilometres south of Kensington. Peggy and the baby came to live with Foster in the cottage. Foster's plan was to amass as much money as possible, and together with Peggy and the baby, and his two accomplices, drive down to Lourenzo Marques (Maputo) in Mozambique, then on to Europe.
They lay low for a month, but on 22 August the Gang made an abortive attempt to enter a cycle store in Von Brandis Street in the centre of Johannesburg. A few nights later, a large liquor depot in Jeppestown was robbed - a ton of the most expensive liquor was stolen. Maxim was selling it to blacks, to whom it was prohibited.
On 13 September a policeman was struck on the head by a crowbar when he checked on the door of a liquor store in Bertrams, some five kilometres west of Kensington.
Shortly after this, in Fairview, four kilometres south of Bertrams, the Imperial Bottle Store was burgled, and two safes dynamited, but they proved to be empty. But this time, police were in the neighbourhood, and moved in swiftly. Two policemen were shot dead as the three robbers got away on a motorbike.
The net closes
A neighbour in Regent's Park recognised the gang from pictures in the newspapers, and alerted the police. And here the police made a fatal mistake - a small contingent of only four policemen approached the house. After fatally wounding one of the detectives, the Gang, together with Peggy and the baby, made a successful getaway in their car.
An extensive net of roadblocks were immediately thrown up around the city.
Detective Hoffman played a role in hunting down the Gang. He wrote a book about his experiences.
Foster had been wounded in the arm in the skirmish with the police. He had insisted that Peggy and the baby take a bus to Germiston, which she did. The Gang dumped their car and headed for the Kensington cave.
The roadblocks set up to net the gang, trapped others. Dr Gerald Grace and his wife were racing back to Springs, where he was to assist at an operation at the Springs Hospital. It was a windy, dusty evening, and at the spot were the three robbers were last seen, Grace was waved down by two policemen, but swerved around them and hurried on. Four shots were fired at the racing car, a bullet hit Grace's wife in her arm, another pierced Grace's lung - he died before the ambulance got him to hospital.
At about the same time, General Koos de la Rey, extremely popular and accomplished Anglo Boer War general, was on his way through Johannesburg to a military camp in Potchefstroom in North West province. De la Rey had become very disillusioned with the government of General Jan Smuts and General Louis Botha when it had sided with Britain in the war against Germany.
De la Rey and his loyal group of followers were bitter at this - they resolved to set off for Pretoria, where they aimed to take control of the government and declare an Afrikaner republic. De la Rey was going to Potchefstroom, together with General Christiaan Beyers, to raise the Vierkleur there, then spread the revolt to the Transvaal, but he never made it out of Johannesburg.
His driver went through two roadblocks, on De la Rey's instruction, thinking the government was on his trail. The third roadblock was in Langlaagte. After being instructed to stop, a policeman stepped into the road, and with his bayonet jabbed the front tyre of the De la Rey's car. His companion thrust his bayonet into one of the headlamps. Still the car sped on. The policeman lifted his rifle, and fired a single shot - it struck the ground, rose and tore into the back of the car, entered De la Rey's back and lodged in his heart - he was dead within seconds.
Plaque at Langlaagte explaining the context of the death of De la Rey (Rene de Villiers)
End of the road
It didn't take police dogs long to sniff the Gang's trail to the cave. The police soon surrounded the cave, clearing the undergrowth from the entrance.
Inside the cave the three men had decided they would not be taken alive. They wrote their farewell notes to their loved ones. Mezar was the first to go, but could not bring himself to put the gun to his head - Maxim did it for him with a single shot.
Foster wasn't quite ready to end it all. He asked to see Peggy and his baby. He said he would come out of the cave once he'd seen them. Peggy was fetched. Then Foster's father, mother and two sisters were brought to the cave.
A huge crowd had gathered outside, held back by hastily-erected fencing. It was a tense scene. The family were inside the cave, the police were positioned around the cave mouth, rifles at the ready. After an hour, Foster's family stumbled out of the cave, with the baby, but without Peggy. The crowd waited in silence.
Then a shot rang out, followed by two others - Peggy had decided to die with Foster.
But this was not the end of the tragic deaths. After Dr Grace's death at the roadblock, an instruction went out that there was to be no more shooting at vehicles unless it was absolutely clear it was the Foster Gang. Inspector Edward Leach, in charge of the western district of Johannesburg, had telephoned these instructions to every station - except Langlaagte, where the telephone was constantly engaged. After trying to get through for half an hour, he jumped on a motorbike and got the message through, but it was too late, De la Rey was already dead.
Leach's conscience was further troubled by having persuaded his senior officers to allow Peggy into the cave. The remorse was too much for him - he committed suicide a few days later.
Foster had great ambitions to make his fortune, but he set his sights low - post offices and liquor stores - although he certainly had the means: weapons, a getaway car, disguises, a hideout, and know-how like making skeleton keys. Perhaps if he'd got away with the first robbery - the jewellery store in Cape Town - he might have made his fortune and sailed to England with Peggy.
The Foster Gang and Peggy are buried at the Braamfontein Cemetery. Peggy and Foster are buried in the same grave, alongside Mezar, and next to the 1922 Miners' Strike graves. John Maxim is buried in the general section.
After the Foster Gang affair, police dynamited the cave, causing an avalanche of rocks to block the entrance. In 1985, students from the University of the Witwatersrand brought in a crane and removed the rocks from the entrance. The present owner of the property - in Juno Road, Kensington - says two large rocks fell down into the hole, one partially obstructing the entrance to the tunnel.
Death count
The three Foster Gang members: William Foster, John Maxim and Carl Mezar, Peggy Foster, Vrededorp postmaster, man at Boksburg North National Bank, two policemen in at the Imperial Bottle Store in Fairview, policeman at house in Regent's Park, Dr Gerald Grace, General Koos de la Rey, Inspector Edward Leach.
Lucille Davie has for many years written about Jozi people and places, as well as the city's history and heritage. Take a look at lucilledavie.co.za
Disclaimer: Any views expressed by individuals and organisations are their own and do not in any way represent the views of The Heritage Portal.