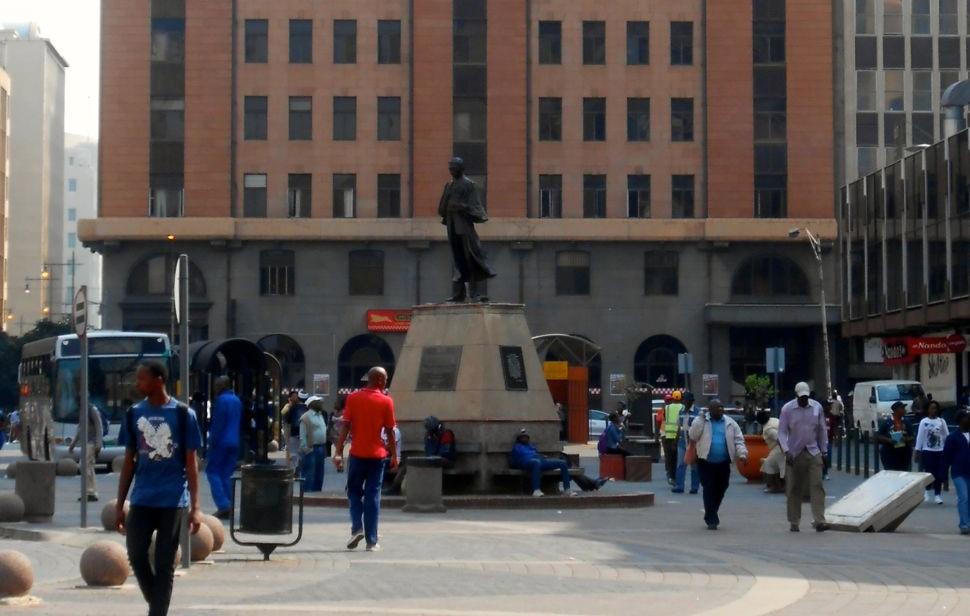 Gandhi's Johannesburg Birthplace of Satyagraha, Eric Itzkin, published by Wits University Press with Museum Africa, 2000, (st edition) 2001 (2nd printing) paperback, illustrated, 91 pages + 24 pages of colour plate illustrations, including the 1896 Plan of Johannesburg. Mahatma Gandhi has an even stronger presence in Johannesburg today than when he was alive and moving around the city in person. He is most significantly commemorated today with the renaming if the old Kerkplein or Church Square of downtown Johannesburg (later Van Der Byl square) as Gandhi Square and the wind-blown gowned legal figure stands as a bronze statue close to the old Magistrates Courts.
Gandhi Statue Gandhi Square (The Heritage Portal)
This 2.5 meter bronze figure was commissioned by the City of Johannesburg. It was created by the sculptor Tinka Christopher and unveiled in 2003. There is a Gandhi bust, unveiled in 2012 at the Fort Prison complex at today's Constitution Hill together with a permanent exhibition commemorating the four terms of imprisonment imposed on Gandhi. Gandhi first served less than a month of a two month prison sentence at the Fort in January 1908. The Hamidia Mosque in Jennings Street, Fordsburg has a Gandhi memorial called "Burning Truth ", in the form of a symbolic cauldron by the artist Usha Seejarim. The Kraal, the simple rondavel home that Gandhi and Hermann Kallenbach shared in Pine Street, Orchards, from 1908 to 1910 (a period of 18 months) is now an internationally acclaimed shrine, place of pilgrimage. museum and suburban residential retreat stunningly restored by the architect, the late Rocco Bosman.
Satyagraha House Orchards (The Heritage Portal)
All of these are memorials to Gandhi erected since this book was published but I mention them because it was Eric Itzkin's book that was the spur to these more conscious and deliberate commemorations of Gandhi in the city. The city of Johannesburg has taken up a proud ownership of the Gandhi years and presence of Gandhi in the town as a scene of intense political resistance. Not that Gandhi was an uncontroversial figure, as his views about black people in South Africa were not straightforward. Most recently the Gandhi statue in Gandhi Square has also come in for a despoiling paint job but the perpetrator was caught and  held accountable. Eric Itzkin has played a major role in the recognition of the link between the city, the man, his philosophy and his political struggle. 
Mohandas Gandhi arrived in South Africa as a young lawyer (aged 24) planning a new start in Durban to assist a wealthy businessman Dada Abdullah in a lawsuit. Gandhi settled the dispute via a compromise and began to build his legal reputation by establishing his own legal practice in Durban. Nonetheless, within two days of his arrival he had shot off a letter to the Natal Advertiser, headed "An Unwelcome Visitor ", publicly correcting the magistrate about his keeping on his flattened turban when appearing in court. It was the foretaste of his fiesty readiness to take up the fight about human rights and dignity.  During his twenty five years spent in South Africa between 1893 and 1914 Gandhi fought racial discrimination against Indians and gradually shaped his ideas, philosophy and tactics of Satyagraha or passive resistance as a potent political tool against first local Transvaal authority (crossing  swords with Smuts, who held the post of Minister of the interior in the restored Transvaal government) and later British colonial power.
One of Gandhi's first encounters with local Johannesburg racial colonial attitudes came soon after his arrival in the country in 1893, when during a brief stopover in Johannesburg he was declined a room at the Grand National Hotel. Then later at Victory house (or Permanent building) somewhat later the lift operator cum caretaker declined to convey Gandhi in the lift in 1911. So the pin pricks and poker prods of discrimination were endured over many years, but the combination of political struggle, life long friendships and experiments with personal living styles and philosophies of life emerged though encounters and experiences in Johannesburg. 
Victory House (The Heritage Portal)
Six and a half of Gandhi's mature years were spent in Johannesburg, between August 1906 and January 1913 and for five of these years Gandhi lived in Johannesburg without his family. During these years he formed new friendships and acquired surrogate families, mainly among westerners and many happened to be Jewish. Johannesburg became Gandhi's anchor in his ongoing satyagraha campaign against racial discrimination on the part of the Transvaal and later the Union government. There is a deeper story as to why this province should have been the favoured engine room when there were only approximately 11000 Indians in the entire Transvaal, compared to 110 000 in Natal. 
Itzkin gives us a marvelous extract about Gandhi's Johannesburg, taken from a "Souvenir of the Passive Resistance Movement in South Africa 1906-1914 " (no source reference) to the effect,  "Johannesburg was not a new place to him, he saw many friendly faces there, many who had worked with him in many struggles". The extract continues, "He had also learnt during all those years to love Johannesburg even though it was a mining camp". 
Eric Itzkin's succinct and slender book captures in black and white photographs, maps, text and a selection of final coloured plates, the places in the mining town with an association with Gandhi. The book gives a sense of place and location that has to be the work of a Johannesburg enthusiast. Itzkin has identified where Gandhi lived, slept, worked, campaigned, walked, dined on a vegetarian diet, and was imprisoned. He builds up a picture of the composite man, his movements and his interests through identifying Gandhi's friends and associates. This book was published in 2000 yet it is still in print which is testimony to its usefulness. It is a book that can be used as a practical guide if you wish to trace Gandhi's life in  Johannesburg. However it needs an update, quite urgently. There is a useful bibliography, and a set of coloured plates at the end of the book, but these are somewhat disassociated from the text. There was little point in including a photo of no 34 Grove Road when Itzkin shows in his text that identifying this address as a Gandhi residence is an urban legend. Why also include a photograph of 19 Albermarle St in Troyeville when as the author notes the correct Gandhi associated house was number 11 (it is this location that deserves a photo)?
Gandhi Family Home (The Heritage Portal)
The Itzkin book is not a biography of Gandhi but anyone reading one of the recent biographies of Gandhi (and there are many good biographies) such as Joseph Lelyveld's, "Great Soul Mahatma Gandhi and his struggle with India" or Shimon Lev's "Soulmates The story of Mahatma Gandhi and Hermann Kallenbach", will deepen their understanding of the roots of the South African Gandhi, the man, the human being with earthly faults and the divine philosopher by adding the Itzkin book to their reading and using the book at a guide to Gandhi's Johannesburg.
2015 Price Guide: In print and readily available via Wits University Press at R250. It has  recently been reprinted. This shows the popularity and ongoing value of this book.  
Wednesday, October 28, 2015 - 11:00