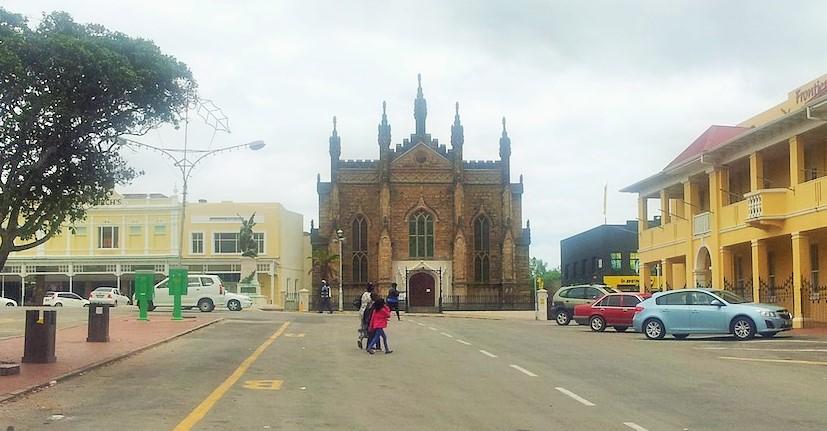 101 Country Churches of South Africa, Philippe Menache & Darryl Earl David, 2010, published by Booktown Richmond Press, soft cover, illustrated, map, 103 pages. This is an impressive book of photographs of literally 101 country churches, across the nine provinces of South Africa. The colour photograph fills the page with a brief paragraph recording the basic facts about the specific church, date of construction, name of the architect and church denomination. Photographs are of the exteriors only. Sometimes there is a snippet of information about the town and perhaps the origin of its name.
The book is the product of a partnership between an architectural enthusiast (Menache) and a Karoo photographer and literary festival organizer (David). Together they have travelled through rural South Africa to the dorps, villages and remote dying towns to find and capture the old churches with a variety of architectural styles. Theirs has been a pilgrimage of love. Through Darryl Earl David's lens the beauty of these enduring edifices of the Platteland is revealed. Many of these churches are Dutch Reform churches, but Anglican, Methodist, Catholic and Lutheran churches are also included in the selection. Every church is photographed against an azure blue sky. The photographs give a very good feel of the diverse materials used in construction, and the ornamentation on clock towers, spires and steeples.
Book Cover
The period 1850 to 1950 was the century for church construction, expressing vibrant country communities,  when church spires and steeples dominated the townscape and church clocks were functional. The churches also drew their congregations from the surrounding farms and countryside and families trekked to town for nagmal celebrations.   They were the soul of the countryside in a pre-urban age.
The churches of Gauteng and Limpopo receive less attention than the other provinces. There is a helpful map showing the location of the 94 towns and locations of the 101 churches. This is the sort of book that makes you want to pack your bag, get behind the wheel of a car and go exploring!
2015 Price Guide: R210.00
A Platteland Pilgrimage, 102  Country Churches of South Africa. By Philippe Menache & Darryl Earl David, 2012 published by Booktown Richmond Press, soft cover, illustrated, 128 pages, map. The success of the first book on country churches, took Menache and David on a second pilgrimage to visit and record in words and more photographs another 102 country churches. This sequel is an even better book, the photographs are larger, there are more of them, and there are a few interior shots. They cover a new selection of towns or if it's a town covered in the first book, their eye falls on another local church. There is a section on the distinguished principal church architects active in the 19th and 20th centuries, with eight being particularly prolific (Baker, Burg, Ford, Freeman, Gray, Hager, Hesse and Moerdyk) with another five architects or architectural firms complementing this oeuvre.
Book Cover
A bibliography,  glossary, index and map make this an even more assured presentation. Again the authors have journeyed into the remoter reaches of the country to find gems and oddities of church architecture, such as the Llandaff Oratory in Van Reenen (Kwa-Zulu Natal) or the NG Kerk, in Memel in the  Free State built in Scottish baronial style of local sandstone.
The section on each province is introduced with a full page picture of an outstanding example of a  provincial church. It's a book that draws the reader into the rich and impressive heritage of South African church architecture. Although the NG Kerk churches dominate almost every small  town, this book too has an interdenominational feel with a spread of  churches of other denominations. Some churches are simple small and functional while others are grand and grandiose: much depended on local resources and capital available.
2015 Price Guide: R250
Their love of the less travelled roads through the Karoo shines through. I am confident that both these volumes will rapidly become classics. What Menache and David have done has been to move the country church from the level of the arcane centenary pamphlet into a more accessible and celebrated format that arouses curiosity, a must see treasure that deserves deeper study!
I am delighted to hear that a third volume is to be produced with more attention to the interiors.
Both books are a delight and a pleasure to read. It's wonderful to savour each picture and a allow the books to be a guide to hidden South African treasures!
Copies available from the authors. Contact - philippe.menache@gmail.com. 083 307 4041 or 011 782 0763
Tuesday, November 10, 2015 - 17:43