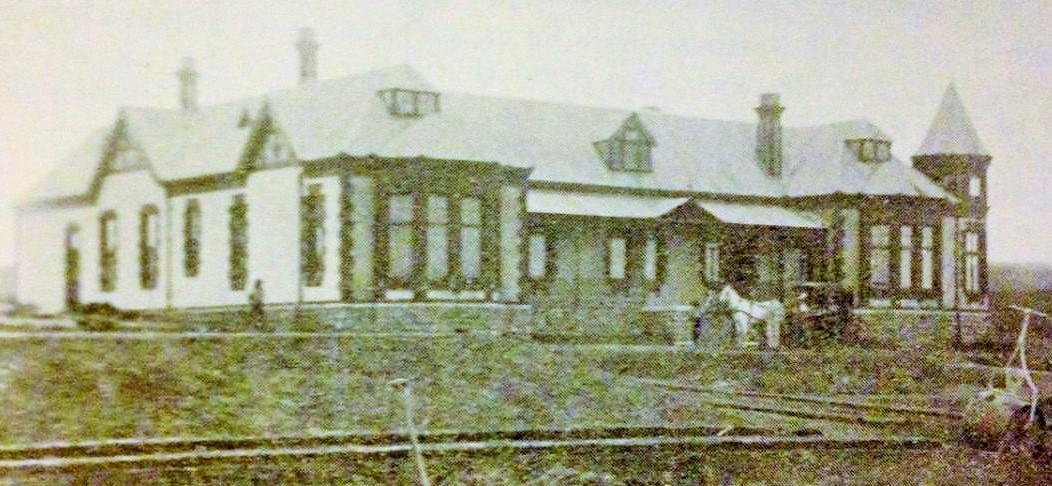 Disclaimer: Any views expressed by individuals and organisations are their own and do not in any way represent the views of The Heritage Portal. If you find any mistakes or historical inaccuracies, please contact the editor.
Thursday, December 3, 2015 - 18:45
Who was the Marshall in Marshallstown, Marshall Street and Marshall Square? How did the suburb Melrose in northern Johannesburg get its name? Where did the name of the famous Glenhove Road which leads into Rosebank come from? If you are intrigued by any of these questions please read on. The article below gives an overview of the life of Henry Brown Marshall one of the pioneers of Johannesburg. It was written by Monica Marshall and appeared in the April 1966 edition of Bulletin (the journal of the Simon van der Stel Foundation, today the Heritage Association of South Africa).
Henry Brown Marshall was born at Glenhove, Lanarkshire, Scotland on 21st October, 1852, the second son of James Marshall and Margaret Brown, daughter of Henry Brown of Middlerig. Glenhove is a farm near Cumbernauld, part of lands which had been in the family since the late Seventeenth Century.
Henry Brown Marshall (1852-1948)
Marshall was educated at Dollar Academy and then in due course he became Manager of Nether Johnston Colliery, near Glasgow, experience which was to be useful later on. In 1878, after an illness, he was advised to live in a dry climate and, as one of his sisters had married in 1874 William McLaren, a leading citizen of Heidelberg, Transvaal, it was natural for him to join them. There were no railways in those days, except near the coast, so Marshall, realising the opportunities which existed in provision of efficient transport, invested his small capital in wagons and oxen, but before he could start a business the Zulu War broke out early in 1879 so he hired his wagons to the British Army and took part in the campaign. Later on he organised the mail contracts from Maritzburg to Pretoria, Barberton and elsewhere till 1891.
Meanwhile he had married Anna Maria Rissik, only daughter of Dr Gerrit Hendrik Rissik of Pretoria, who had emigrated from Holland in 1876; he had five sons, four of whom accompanied him, the other, who was in the Dutch Army, remaining behind. Doctors were scarce in the country, so Dr. Rissik soon acquired a large practice and an outstanding reputation, while the beauty of his daughter attracted to his house many not in need of medical care. Anna's marriage took place in May 1885 and was supremely happy; there were seven surviving children - three sons and four daughters.
Mrs HB Marshall born Anna Maria Rissik 1861-1931
The eldest child, a son, James Rissik, was born in a wagon while his parents were trekking from Heidelberg to Pretoria for the expected birth. This was in May 1886 shortly before the discovery of gold which made this desolate veldt part of the site of Johannesburg.
Mr. and Mrs. Marshall lived in Heidelberg until 1891 and then moved to the rapidly growing Johannesburg where Marshall had a number of business interests. He had bought land there in 1886 on the formation of the mining camp, this land being known as Marshall's Township. It became the business centre of the town. He was a founder of the Rand Club and also started a Brewery which was subsequently absorbed in the South African Breweries. He obtained the original concession from Rhodes for what afterwards became the V.F.P. [Victoria Fall Power Company] and was instrumental in developing the coal mining industry in South Africa.
Marshall Square in the 1890s (Africana Museum)
Marshall Square Police Station
In 1893 Marshall bought 713 acres of land, some five miles out of town then but now one of Johannesburg's favourite residential suburbs. The original house still stands and oaks which Marshall planted have matured into fine trees. He named it Melrose at the suggestion of Herbert Curle, a young friend and engineer whose family came from Melrose in Scotland and who subsequently was famous as a stamp collector. Marshall was an excellent judge of horses and a good horseman and so the daily ride or drive to his office and back gave him great pleasure: when the first portion of the estate was laid out as a township, one of the streets was called after his favourite riding mare, Venus.
Towards the end of 1895 the grievances of the Uitlanders culminated in the formation of the Reform Committee. Marshall, while he sympathised with their aims, did not join in deference to the fact that his wife's brother, Johann Rissik was President Kruger's Surveyor-General and her other brothers were Government supporters. However, at the very last, when Jameson was actually en route, Lionel Phillips and Frank Rhodes came to Marshall's office and by appealing to his sense of loyalty, induced him to join them. On the failure of the Raid he with the other Reformers was lodged in Pretoria gaol and on his release he left the country and settled in Scotland, buying Rachan, an estate in Peeblesshire where he lived until his death in 1948 at the age of ninety-six. He had, in 1895, formed his business interests into a company which still exists in Johannesburg.
On his eightieth birthday in 1932, his son James presented him with an account of his life which he had compiled without his father's knowledge and this was subsequently privately printed and called ""Heidelberg to Rachan"". There is a copy in the Johannesburg Reference Library.
A full-length portrait of Marshall as well as a photograph of the Reform Committee with him in the central position siting on the steps [is also stored at the Reference Library].
There is another portrait in the Council Chambers, Peebles, Scotland, for Marshall, after his return to Scotland, took a prominent part in county affairs. He was a Justice of the Peace and a Deputy Lieutenant of Peeblesshire and Vice-Lieutenant 1926-1934. He was also Vice Convenor of the Peeblesshire County Council 1902-32 and held a number of other public positions.
Though a successful businessman he was always a countryman at heart and enjoyed caring for the estate and planted it with many beautiful trees. He shot until he was over eighty and was a successful breeder of Clydesdales and cattle. Rachan, like so many country houses, has been pulled down and the estate sold, but he fortunately did not live to see that.
Main Image - Melrose House: The Home of HB Marshall