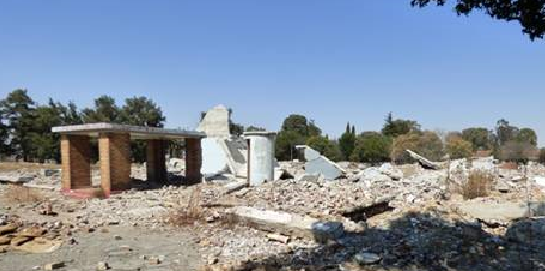 Saturday, September 17, 2016 - 14:08
Vogelstruisbult is an abandoned gold mine on the East Rand near Springs. It was registered back in 1933 and began production in 1937. Anglo American was the controlling shareholder for many years. According to the book, "History of Springs" the mine produced just under 224 tons of gold during its 31 year lifetime.
Gary O'Bryan visited the mine in 2013 and 2016 and documented a number of the crumbling structures. If you have any history or memories of the mine please add details in the comments section below.
Main Rec Hall (2013 and 2016) where hundreds of weddings and parties would have been held over the years when the Mine was active (Gary O'Bryan)
Main entrance (2013 and 2016). I can't help thinking of the many brides and grooms stepping through this entrance excitedly to face their guests in the lavishly decked out hall (Gary O'Bryan)
The security guard's hut (2013 and 2016). The hut remains intact but even the ghosts of this structure couldn't prevent the demolishers from doing their thing (Gary O'Bryan)
The main hall in 2013 and the rubble that remains in 2016. Hundreds of amateur dramas, weddings, parties, sports functions, political rallies and movie nights are now just memories (Gary O'Bryan)
Where the honours boards were once placed (2013 top, nothing left of the structure in 2016). I hope they were salvaged and not used as firewood (Gary O'Bryan)
No more drinks will be served in the bar (Gary O'Bryan)
Disclaimer: Any views expressed by individuals and organisations are their own and do not in any way represent the views of The Heritage Portal.