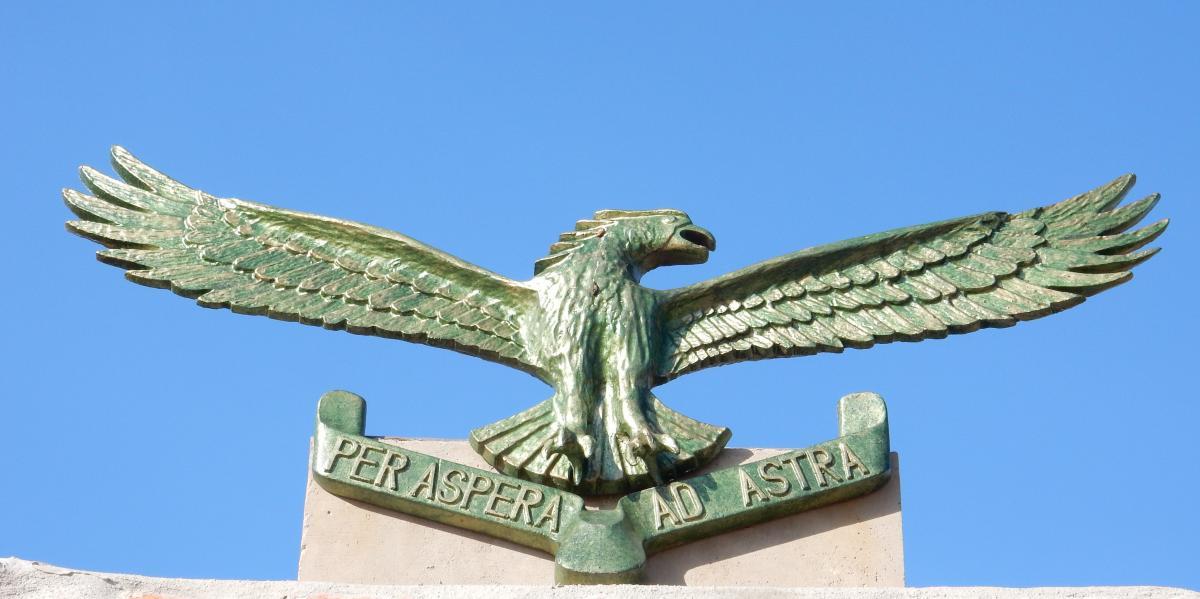 Saturday, July 11, 2020 - 16:57
On 14 March 2020, the Vice-Chancellor and Principal of the University of Pretoria, Professor Tawana Kupe officially unveiled the Pierre van Ryneveld memorial stone in its third location at the university's Hillcrest Experimental Farm Campus
Van Ryneveld Air Force Monument
Pierre van Ryneveld Memorial Stone
On 4 February 1920, Sir Pierre van Ryneveld and Sir Quintin Brand set out from London to South Africa to pioneer the first trans-Africa flight. The Mediterranean crossing took 11 hours in a Vickers Vimy (the Silver Queen). Their first forced landing was in Wadi Halfa in present-day Sudan. The plane was unusable and a second Vimy (the Silver Queen II) was delivered 11 days later. The duo took off from Cairo. On 6 March 1920, the Silver Queen II crashed while attempting to take off at Bulawayo. A third aircraft (a De Havilland DH9) was flown to Bulawayo, and the two pilots resumed their journey. This plane, the Voortrekker, took off on 17 March and made the first stop-over at the airstrip on the University of Pretoria (UP) Hillcrest Campus. On 20 March they landed at Youngsfield in Wynberg, Cape Town. The total flight time was 109 hours and 30 minutes over 45 days. Both men were knighted for this pioneering feat.
The monument from a distance
In 1920 Van Ryneveld was tasked by then Prime Minister Jan Smuts to establish the South African Air Force. In 1972 Sir Pierre van Ryneveld's ashes were placed at the Air Force Monument on the UP Hillcrest Campus. At the time, the Air Force Monument was in its second position, south of the N4 highway. A plaque in memory of General Sir Pierre van Ryneveld, KBE, CB, DSO, MC was installed at the base of the monument. On 19 February 2011, a casket containing the ashes of Sir Pierre and Lady Betty van Ryneveld was removed from the monument and placed in the Wall of Remembrance at the SA Air Force Memorial on Bays Hill, Swartkop, Pretoria.
The SA Air Force Monument is now in its third position on the UP Hillcrest Campus. The first site is referred to as the "crash site" and the second site is known as the "airfield". In 2020 a replica of the Air Force Eagle was donated to the University of Pretoria by the South African Air Force Association and is displayed on the monument.
HP Architects & Heritage Architects (HPA) specializes in the field where building conservation intersects with large-scale commercial and corporate projects. The preservation and restoration of existing (historic) building fabric proves to be a more affordable financial model; fully restored/refurbished historic buildings also provide a character and ambiance often preferred by patrons. The narrative forms an integral part of this process – hence the final phase being the installation of a blue plaque.
Disclaimer: Any views expressed by individuals and organisations are their own and do not in any way represent the views of The Heritage Portal.