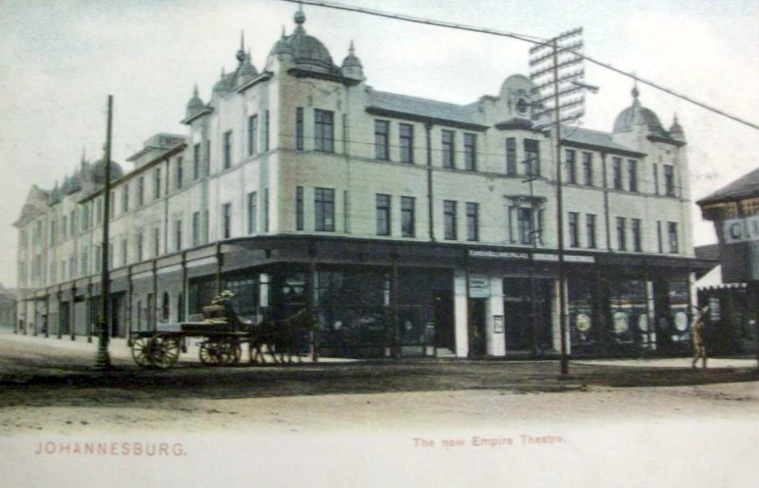 Sunday, August 19, 2018 - 18:29
I recently came across a remarkable set of 33 period coloured and monochrome postcards of Johannesburg (click here to view). The postcards date from somewhere between 1904 and 1908. They are photographic images and show street and architectural views of Johannesburg in the Edwardian period. They were published and printed by a company called Braune and Levy of Johannesburg. 32 of these postcards (of the 33) were saved as unused blanks and just one had been used and had a postmark and a stamp. The postcards must have been removed from an old album. This set was sold in an online auction (Antiquarian auctions) in July 2016 and the hammer price was $100. I would assess that price as a fair market price as early postcards of Johannesburg sell for between  R50 and R100 a card. I wish I had been alert and had put in a bid in 2016 but this is "one of those ones that got away". However, we are fortunate indeed that Antiquarian Auctions placed images of all the postcards online as part of their catalogue and I have simply consolidated in this article that which can be extracted and saved.
Of course it is likely that at least some of these postcards would have been in Oscar Norwich's much sought after 1986 book A Johannesburg Album. Historical Postcards (published by AD Donker, 1986). Norwich had the most wonderful collection of postcards and his focus was on the postcard in relation to Johannesburg history. Deltiology (or post card collecting) is the point at which philately meets city historians, architects and collectors of ephemera.
Book Cover
What is remarkable about the postcards in this particular collection is that they are a coherent and consistent collection depicting Edwardian Johannesburg. They illustrate two important historical features. Here is evidence that Johannesburg and photography came of age together. Photography was somewhat ahead of Johannesburg's history and development but what is unusual is that this city had photographers at work from the earliest years (1886/7/8) and that publishers of souvenirs saw a speedy opportunity to photograph and market printed photographic souvenirs as books and  fold out postcards. Secondly, these postcards provide a documentary record of Johannesburg at a point in time when the town was well established; it was onto its second wave of development with earlier single storey buildings being demolished to give way to multi-storey buildings of permanence with some architectural style. These in turn were the buildings which were demolished in the thirties to make way for the Art Deco gems which we see as our heritage legacy.
Braune and Levy was a postcard publisher of some substance though one among many. The firm published possibly thousands of postcards on South African themes. Each postcard carries a number and efforts have been made to compile a catalogue list of the postcards of this company. Martin Nicholson compiled a list of Braune and Levy postcards in 2012 (click here to download).
Nicholson has also compiled a systematic catalogue of the known publishers of Southern African postcards (click here to view). They include J Barnett & Co., Braune and Levy, Sallo Epstein, R O Fusslein, GB & Co. (G Budricks), Hallis & Co., Newman Art Publishing Co., Paul Schaefer & Co. (PS & C), A Rittenberg, SAPSCO (South African Photo and Stereo Company) and Valentine. But this catalogue tells us little about each company, their history or the dates of the postcards. Norwich mentions that Atkinson established that there were 357 South African publishers of postcards, 72 overseas publishers of South African material and 189 publishers of Boer War and Boer War related postcards. The great era of postcard production was during the Anglo Boer War and then the period 1902 to 1914. The Braune and Levy collection fits right into the middle of this era. The postcard equated to the social media of the day.
The Braune and Levy images found in their postcards were of places, scenic views, natural beauty spots, buildings and ethnographic themes (there was an interest in tribal life and indigenous people as subjects of curiosity and local colour). South Africa was transforming by the early 20th century. It was a positive decade as the four parts of the country (Natal, Cape Colony, Transvaal and Orange Free State) fell under British administration and recovery from the Anglo Boer war brought not only pacification but also the setting up of administrative structures to run the towns and cities. Investment followed. It was a priority to restart the mines and hence the decision taken at the highest levels of government and the mining industry to import thousands of Chinese labourers. Here then was a new theme for the postcard producers and it means that the Chinese miners sojourn is well documented. The postcard too is an important source of information about the mines of the Witwatersrand, their headgears, their appearance and their operations both above ground and underground.
The postcard has an interesting history. It is a single open card of a specific dimension that could be used to send a greeting or a short message at a concessionary rate first introduced in Austria- Hungary in 1869. Its use quickly spread to other countries. From the 1860s the telegraph was an alternative short message system but the postcard was a lot more fun and a great deal cheaper than the telegraph, which for ordinary people tended to convey bad news. In an online chronology (click here to view), Franco Frescura explains that Postal cards were introduced in South Africa in 1877 but their use was permitted only in those areas where a penny postal service was in operation. Initially postcards were not popular because there were no special postage rates and a simple card of less than 6 inches x 4.5 inches gave limited writing space. The postal story is one of lowering of postal charges and international cooperation. The postcard was a visual letter and perhaps also the quick method of writing for people without time or energy or literary flair for a letter. They can be compared to a Twitter message.
Postal concession rates for sending a postcard circa 1905 was as low as ½d  or you could send a postcard overseas at 1d. As Carol Hardijzer comments postcards were sent abroad in huge numbers to give relatives in "home" countries a reassuring message in the text, a greeting and at the same time provide an interesting visual image of Johannesburg perhaps as the new home. The postcard itself could be purchased for as little as 1d. The gold rush on the Witwatersrand and the influx of immigrants stimulated both the production of photographs for postcards and the dispatch of the postcard for the newly arrived settlers.
It is often difficult to identify photographers of the postcards and I would welcome more information about who they were. Carol Hardijzer has written about the American photographic family who came to the Witwatersrand, the Neilson brothers who photographed underground mining scenes as did their cousin J Wilbur Read during these early years (click here to view). But were they the photographers of the street scenes of Johannesburg? The names were not printed on the postcards.
An early Johannesburg postcard of the Robinson Gold Mining Company, published by Sallo Epstein and company Durban. The interest here is that this postcard was sent to a correspondent in the USA requesting an exchange of postcards. Its date is 1905 and it carries a 1d stamp.
A 1905 postcard of Johannesburg's telephone tower in Plein Street and Law courts on Government Square (advertised online by a company called, Off the Record) 
Early postcard of Joubert Park – note the incorrect spelling of Joubert Park
This postcard is available online, also Edwardian showing the Kiosk of Joubert Park. The stamp has been removed so no date can be established. The postcard was produced by G  R and Company of Cape Town.
Another photographic firm of note in the early years was that of the Barnett Brothers. Joseph Barnett Isaacs (c.1861-1897) came to Johannesburg in about 1889 and started a photographic business around 1894. He was joined by his younger brother David. Joseph was appointed photographer to the London periodical Black and White. After the early death of Joseph, David carried on the family business still under the style of Joseph Barnett & Co. It was David who launched the series of postcards in 1902. He became a notable figure in the cinema industry in South Africa, helping to pioneer African Consolidated Theatres with I.W. Schlesinger (source: Dictionary of South African Biography). The Barnett Collection of photographs is now held by Historical Papers at the University of the Witwatersrand. Although two volumes of Barnett Collection photographs were published by The Star in 1966, the photographs were not widely distributed as copyright is still owned by the newspaper. That collection covers the early years of Johannesburg, its buildings and streets and gold mining mainly on the Witwatersrand.
Book cover of the first volume
Carol Hardijzer contributed a superb article on Ethno photographic postcards to the Heritage Portal (click here to view). And Derek Walker has written about Cape Town architecture based on early postcards.
Here is an example of a postcard sent from Ermelo to England at the 1d rate
Another example of a postcard sent from Boksburg during Christman 1910 showing mine headgear. It was dispatched at the 1d rate to the UK. The post card is a coloured one and shows the 'New Blue Sky Gold Mine'
1d rate postcard to UK used at Maraisburg 1903
Finding these supplementary postcards online brings me back to the value of the Braune and Levy collection of 33 postcards, which are in such wonderful condition and which provide a coherent view of Johannesburg at a moment in time. The value lies in the image and in the documentary  evidence provided of the City. We owe a debt of gratitude to the producers of the postcards, their photographers, the post services world-wide and to the collectors and hoarders who kept those postcards.
Kathy Munro is an Honorary Associate Professor in the School of Architecture and Planning at the University of the Witwatersrand. She enjoyed a long career as an academic and in management at Wits University. She trained as an economic historian. She is an enthusiastic book person and has built her own somewhat eclectic book collection over 40 years. Her interests cover Africana, Johannesburg history, history, art history, travel, business and banking histories.  She researches and writes on historical architecture and heritage matters and is well known for her magnificent book reviews. She is a member of the Board of the Johannesburg Heritage Foundation and is a docent at the Wits Arts Museum. She is currently working on a couple of projects on Johannesburg architects and is researching South African architects, war cemeteries and memorials.
Disclaimer: Any views expressed by individuals and organisations are their own and do not in any way represent the views of The Heritage Portal.