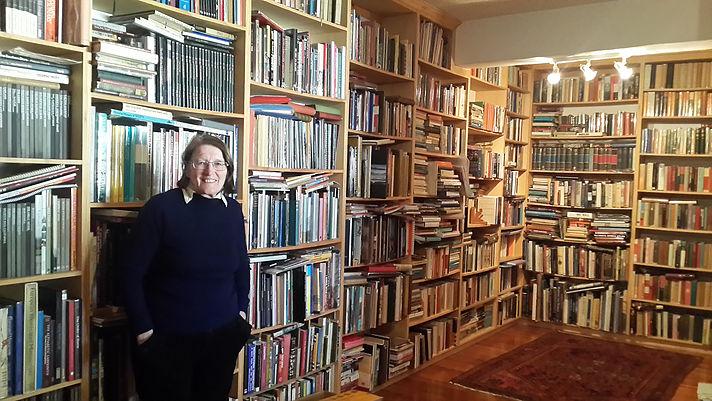 Wednesday, July 4, 2018 - 14:18
In the article below, journalist Lucille Davie takes a look at the exceptional life of Kathy Munro. The piece was published on Davie's website on 4 July 2018. Click here to view more of her work.
Some people have to exercise every day. For their spiritual sanity. Some people have to cook breathtaking meals every day. For their creative sanity. Kathy Munro has to collect books. For her innate curiosity.
 
She says she has collected books since she was a teenager. "I started collecting more seriously when I got married."
 
She now has a collection that takes up three rooms, plus an ample passageway. In total, her collection consists of 16 300 books - enough to push anyone over the book ecstasy edge. And she continues to look out for books that interest her.
 
Walking into her house is an adventure: there are surreptitious boxes of books everywhere, waiting to be catalogued. Antique furniture lives happily with lovely ceramic collections and comfortable rugs and well-sat-on chairs and sofas. Books sit contentedly in glass cabinets.
 
Fortunately she has a spacious three-roomed flat below her house that accommodates her collection, built for her by her husband, Keith, "for his sanity", she laughs. The walls are lined from floor to ceiling with books. The passageway is lined in the same way. She's brought in stand-alone bookshelves for extra storage space, and laments that she has no more space for books. The only places where there are no bookshelves are the bathroom and kitchen.
 
400 Johannesburg books
 
Munro, an Honorary Associate Professor in the School of Architecture and Planning at the University of the Witwatersrand, has a collection of over 400 books on Johannesburg alone – probably all the books that have ever been published on the city. She has been collecting Joburg books for more than 40 years - one of the first books on the city she bought was Anna Smith's legendary Johannesburg Street Names. It's rarer than hen's teeth these days.
 
But her collection covers a broad range of topics: for many years she taught economic history at Wits University, so she has economic histories of Germany, Japan, India, the United States and the United Kingdom. Run your excited finger along the shelves: banking, business, history, economics, architecture, travel, the Anglo-Boer War, biography, Africana, Rhodesiana, military history, large books on cartography...
Kathy spent many years at Wits (The Heritage Portal)

 
"I don't go for rare books," she says, "I go for areas of interest, or a particular author." But that doesn't mean she hasn't got rare books – she has, probably dozens of them, like The Gold Mines of the Rand, by Hatch and Chalmers, published in 1895. Or, A Guide to Natal, published in 1890. Or, the two 1953 edition volumes of William Burchell's Travels in the Interior of Southern Africa (originally published in 1823). Or a signed copy of the two volumes of The autobiography of John Hays-Hammond, the man who managed Cecil John Rhodes's gold mines, and was believed to have sparked the Jameson Raid.
 
Books published by Balkema and the Folio Society are precious too, she says.
 
Born in England
 
Munro was born in England - her mother was a "war bride" - and she was born at the end of the Second World War. When she was two years old her parents emigrated to South Africa. The Munro family settled in Kew, Johannesburg, and her father worked at the Modderfontein dynamite factory. He worked for the Royal Air Force, ensuring planes were operational for training RAF pilots. Later he trained as a fitter and turner in Rhodesia, and went on to work for South African chemicals group AECI for 38 years.
An early view of the Modderfontein Dynamite Factory (AECI Dynamite Company Museum)

"He was absolutely honest. He was self-taught and studied at night and worked his way up. I think he always wished he could be an academic but he was always a reader and gave me that love," she says.
 
"My mother was also self-educated. She was only one of seven children from a poor family in the Orange Free State to matriculate. She then went to learn skills in bookkeeping, typing, short-hand, and worked her way up and eventually became a cost accountant for JW Jaggers."
 
Munro's mother moved to Joburg with her sister. "They were independent young girls about town and she gave me her love for Johannesburg. She took me to the Johannesburg Art Gallery and at six years old had me entranced by the Dutch masters and the impressionists," she reflects.
Entrance to the Johannesburg Art Gallery (The Heritage Portal)

 
Work at Wits
 
Munro has done good things in her career; in 1999 she started the centre for part-time studies at Wits, called Wits Plus. It offered night-time degrees – in particular BA and BCom - to people with potential, but who had been unable to study earlier on in their lives. "It was the missed generation, people in their 30s and 40s. I organised fundamental maths for the course, so they could go on to do the BCom degree. We grew it to 1 000 students, and it is terrific that it is still operating."
 
Today, Wits Plus also offers a BA or BCom with law, as well as a BSc in engineering and computer science, and several certificate courses.
 
In the 1980s she started the Aletta Sutton Day Care Centre, a multiracial childcare centre for students and staff.
 
She also established a reading programme for blind students on campus, one strand of the present-day Wits Disability Unit. It still exists, and is today the largest university disability programme on the continent, she says. "I had two blind students for a couple of years (one is today a judge); it was volunteer work for me."
 
Between 1995 and 2000 she raised funds and took students on study programme tours to Europe, in co-operation with the Austrian government. "It was a wonderful programme - such a learning experience for some young people from Soweto – it was their first travel abroad. I have been lucky enough to do things that have made a visible difference in people's lives in a small way."
 
For many years she was the dean of the Faculty of Commerce, Law and Management at Wits. Having retired in 2011, she is now an honorary professor in the School of Architecture and Planning.
The John Moffat Building is home to the School of Architecture and Planning at Wits (The Heritage Portal)
 
Passionate about heritage
 
Munro is passionate about heritage, and is often called on by the Johannesburg Heritage Foundation and the South African Military History Society to give talks. She's the perfect person to do this – after all, she has all the research material just a flight of stairs away.
 
"I am looking for new challenges. I fundraise for the Foundation, and I am working on Johannesburg heritage issues," she says modestly.
 
James Ball, the energetic mover and shaker behind The Heritage Portal, publishes her book reviews and articles. "Kathy is one of Joburg's great heritage champions!" he says. "I don't know where she finds the time and energy to drive so many projects. Wherever you turn in the heritage world Kathy is there. She leads tours, writes articles and book reviews, hosts radio shows, organises book sales, comments on plans, rallies funders, lobbies officials and so much more. She deserves her name in bright lights! The heritage community is incredibly lucky to have her."
Kathy Munro celebrating Joburg's 130th birthday with Mayor Mashaba and Flo Bird (Gail Wilson)

What makes her tick? "Having a balanced life, having interests in life," she says. "My husband has always been extraordinarily nice to me, and he likes me to bring him home books. I have been lucky enough to have a couple of kids, to have a career, and to live with him for 46 years." He runs his own business, and they travel every year, to places like Peru, Chile, Argentina and Turkey.
 
As a 70-something, are there things she still wants to do? "Yes - I want to travel more, and to read more books." And writing her own book? "I would write a book on cemeteries and wartime memorials."
Brixton Cemetery

 
What is to happen to all these books when she's no longer around?
 
"Ah, it's not my problem what to do with my books," she exclaims, with a smile.
Lucille Davie has for many years written about Jozi people and places, as well as the city's history and heritage. Take a look at lucilledavie.co.za
Disclaimer: Any views expressed by individuals and organisations are their own and do not in any way represent the views of The Heritage Portal.