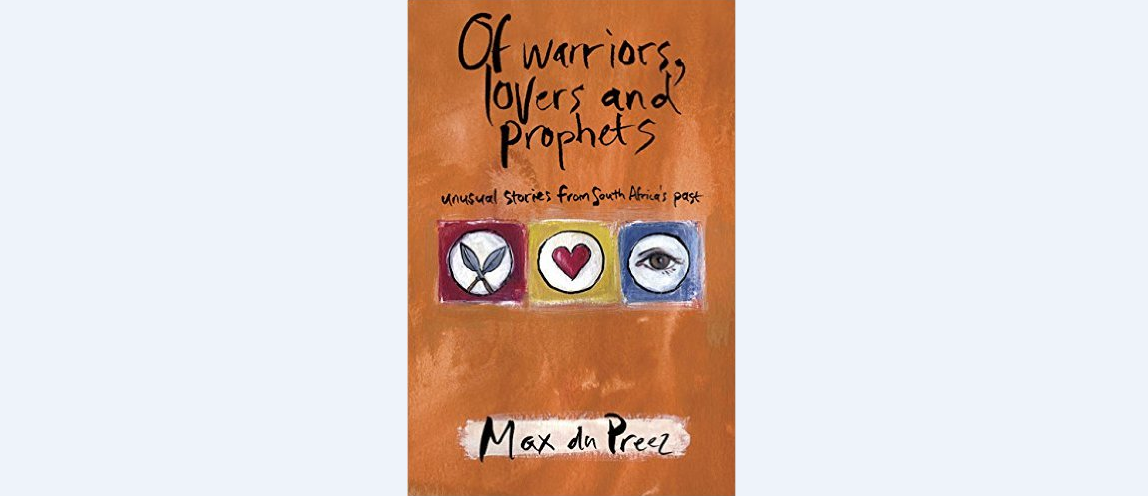 Max du Preez. Of Warriors, Lovers and Prophets, unusual stories from South Africa's Past. Zebra Press 2004. 261 pages, paperback, no illustrations. ISBN 186872901x 
One of the pleasures of collecting and keeping books is that one is open to the possibility of discovering books that were published say ten years ago probably as a Christmas stocking filler but which, because of their quirkiness, retain an appeal. One might miss a top seller when it's first published, but a special delight in visiting a Bookdealers second hand bookshop is the chance encounter with a forgotten but interesting title. Max du Preez is a respected journalist and columnist and it did not take much deliberation to include this book in my haul of last week in taking a trip to Gallo Manor Bookdealers. I was delighted to find this little unpretentious paperback volume of unusual historical stories. The book is a workmanlike paperback, with no illustrations but has a unifying little colophon or logo symbolizing, "Warriors, Lovers and Prophets".
It's a clever device, as the unifying theme of "warriors, lovers and prophets" is a bit of a stretch.  Each chapter is a stand-alone story and du Preez introduces a large cast of players and some unusual themes on the South African historical stage, from Coree an African chief in London to Gandhi in South Africa, from the Rivonia plotters to the Black Jews of Africa, from the Boer War generals Christian and Piet De Wet to the Nazi assassin Robey Leibrandt. There is an insight into a different Winnie Madikizela-Mandela. There is invariably a twist in the tail for each story or an intelligent question is posed about the relevance of a character to today's world and finally a reflection on how history can be used to unify rather than divide back and white. My favourite chapter is "the Sleeping Gorilla", all about South Africa's nuclear capability during the 1980s.
Book Cover
Historical writing and research is a difficult challenge as the researcher has to get stuck into original primary papers, archives and interviews. History is so much a product of its time and the historian will ask new questions pertinent to his age. Facts may well not change through the generations but interpretations move with the time. Often professionally researched history is heavy, indigestible, period-bound, scholarly and not very accessible. Much easier for the popular historians and journalists who follow in the footsteps of the scholars, to find the good books written by the historians to retell a tale of two in a simplified, digestible format. In this book du Preez turns his writing skills to mining the past and finding the right history books for memorable characters and dramatic events. Based entirely on secondary sources and relying on history written up by both popular and academic scholars, the originality of the approach is to have a probing mind, a sense of irony and a reporter's nose for the bizarre story which will appeal to those who like their history without the footnotes. Of course, it is a little unfair on the original historians, who perhaps toiled for years in libraries to produce the comprehensive and authoritative biography or specialist scholarly work, but the reality is that the journalist cum pop historian is more likely to attract those who like their history "lite". 
Du Preez's skill lies in his ability to write in a racy, readable style. He has turned history into good stories. The appeal too lies in the odd juxtaposing of historical characters and liberation politics, the ancient and the recent past. This is the storyteller's view of 20 South African historical themes and people. The author has accessed the history written by others and opened up some half-forgotten stories for popular mass consumption. The teaching of history to young people is an essential part of nation building and rebuilding and for South Africa, new interpretations and an all-inclusive history has made the production of new textbooks a key priority. History is awkward, controversial, open to dozens of interpretations and utterly fascinating for the curious. Perhaps though, to find new roots and routes into the past, the journalist and the storyteller have a role to play. I'd recommend this book as a sharp witted and easy read for a bright teenager asking questions about our tortuous messy muddled past.
This book has a useful historical timeline and date list, there is a small glossary of South African terms and a professional index. The book includes a selected quirky bibliography of South African history books written by amateur and professional historians, the research which might have absorbed the author's energies for at least a year or two. The bibliography is an education and set me thinking about which "historians" pass muster as "good history", but one arrives at a subjective answer. Start with du Preez and you may well want to then try professional historians such as Tim Couzens, Rodney Davenport, Chris Saunders, John Le Band, Jeff Peires and a good many others. These authors are the ones who provided du Preez with his source material.
In summary, du Preez as a storyteller is a taster and teaser, inviting the reader avid for more to really engage with the historians.  
2016 Price Guide: R70 second hand or new copy still available at R250 local or $26 on Amazon.
Kathy Munro is an Honorary Associate Professor in the School of Architecture and Planning at the University of the Witwatersrand. She enjoyed a long career as an academic and in management at Wits University. She trained as an economic historian. She is an enthusiastic book person and has built her own somewhat eclectic book collection over 40 years. Her interests cover Africana, Johannesburg history, history, art history, travel, business and banking histories.
Wednesday, April 6, 2016 - 06:23