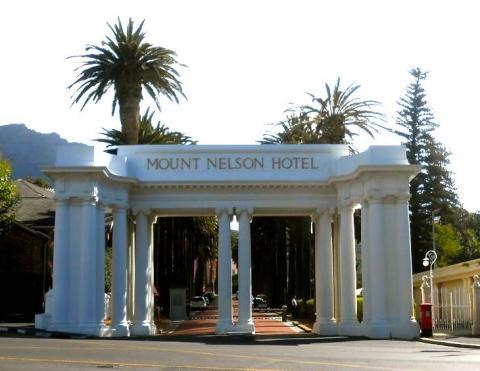 In 1906 there were 160 licensed drinking places in Cape Town including hotels, taverns, inns and bottle stores. The link between hotels, a license and a bed for the night was much deplored by the temperance movement who argued that "billiards and brandy, the two curses of Cape Town prevail". This book tells the story of the hotels established or upgraded in Cape Town over the two decades and beyond. It was the hey day of hotels that appealed because of their excellent beer, a soft bed and reasonable food. Personal bathrooms and toilets were not nearly as important as a long bar counter. 
Once again Michael Walker has produced a large format, A4, highly informative, illustrated book. Self-published and in a similar style to his earlier now much sought after book on Muizenberg,"A Statement in Stone".
This book is a sequel to his 2012 publication on the "Early architects of Cape Town and their buildings", Michael has researched the architecture and the architects of these late 19th and early 20th century hotels and in many instances takes the story on to the later more recent history of these many  establishments. Many of these hotels, both major and minor reflected the vogue for the ornate, decorative style of Art Nouveau design. The curved tendril-like lines featured in internal and external wrought iron work, brass fittings, windows and roof tops. Steeples, spires, cupolas, balconies and gables spoke to the language of harmonious superfluity.
Only two of those many hotels of the era remain in their original form and function and hence the sub title about this history being forgotten or seldom told. The title echoes back to The raconteur  teller of  yarns, Capetonian Lawrence Geeen and his book, "Almost Forgotten Never Told" (1965, Timmins). But Walker is dense on archival research, information and facts. The architects drawings of front elevations make for charming illustrations. In addition old postcards and early photographs recall a bygone era, of many small city hotels where the combination of a welcoming ground floor bar, with impressive bar counter, a respectable parlour, a dining room and a number of bedrooms on the upper floors (seldom with a bathroom or toilet) added up to a sound investment formula.    
I always like a book that shines a light on a neglected subject. The entrepreneurs, brewers, architects and hotel proprietors come to life in this book. Particularly useful is the documentation of the Cape Town architects who specialized in hotels. There were at least twelve such late 19th century architects and Walker provides vignettes of each one. 
Anders Ohlsson of Ohlsson's Cape Brewery aggressively promoted the sale of his Lion Lager beers through a network of new hotels, upgraded old hotels and bottle stores with William Adolphus Ackerman, George Murray Alexander and John Parker as the architects to design or improve upon what became a chain of brewery linked hotels. Many of these two, three or four storey rather quaint establishments remained remained open until the 1970s. South African Breweries also sought to expand their share of the beer trade via bottle stores and hotels. They engaged the architects Ernst Selliger and William Adamson, George Ransome and Charles Freeman. Ransome was well known in both Cape Town and Johannesburg and was the architect of Markhams building, which is still a landmark in the old inner city .
Anthony de Witt was another neglected and highly innovative Cape Town hotel architect who used a steel framework and cast concrete floors to pioneer highrise building with a lift. The Hotel Metropole in Long Street of 1894 was his first hotel commission and in its day a city landmark. It still functions as a hotel today, although under the name 'The Grand Daddy'.  Thereafter,  Witt redesigned and upgraded the International Hotel with a Swiss chalet style of architecture. This hotel was a leading upmarket hotel and function venue, located in Mill Street but demolished in 1971. De Witts work in Cape Town was ubiquitous but was quickly forgotten after he left Cape Town in 1908. 
Kimberley Hotel (The Heritage Portal)
Frederick Cherry was an immigrant Irish architect who arrived in 1890 and quickly made a local name as the designer of the popular Sea Point pavilion as well as a number of new Cape Town hotels. His first commission was a redesign of the Whittington hotel and then came the redevelopment of the Kimberley Hotel. The great bar counter was the focal point. Today the Kimberley Hotel is a backpackers lodge, worth exploring for its period style and to be found corner of Roeland and Buitenkant streets. The Hope (later called the Masonic) Hotel was another Cherry designed building and is also today a backpackers haven but has lost its art nouveau facade. 
No book on Cape Town hotels would be complete without the inclusion of the Mount Nelson Hotel in Orange St, at the mountain end of Government  Avenue. Walker tells the story of the Nellie's design and construction (1894 and opened in 1899 , the architectural firm was Dunn and Watson of London and the builders were William Cubitt and Company also of London) in an informative chapter, but one that only concentrates on the early years. I treasure a centenary programme of the Hotel and for me a Cape Town treat is always a high tea at the Mount Nelson and wander around the public rooms, corridors and shops simply for its ambience and a peep at the historic memorabilia on the walls. 
Entrance to the Mount Nelson Hotel (The Heritage Portal) 
During his researches Walker suffered the misfortune of the loss of all the architectural drawings from 1899-1901. Despite months of searching by a number of people responsible for the safe keeping of these drawings, nothing came to light. It was over that period many S.A. Breweries hotels were designed as well as the works of Parker and Cherry (Kimberley Hotel). This has disappointed Walker as he could then only list certain hotels in the very full appendixes and these end pages themselves become a valuable documentary source. Here is an opportunity for Cape Town archivists to keep searching.
My one criticism of Walker's research is that while the architects, entrepreneurs and hotel keepers feature prominently we know very little about the changing patterns and types of guests through the centuries. From seafaring types to tourists Cape Town was a harbour and world beauty spot. I would have liked to have heard more of the experiences of the visitors and guests at these many hotels . 
This is a splendid book and again a volume that will appeal to the architectural community  and the collectors of Cape Town Africana. I hope the book will make a contribution to Cape Town heritage preservation of what remains. 
2015 Guide Price: The average price of the book from all local bookshops in  Cape Town varies between R280-R350 inclusive of VAT. The book is available at leading booksellers but not Exclusive Books. If bought from Michael Walker direct the price is R230 inclusive of postage in RSA, contact e mail is coolarty@telkomsa.net
Book for review on the Heritage Portal supplied by the author for which we thank him. 
Kathy Munro is an Honorary Associate Professor in the School of Architecture and Planning at the University of the Witwatersrand. She enjoyed a long career as an academic and in management at Wits University. She trained as an economic historian. She is an enthusiastic book person and has built her own somewhat eclectic book collection over 40 years. Her interests cover Africana, Johannesburg history, history, art history, travel, business and banking histories.  She researches and writes on historical architecture and heritage matters. She is a member of the Board of the Johannesburg Heritage Foundation and is a docent at the Wits Arts Museum. She is currently working on a couple of projects on Johannesburg architects and is researching South African architects, war cemeteries and memorials. Kathy is a member of the online book community the Library thing and recommends this cataloging website and worldwide network as a book lover's haven.
Monday, October 12, 2015 - 18:24