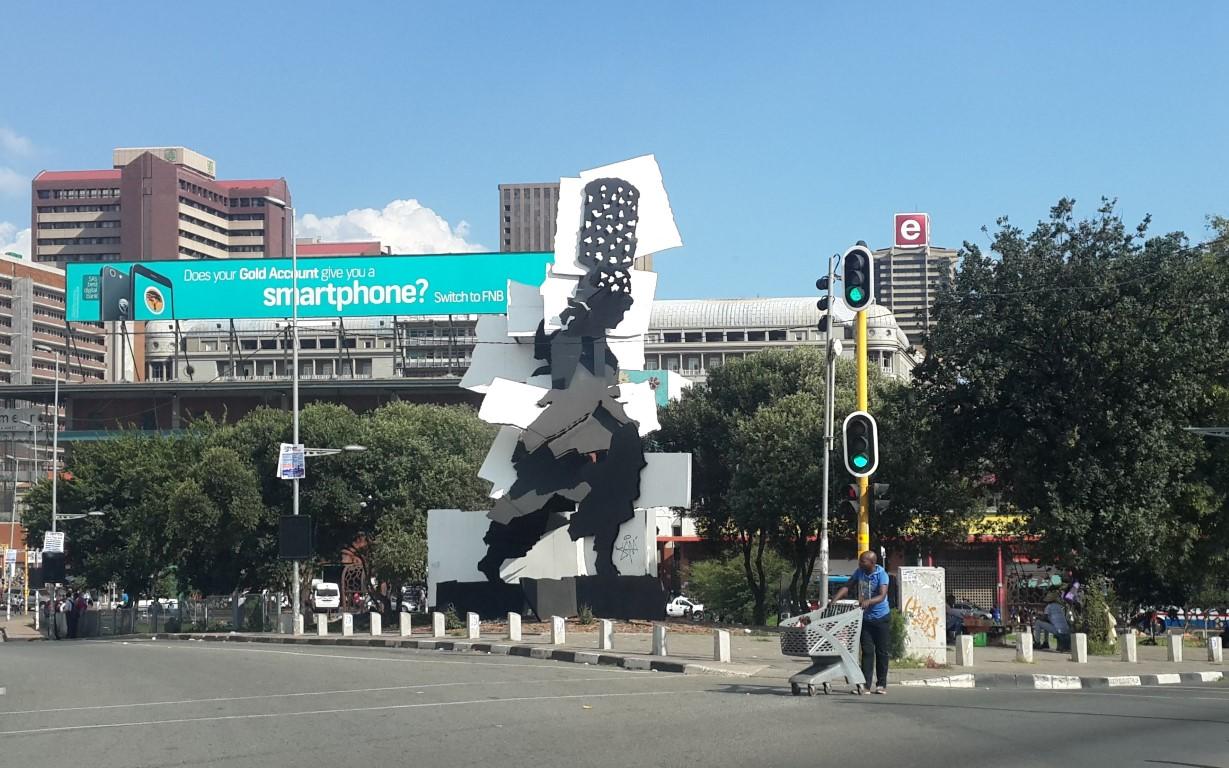 This is a magnificently produced book and shows off Fourthwall production book art skills. My copy is only the standard edition yet the soft cover A4 size volume comes in a fiery red box.
Book Cover
In 2009 William Kentridge and Gerhard Marx were commissioned by the Johannesburg Development Agency to create a public sculpture for the City to celebrate the 2010 Soccer World Cup. The work is 11 metres high and made of steel plates and brilliantly becomes a coherent figure of a striding woman street vendor, only when viewed from a specific vantage point. It is located at the foot of Queen Elizabeth Bridge; this was a location formally used by taxi washers and informal traders. The work is called the Firewalker and pays homage to that woman who carries a red-hot coal metal brazier on her head as she strides through the streets of her city. The brazier would be set down to provide the fire to roast mealies on the cob for the hungry passers-by. The sculpture presents Johannesburg in a new way and is one of those pieces that makes me feel that this is a city that has become African and exudes a new energy and inclusiveness. It is a work that shows how much Johannesburg has changed in two decades. That combination of a women claiming city space to make her living, walking boldly and body proud and erect with her fire upon her head, exquisitely balanced lets the visitor and Joburg citizen know that ours is an African city.
Fire Walker (The Heritage Portal)
This book, published in 2011, is a collection of four essays, six conversations, and three photo essays by heavy weight players in the Johannesburg art, literature, and architecture scene.  The book, though published some 6 years ago, has become a Johannesburg collector's item, because it presents quality writing and reflection about Johannesburg, some extraordinary contemporary photographic images of the city, and gives deeper meaning to the art work of Kentridge and Marx. Ben Law-Viljoen has a lovely photo essay on the fire walkers of Johannesburg (my favourite is the photograph on page 75). Oliver Barstow enters into conversation with seven people involved in the project from artist to patron, from engineer to steelworker. The essay by Mpho Matsipa probes the meaning behind urban space and the role of black woman facing oppression in a hostile city. Don't miss the photo essay by Alastair McLachlan on six other public monuments in the city and those images remind us of who, why and how different figures and histories become set in stone. Mark Gevisser presents his own and Kentridge's love affair with old maps of the city and how maps can guide one through real and imagined spaces. Maps bring order to public space, make places understandable and accessible but also take you on armchair journeys.
Don't miss the lovely fold out reproduction plan of Johannesburg and its suburbs, compiled and drawn by W Tompkins in 1890. However, because it is compressed you need a magnifying glass to inspect the detail. What is so interesting is that our firewalker of today can probably use this map to negotiate at least the city centre. Gevisser questions whether all the places dropped into the plan of the city a mere four years after the establishment of the city actually existed. Thus the book is of huge importance to anyone interested in South African cartography and most particularly city maps and plans. The other theme is how Kentridge himself uses maps in his art works. 
In summary this is a beautiful book capturing a new bit of city history in the making. It is a collaborative effort by creative people about public art, city spaces and understanding a new Johannesburg.
Fire Walker (The Heritage Portal)

2017 Price Guide: Original retail price R403. But if you can find a copy expect to pay between R300 and R500 for a second hand copy.  Best to keep an eye on BidorBuy.
Kathy Munro is an Honorary Associate Professor in the School of Architecture and Planning at the University of the Witwatersrand. She enjoyed a long career as an academic and in management at Wits University. She trained as an economic historian. She is an enthusiastic book person and has built her own somewhat eclectic book collection over 40 years. Her interests cover Africana, Johannesburg history, history, art history, travel, business and banking histories.  She researches and writes on historical architecture and heritage matters. She is a member of the Board of the Johannesburg Heritage Foundation and is a docent at the Wits Arts Museum. She is currently working on a couple of projects on Johannesburg architects and is researching South African architects, war cemeteries and memorials. Kathy is a member of the online book community the Library thing and recommends this cataloging website and worldwide network as a book lover's haven.
Tuesday, March 21, 2017 - 19:54