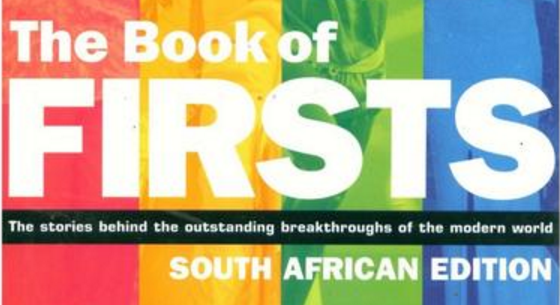 The Book of Firsts. The Stories behind the outstanding breakthroughs of the modern world. South African Edition compiled by Ian Harrison and Peter Joyce. Foreword by Steve Fossett. Published by Jonathan Ball, 2005. Paperback 288 pages, illustrated.
This book is all about who came first. Everyone knows who was first on the moon, but who was the first South African in space or who are the first South African Nobel laureates? This is the book to consult for answers, although published over ten years ago, it still has a fairly current feel. The record is that of being first in whatever area of human endeavour appealed to the compilers, but for a first to be socially significant it needs to be followed by a second and a third. This book was originally meant for an international audience, the original version was British, but this edition gives it a local flavour with the SA variants to cheer our patriotic hearts. It's a project to compile knowledge in the space where Readers' Digest meets the Guiness Book of Records. Another specific South African antecedent of sound bites of solid worthy Information was Eric Rosenthal's "Encyclopedia of Southern Africa", which was incredibly popular and ran to about nine editions. Densely packed with knowledge there was also the earlier, British volume, "The Shell Book of Firsts" published in 1974, and sponsored as a marketing device by the giant oil company. These sort of books made ideal Christmas presents for young and old.
Shell Book of Firsts
However, the Shell Book is a much denser and a heavier read, has fewer photographs (poorly reproduced in black and white) and is a book only for 'the severely addicted to arcane knowledge' type of reader.
The Book of Firsts has the look of popular and populist books for adults and children, with large text layout, busy timeline panels and lots of coloured illustrations. It's informative, factual and entertaining. Here is history as a light diet with the data drawn from encyclopaedias, other books of firsts, dictionaries (that is, all secondary, compact sources). In a way the book is also dated because in the last decade, it is Wikipedia that has positioned itself centre stage of instant and some would say pseudo authority. Compiling information is a game for "Everyman" on the Internet. Today, if you want to know who or what came first one googles the answer. The grand child who challenges you with a question about ancient history, then says, "well Gran, google it"! 
I was interested in this book because of the Johannesburg First exhibition hidden in a side gallery of Museum Africa and this book extends the line-up of historical firsts to other achievements of note in South Africa. Johannesburg is not much mentioned in the Book of Firsts and the unusual history of the town does not even feature. For Jozi city firsts you will need to revert to Anna Smith. There are many South African photographs, drawn from Bailey's African history archive, The SA National Library and the SABC archive. These are excellent sources. It is also dated because despite being about history, interpretations of history and most especially South African history have changed in the last two decades. Looking for "firsts" is a sort of ideological treasure trail and depends on the "first " you want to find. Nonetheless, a hard copy book version of firsts of the early 21st century, still has an appeal. Here you can find all the "did you know " snippets, perfect for submission for the Classic FM breakfast quiz or the pub quiz night.  
Full Book Cover
Published in South Africa, by Jonathan Ball in 2005, the wide ranging subject matter covers Human endeavour, Food and Drink, Trade and Technology, Lifestyle and Leisure, Transport, Arts and Entertainment, Medical Achievement, Government Law and Order, Communication and Sporting Milestones. Each of these sections spawns further subheadings and topics. The skeleton of the book was determined by the likely appeal to a British readership with the South African achievements tacked on. The South African pictures are more interesting than the truncated text. 
Which first tickled my fancy? Well, the first town in South Africa with an operating railway line was Durban in 1860. The first South African electric train ran in 1925. The first rickshaws came to Durban in the 1890s. Chris Barnard features for the feat of the first human heart transplant in 1967 but is put into context of other miracle medical firsts elsewhere. Frank Fillis' circus was the great entertainment in Johannesburg in 1889. Pratley's Putty is the only wholly South African product that has been to the moon. Then there is the rare photo of the body of Dr HF Verwoerd being moved from Parliament after the 1966 assassination. You are now getting the drift that this is a book to dip into for clasping with great mental satisfaction those random, factual rather useless nuggets of firsts.  There are hundreds of nuggets to choose from. The "first" often becomes enduringly appealing because it is sensational. Here is the short cut to becoming very knowledgeable over many topics and being a boring star at the dinner table and you do not even need to do it by "googling ".   
Steve Fossett (who contributed the foreword) was the man known for his daring pointless exploits and adventures. He was the first man to circumnavigate the world in a balloon, but he tragically disappeared on a solo flight in the Sierra Nevada mountain range, California in 2007, two years after the publication of this book. Something of a sad Icarus-like epilogue to the risks inherent in being "first" when it comes to insane adventure. So this book of firsts becomes an historical testament to human endeavour. I found it poignant that Fossett spotted the opportunities to be "first" still around in life everywhere if only one looked for those possibilities. To Fossett the "journey became the victory". Perhaps he would have been the first to volunteer to settle Mars now that the high possibility of water on that planet has been hypothesized. Instead it was Mark Shuttleworth who became our first South African space tourist in 2002.
2016 Price Guide: 2nd hand... Less than R100 or if you are lucky. A great find at a charity book sale for R10. The Shell Book of Firsts, is the sort of book bought from Amazon where you will pay more for postage than for the book purchase.
Kathy Munro is an Honorary Associate Professor in the School of Architecture and Planning at the University of the Witwatersrand. She enjoyed a long career as an academic and in management at Wits University. She trained as an economic historian. She is an enthusiastic book person and has built her own somewhat eclectic book collection over 40 years. Her interests cover Africana, Johannesburg history, history, art history, travel, business and banking histories.
Wednesday, March 23, 2016 - 08:08