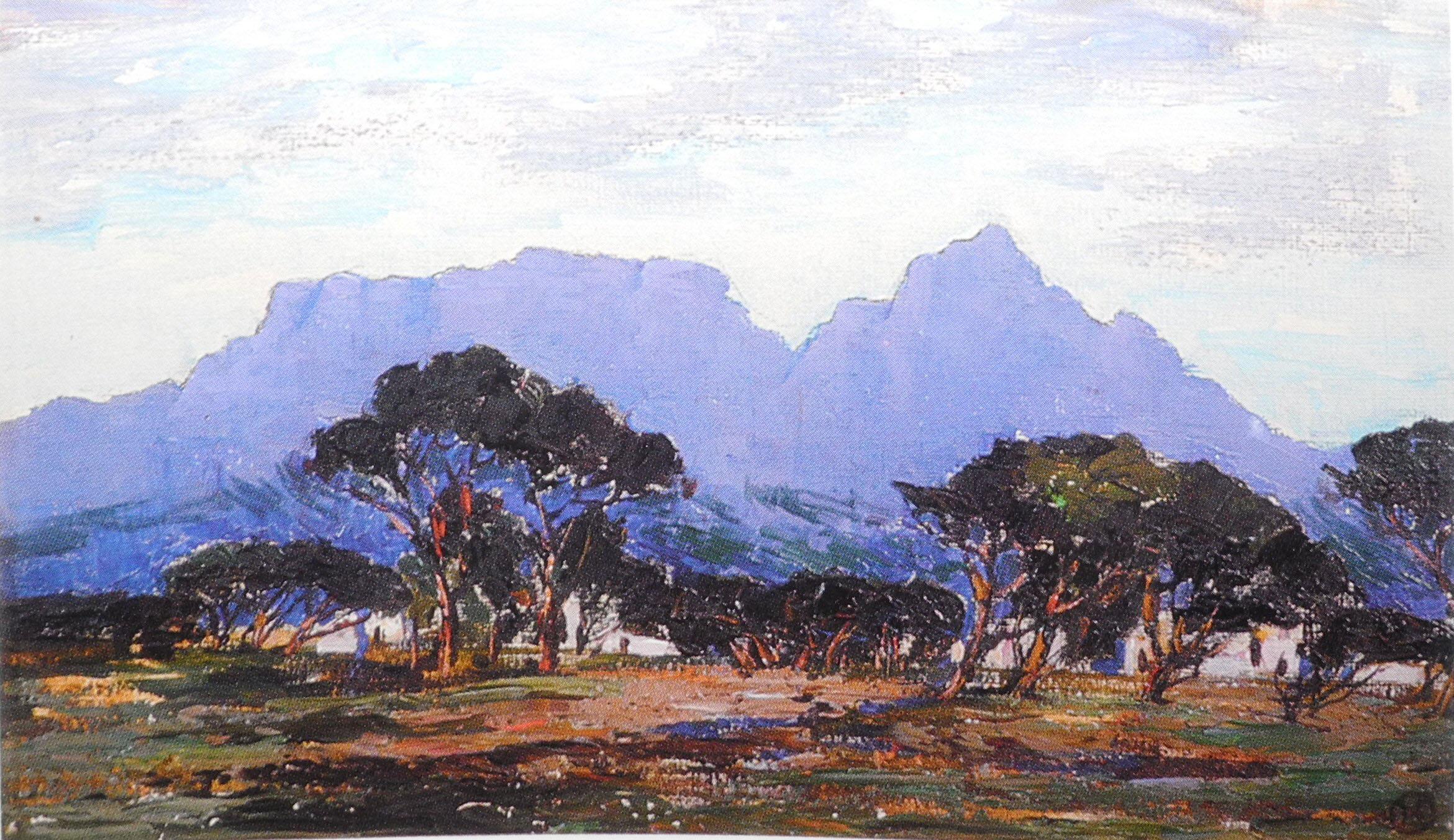 Nita Spilhaus by Peter Elliott, published by Peter Eliott, edited by Glenda Younge, Illustrated, 194 pages. Cape Impressionist painters were a small group of Cape artists who lived and worked in the Cape and were prolific and productive in the early twentieth century. In their outdoor scenic paintings they sought to capture the special light and colours of the magical Cape landscape. The portraits are even more interesting. They were a group because they identified with one another, formed life-long friendships and supported one another as professional often struggling artists. Irma Stern, Pieter Wenning and Maggie Laubser, Edward Roworth, Strat Caldecott are better known as artists than Nita Spilhaus. But today Spilhaus's works are appreciated, collected and command good prices. She was a fine artist within her period and her favoured subjects. 
This book is the first major serious study of the life and work of Nita Spilhaus. Written by her great nephew Peter Eliott, this book is self published. It is an accomplished and meticulous study of Nita's life, artist friends at the Cape and her work. The book is superbly illustrated with colour plates showing Nita's broad range of work across landscapes, trees, sea and costal scapes, Cape Town scenes of the Malay quarter and still lifes, plus portraits, etchings and lithographs. The project has been well supported by a large group of people interested in Spilhaus' art and its appreciation. This study has the great advantage of placing Spilhaus in the context of her era and relates her work to that of her contemporaries. The endnotes are a model of precise and well documented research. 
Book Cover
It was fortunate that so many of Nita's artworks came to be owned by members of her family. It was serendipitous that a final exhibition late in her life at the Martin Melck house (in 1963) led to the art dealer Helmut Silberberg acquiring her collection of drawings and etchings and that this collection was ultimately purchased by the Sanlam Art Collection in 1989. It meant that a single collection of drawings and sketches created during key periods of her career was preserved in toto. All of this makes for an authoritative book, because a good selection of Spilhaus' art has been sourced from private collections as well as from the Sanlam Art Collection. 
Nita Spilhaus was a Cape artist, who made her name in local artistic circles in the early decades of the twentieth century. She was of European (German) descent. She was born in Portugal in 1878. She lost her parents as a very small child and was brought up in Lübeck, Germany by her grandparents. Nita was a talented girl and formally studied art for more than a decade. She was educated and trained as an artist in Lübeck and then in Munich, where she attended a private art school of Frederich Fehr. For a young woman in the fin de siecle era before the First World War she enjoyed a remarkably fun, carefree and liberated life. Nita spent her summers in Dachau in 1898 and 1899 and then moved there in 1899 to the school of Adolf Hölzel.  She became an accomplished etcher, studying that subject under a specialist copper engraver Heinrich Wolff, and an enduring series from this period of her life was a folio of 10 etchings of her home town of Lübeck (two illustrations in the text show examples).  
Nita had an association with South Africa from the 1890s and moved to South Africa permanently in 1908 to reside with her uncle and his family at his home Hohenhort, Constantia and some of her Cape oil paintings from that date have been included in the book. From 1914 Nita settled into her own rooms cum studio in the centre of Cape Town. She made friends and established herself in the Cape art scene.  She was an impecunious but not impoverished artist, progressive in her lifestyle as a single unmarried woman battling anti German sentiment and restrictions as to where she could paint during the First World War years. Elliott has made full use of fairly sketchy material to give us wonderful vignettes of the circle of Cape Impressionist painters, J S Morland, Allerley Glossop, Ruth Prowse, Constance Penstone, Edward Roworth, Churchill Mace and Hugo Naude and a good many more artists of the decade of the twenties.  The professional political cartoonist D C Bonzaier was her friend but his diaries give an acerbic and nasty view of his friends. I was particularly interested in the sculptor, Moses Kottler as he was the man Wits University chose to execute its war memorial of three nude figures that still stands close to the Central Block of campus.
Oil Painting of Kloof Corner, Table Mountain
Nita married late in life. Her marriage in 1921 to Dr Ernst Simon gave her stability, love and the material comforts to continue to paint. As a couple they made more frequent trips to Europe and a selection of her oils show Portuguese, Italian or German scenes. In the mid twenties, the couple moved to live in Germany, but she continued to exhibit in South Africa during the decade of living abroad. She and Ernst relocated to the Cape in 1937. Information about this European phase of her life is thin and is passed over very quickly. Nita was left a widow when her husband died in 1943 but the latter years of her life until the early 1960s were productive. Sadly she lost her sight in her final years and died in 1967. I loved the story of Nita again returning to the "rough" Malay quarter to paint but being looked after, unknown to her, by her brother's chauffeur. 
Etching by Nita Spilhaus 'Amongst the Malays'
For me this book raised some interesting questions. Firstly, that a life in art offered comparative freedom and definite independent fulfillment for a talented single woman, even in Cape Town at a time when women were restricted in their choice of careers, knowing that their primary destiny was in marriage and motherhood. Secondly, the emphasis on the picturesque became a prism distorting the poverty and hardship of life in the poorer parts of the city.  
Thirdly, the emergence of a Johannesburg art market with galleries such as the Pieter Wenning Gallery and the Everard Read Gallery successfully promoting the work of the Cape artists, so much so that their art sold more readily up country than in Cape Town. Spilhaus became better known in Johannesburg than she was in Cape Town. The appeal of the scenic picturesque Cape landscapes for those who laboured on the dust of the gritty, dusty highveld contributed much to the illusion of where natural beauty lay. I recall my mother considering it a treat to take the two of us to the Wenning Gallery in the city to feast on this Cape art. I wish we could have bought a Spilhaus then, alas we did not. However, my own love of South African landscape artworks came from those gallery visits.
In summary, this book is a valuable addition to South African art studies. I strongly recommend it. 
2015 Price Guide: The standard (paperback) edition is R399.00. The collectors edition is R1100.00 (hardcover, in a slip case and comes with an etching of Kirstenbosch, Constantia and Mountain Path by Nita).
The book can be ordered through Print Matters Jacana Media, On the Dot or directly from Peter Elliott (peter@petermelliott.com). The collectors' edition can also be ordered from Glenda Younge (GlendaYounge@gmail.com) 
Kathy Munro is an Honorary Associate Professor in the School of Architecture and Planning at the University of the Witwatersrand. She enjoyed a long career as an academic and in management at Wits University. She trained as an economic historian. She is an enthusiastic book person and has built her own somewhat eclectic book collection over 40 years. Her interests cover Africana, Johannesburg history, history, art history, travel, business and banking histories.  She researches and writes on historical architecture and heritage matters. She is a member of the Board of the Johannesburg Heritage Foundation and is a docent at the Wits Arts Museum. She is currently working on a couple of projects on Johannesburg architects and is researching South African architects, war cemeteries and memorials. Kathy is a member of the online book community the Library thing and recommends this cataloging website and worldwide network as a book lover's haven.​
Wednesday, November 4, 2015 - 07:31