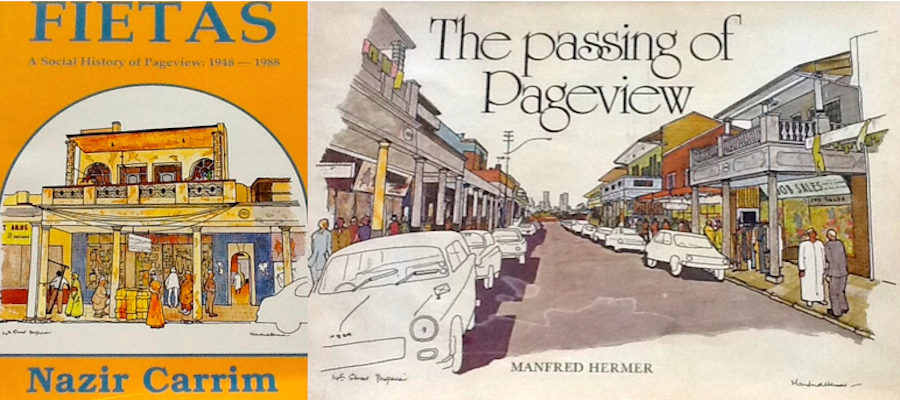 Nasir Carrim: Fietas, A social History of Pageview, 1948 - 1988, published by Save Pageview Association, 1990. Softcover, A4 size, 191 pages, illustrated, maps. This book in its day was an item of campaign literature to Save Pageview from demolition and the ravages of apartheid social engineering. It was a sad and disgraceful story and the people of Pageview fought valiantly for their rights of ownership and a city presence for the Indian Community. Who wanted to move or be moved to Lenasia? The rich social fabric and racial mixing of diverse working class people as played out In the emergence of Pageview, Vrededorp or more informally named Fietas adds another chip in the mosaic of Johannesburg. This book explores from the inside, the various aspects of the social history of the Indian community covering topics such as sport, religion, entertainment, education, shopping and politics together with cameos of people. Nasir Carrim was born in Fordsburg, but his family was forced to move to Lenasia. He became a lecturer in Education. The impact of the Group Areas act, forced removals, and the resistance years make this a compelling story. The book is also a political record of the soul of Pageview and the anger steeped in the consciousness of a national injustice drove the activism represented here. Pageview stood for a case study of the South African experience before 1994.  A Manfred Hermer painting of 14th Street was used for the cover which adds charm but the design of the book and printing were of a poor, cheap quality. 
2015 Price Guide: This is now a hard to come by title . R200 to R300 
Manfred Hermer: The Passing of Pageview, Ravan Press, 1978 80 pages. Not paginated, Hardcover . This is another important record of Pageview which aimed to capture on paper in a series of oil paintings the soul of the people and streets of a community before it all disappeared through grand and petty apartheid social engineering. Manfred Hermer was a prominent Johannesburg architect who was also an artist. He was professionally active in Johannesburg between 1934 and 1990. This book was Hermer's tribute to Pageview. Hermer's paintings were architecturally precise but he also brought life and people into his street views. The text was based on his interviews with officials, traders and community leaders and are lively vignettes of local characters .  Hermer mourned the passing of Pageview with a nostalgic , affectionate outsider's admiration for a community, its lifestyle and unique character. Pageview's shopkeepers of the famed and much loved 14th street were relocated to the Oriental Plaza in 1976 and Hermer's final two paintings were of the courtyard and clock tower of the Plaza. This book was beautifully designed and was a lavish production of Ravan Press. It is a collectors item of Africana and a must own Johannesburg title.  
2015 Price Guide: Hard to come by, price range R700 to R1000  
These two titles are collectable for different reasons offering the the insider and the outsider view of Fietas/Pageview.  They are both different forms of social history and documentary evidence of a particular place at a moment in time.   The contrast is between archival and artistic. 
Kathy Munro is an Honorary Associate Professor in the School of Architecture and Planning at the University of the Witwatersrand. She enjoyed a long career as an academic and in management at Wits University. She trained as an economic historian. She is an enthusiastic book person and has built her own somewhat eclectic book collection over 40 years. Her interests cover Africana, Johannesburg history, history, art history, travel, business and banking histories.  She researches and writes on historical architecture and heritage matters. She is a member of the Board of the Johannesburg Heritage Foundation and is a docent at the Wits Arts Museum. She is currently working on a couple of projects on Johannesburg architects and is researching South African architects, war cemeteries and memorials. Kathy is a member of the online book community the Library thing and recommends this cataloging website and worldwide network as a book lover's haven.
Sunday, October 18, 2015 - 14:49