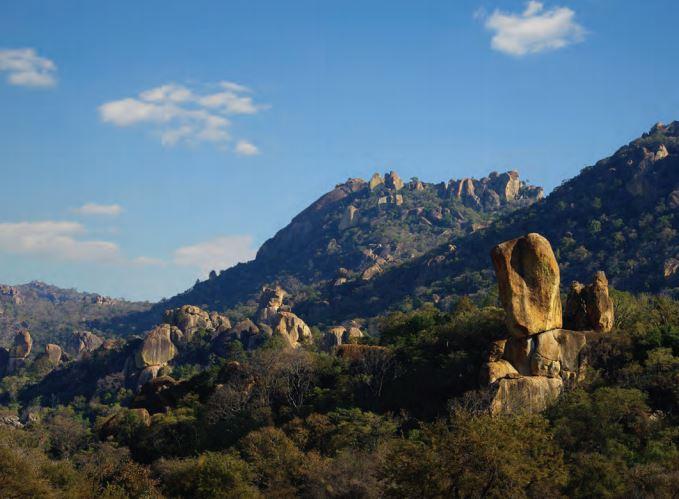 Siyakha Mguni: Termites of the Gods San Cosmology in Southern African Rock Art, Wits University Press, 2015, 202 pages, Illustrated. ISBN 987 186814776 2. I adore books about journeys. Accounts of journeys can be about a personal adventure or a memoir or an ancestral tale or even a journey of research and discovery. This fine original book  combines all these elements as the author sets out on his travels to discover deeper meaning and the symbolic significance in his own life and in specific features of San rock paintings to be found in many parts of Southern Africa.
If you are interested in Southern African rock art and if you have ever been to the Matopos in Zimbabwe this book is an absolute must. With this text in hand you will want to explore the Matobo National Park with new insight and be ready for the mental flashing lights of eureka moments. There will be no better guide than Dr Siyakha Mguni's book.
Rock Art eNanke Cave (Termites of the Gods)
Siyakha Mgune is a member of the Rock Art Research Institute at the University of the Witwatersrand and holds a PhD from the University of Cape Town. He is a man who has travelled far from his roots and into the rigorously scientific world of research and he shares that adventure. Surprisingly, although a scientist with all the tools of his trade, Mgune never loses sight of his origins. It is because of his own background that he turns the key to open up new ways of seeing, viewing and understanding San culture and beliefs in Southern African rock art. 
The Matopo Hills near Bulawayo is a place of majesty, grandeur, fiercely fought battles and a number of caves that warrant close study to reveal a much more ancient history. The granite rock formations of precariously balanced but stable rocks are extraordinary in their presence and beauty. For me it is one of those places in Africa that casts a spell. Cecil Rhodes was buried here. Then there is the Herbert Baker designed Shangani memorial that stands like a monumental Greek lament. But these familiar human imprints are of recent origin. There is another layer to history if you go in exploring in Manyenye's or Nswatugi Caves in search of an ancient spiritual universe and San cosmology. Here is a very different and rewarding far more ancient heritage. 
Mother and Child Formation - Matopo Hills (Termites of the Gods)
Sometimes a book comes along that changes how one thinks about a subject or looks at an object or an image with new insight. I think this book hits that spot. The author merges his knowledge, field work and experience into a fine, tightly argued and closely researched original volume that adds to understanding and changes one's perspectives of human ancestry and our place in the world. This study also identifies other parts of Southern Africa, in  the Drakensberg, in Namibia, in Botswana which were major painting and engraving areas and the beautiful photographs of all of these areas are mainly his own work but some are by of a number of colleagues and they add to the documentary records.
Rock Art Locations (Termites of the Gods)
I think this book has an international appeal and will be appreciated beyond Southern Africa. Siyakha Mguni's offers a precious gift to science and scholarship at the same time is a homage to remote African ancestry. Through his research he is able to link our universe to another far more ancient one that has left few traces other than in the rock paintings that survive in caves in Southern Africa and in particular in the Matopos and which demand  interpretation. It is a book that excites because of its originality, its subtle arguments and its innovative thinking.  
Mguni argues that the subject of rock art had the misfortune to be trivialized and oversimplified by earlier scholars such as Breuil and Frobenius. In sharp contrast, Mguni argues for complexity, and many layers of meaning in the images to explain the San systems of knowledge and world view. Mguni's principal theme is the painting category known as "formlings". Formlings are diversely painted worm like images that appear in rock paintings. He argues that these formlings, the meaning of which has eluded archaeologists and anthropologists for decades, are representations of flying termites and their underground nests. He argues that formlings are associated with botanical subjects and  also  many larger animals considered by the San people to  be of spiritual significance and power. He  draws attention to the San ethnographic  suggestion that human, animal and plant worlds interdigitate. In other words, sometimes people could become animals or plants and visa versa. Documenting, recording and capturing this fragile inheritance is a responsibility, a duty and a gift and Mguni delivers brilliantly.
Termite Mound Surrounding a Single Tree (Termites of the Gods)
Mguni makes a breakthrough contribution to knowledge in his explorations and interpretations of formlings. He delves deep into the ancestral past and as well as the surviving visible evidence to  find new and plausible meaning. This book is the product of his years of scientific probing, travel and field work. The book is also unusual because it  offers a  highly personal account of a journey through time and the mind, a journey that began in 1978 in the Matopo Hills. Mguni gives of himself in this book; he becomes our guide to the world of his San ancestor and their spiritual world. Mguni's plausible and convincing explanations add a new and important dimension to the body of literature on San rock art. His book makes this subject accessible to the amateur enthusiast (without oversimplification) and at the same time addresses his scientific peers (posing serious further themes for research and discussion). There has to be a sequel to this work and I await this with excited anticipation.
Hemispheroidal Shelter Type in the Matopo Hills (Termites of the Gods)
However, I rather wondered why the comprehensive bibliography made no mention of Eugene Marais's "The Soul of the White Ant" (first published in book form in 1937, and reprinted in various editions since) based on Marais' 10 year study of termites in the Waterberg, Transvaal in the early 20th century. Marais' early results of his close study and field work appeared in Afrikaans in the Huisgenoot magazine. Marais' work was relatively little known at the time but controversy was raised when a few years after the  magazine articles appeared, Maurice Maeterlinck published his "The Life of the White Ant" and went on to be awarded a Nobel Prize, claiming originality. It was a book which Marais asserted was heavily plagiarised from his own earlier work. The importance of Marais' work was recognized by for example Robert Ardrey (see the still very readable African Genesis (1961). I would have liked to hear Mguni's opinion of Marais' work. This is where crossing the boundaries of disciplines juxtaposes various possible interpretations. S H Skaife, was another South African naturalist and entomologist who studied termites (see his South African Nature Notes, published by Maskew Miller circa 1940) whose work could have added another angle.
Termites of the Gods is a wonderful achievement. The volume is also a very attractively presented book signalling that Wits Press has the capacity to design a handsome book, where interesting subject matter is enriched through quality layout, fine colour photography, informative maps, artistic drawings and explanatory diagrams. My one criticism about production is to suggest that this high quality volume deserves hard rather than a soft cover finish, even if the price rises slightly.
2015 Price Guide: R350 (also available as an e-book)
To order: Orders for Africa: Blue Weaver, Tel: 021 701 4477, orders@blueweaver.co.za - Orders for UK & Europe:  Tel: +44 (0)20 7240 0856, www.eurospanbookstore.com - Orders for North & South America and China:  Toll-free: (800) 888 - IPG1 (4741), orders@ipgbook.com
Kathy Munro is an Honorary Associate Professor in the School of Architecture and Planning at the University of the Witwatersrand. She enjoyed a long career as an academic and in management at Wits University. She trained as an economic historian. She is an enthusiastic book person and has built her own somewhat eclectic book collection over 40 years. Her interests cover Africana, Johannesburg history, history, art history, travel, business and banking histories.  She researches and writes on historical architecture and heritage matters and is well known for her magnificent book reviews. She is a member of the Board of the Johannesburg Heritage Foundation and is a docent at the Wits Arts Museum. She is currently working on a couple of projects on Johannesburg architects and is researching South African architects, war cemeteries and memorials.
Wednesday, November 18, 2015 - 08:55