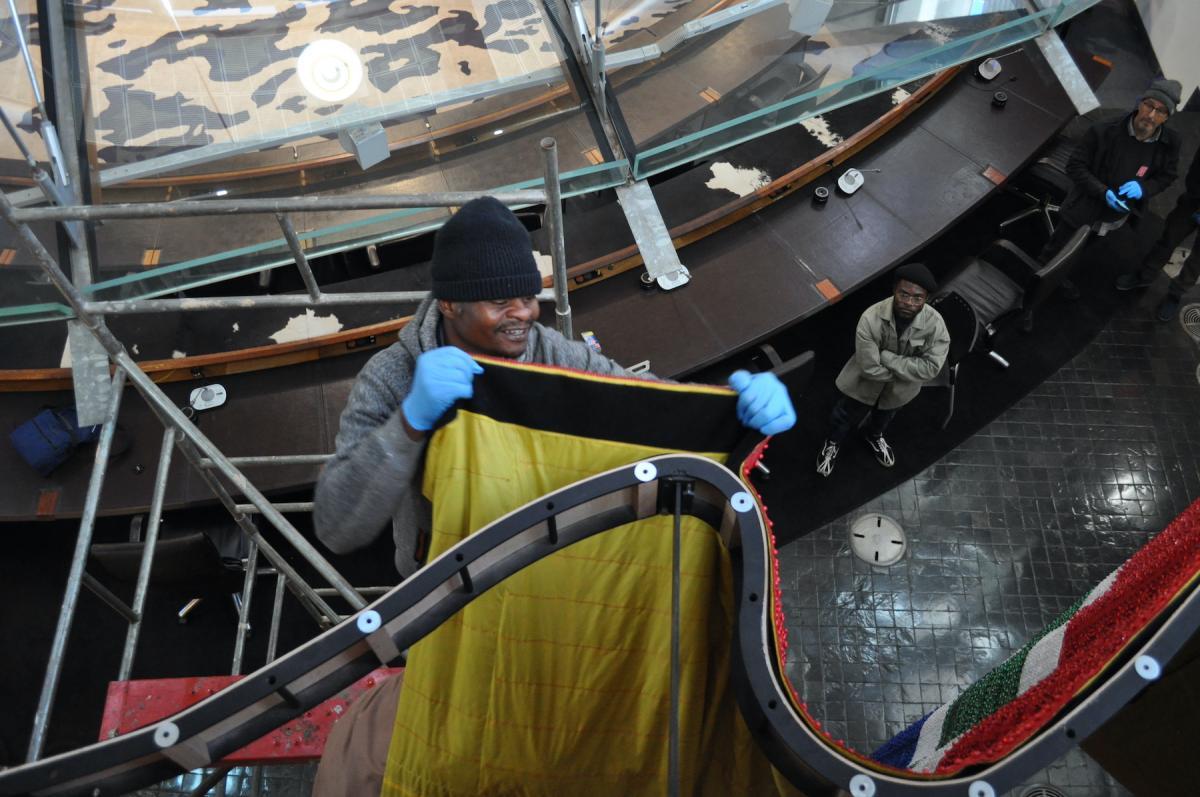 Expiry:
Wednesday, January 31, 2024 - 17:15
The intricate restoration and development of a new hanging mechanism has been completed on the large beaded South African flag that has hung in the main chamber of the Constitutional Court for 18 years.
The 6.2m x 2.5m beaded flag is a prominent work in the Constitutional Court Art Collection (CCAC), cared for by the Constitutional Court. Its restoration was enabled by a grant from the Bank of America Art Conservation Project.
The flag's vibrant colours are reflected through intricate designs of hand-stitched embroidery and beadwork (CCAC)
Originally crafted in 2005 by a collective of mostly women beadwork artists from the African Art Centre in Durban (Hlengiwe Dube, Leonie Malherbe, Ntombi Agnes Mbatha, Thobani Mbatha, Ntombifikile Greta Nkosi, Sphindile Nkosi and Zibuyisile Pretty Zulu), its creation required months of intensive labour to create separate beaded panels of the flag, meticulously stitched together, ultimately aiming to portray unity through diversity.
The flag's restoration project was led by the Constitutional Court Trust's curatorial team responsible for the CCAC. It was undertaken at the Constitutional Court, in collaboration with one of the flag's original artists, Hlengiwe Dube and her assistant, Phumelele Dludla. It involved cleaning and the repair of loose beads and threads. The introduction of a new Velcro hanging mechanism (see main image) to counter sagging and wrinkles was executed by the team at Mark Sinoff Exhibits, who also helped with the artwork's deinstallation and reinstallation.
Dube said: "I've enjoyed working on this flag especially because it has such a prominent and symbolic position at the heart of one of our most important democratic institutions.
"For the restoration, we reinforced all of the beads with new cotton, we cleaned the flag and placed new stitching to secure the work to its lining. We feel happy that this amazing example of the South African flag can continue to be seen behind the justices' bench for many years to come," she said.
Beadwork repair and cleaning (CCAC)
The collaboration between the Constitutional Court's curatorial team and Dube has also enabled valuable knowledge sharing on the conservation and preservation for South African beaded artworks.
Bahlakoana Lesemane, CCAC curator, said: "This is an important and internationally recognisable artwork in the Constitutional Court Art Collection. The partnership with Bank of America has helped us to make sure that this flag's conservation needs are met to preserve it for the foreseeable future, as part of our ongoing efforts of caring for all artworks in the CCAC."
This project marks Bank of America's second collaboration with the Constitutional Court Trust, custodian of the CCAC. The bank provided funding to conserve the Marlene Dumas 28-metre tapestry, The Benefit of the Doubt, in 2019.
According to Francois Lion-Cachet, CCAC curator of public engagement, "both these artworks that have been restored carry national importance in their representation of the values contained in South Africa's Constitution. By caring for these works, we show devotion towards the upkeep of South Africa's constitutional project."
Both projects have been supported through Bank of America's Art Conservation Project, which provides funding to non-profit cultural institutions around the world to conserve historically or culturally significant works of art. Since 2010, Bank of America has supported more than 230 projects in 40 countries, representing thousands of works across different movements, media, time periods and cultures.
The beaded flag within the Constitutional Court (The Heritage Portal)
Richard Gush, South Africa Country Executive, Bank of America, said: "At Bank of America, we believe investments in arts and culture help build communities and have a positive impact on our clients and employees. We were proud to partner once again with the Constitutional Court Trust on this important project and we are delighted the newly restored work has now been rehung in the Constitutional Court, ensuring it will continue to inspire current and future generations."
Created
Tuesday, November 7, 2023 - 17:56
Disclaimer: Any views expressed by individuals and organisations are their own and do not in any way represent the views of The Heritage Portal.