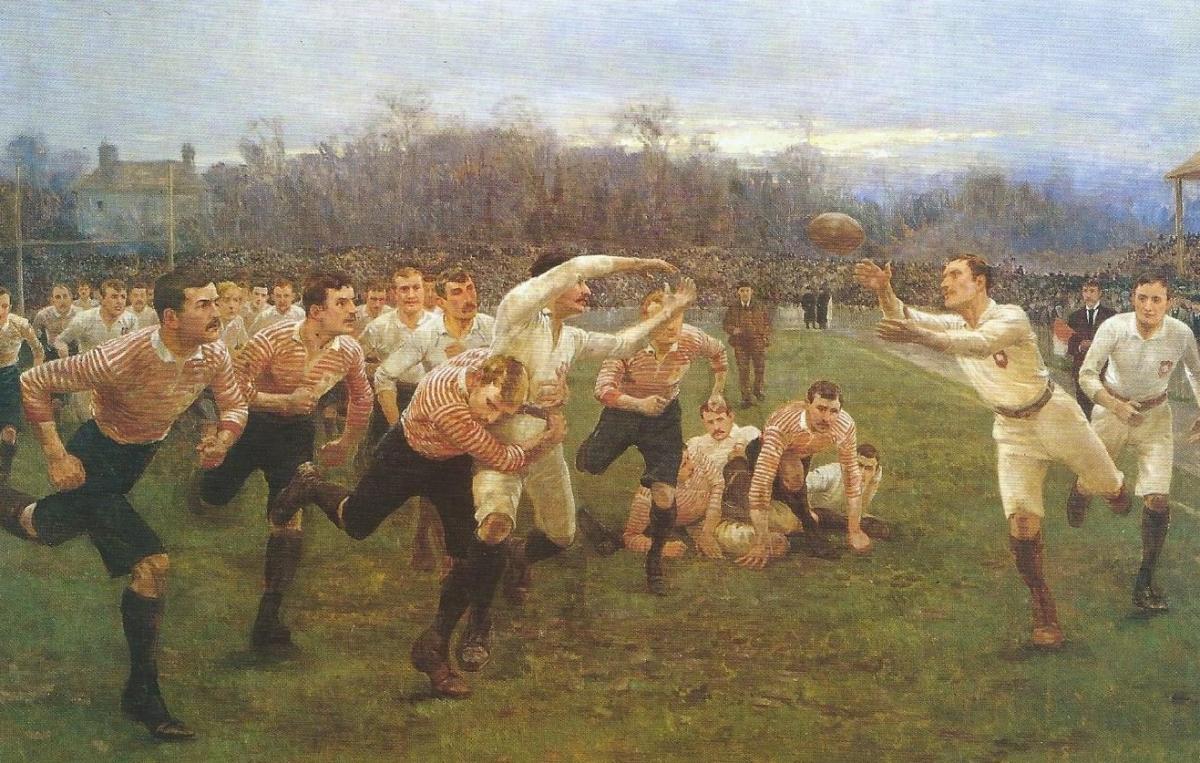 Wednesday, November 2, 2016 - 13:04
Dickie Jeeps who passed away recently aged 84, was one of the greatest scrum halves ever to play the game of Rugby. He came to the fore during the 1955 British Lions tour of South Africa, where he played in all four Tests against the Springboks. He went on tour as a surprise choice as he was uncapped (by England), but he proved, on the hard grounds of the Highveld, to be the ideal partner for the mercurial fly half Cliff Morgan. The Test series would be drawn with two wins apiece.
Dickie Jeeps dive passing for the Lions 1962 v Boks. He made 3 tours for Lions 1955 (SA), 1959 (NZ), 1962 (SA) . I played against him as well as Tony O' Reilly in 1969 when Harrow RFC opened their new clubhouse. Picture from Springbok Saga by Chris Greyvenstein 4th Edition 1992
That same year a precocious young sixteen year old signed professional forms for St Helens, he was Alex Murphy who was a supreme scrum half.
Both Jeeps and Murphy were my heroes when I was playing schoolboy rugby in the early 1960's and I would watch them avidly on BBC television (in glorious black and white), when Jeeps played for England and Murphy played for St Helens or Great Britain. Although they played in the same position they played different codes, Jeeps Rugby Union and Murphy Rugby League. Murphy did have a stint playing Union during his two year National Service in the Royal Air Force (1958 to 1960).
Alex Murphy scoring a try for St Helens. Photograph from A People's Game - The Official History of Rugby League, 1895-1995 by Geoffrey Moorhouse
The reason for there being two codes of rugby can be explained in a single word, and that word is amateurism. The ethos of amateurism was particularly strong in Victorian Britain and was highly prized by the upper and middle classes of English society whose interests were served by the office bearers of The Rugby Football Union (RFU). The northern clubs (of Lancashire and Yorkshire) that were affiliated to the RFU were at loggerheads with the governing body over what was called at the time "broken time payments" i.e. payments to players as compensation for loss of wages due to clocking off early on a Saturday in order to play rugby (there was no week-end in those days and the only day of rest was the Sabbath).  The RFU ruled that payment of players violated the rules of amateurism and therefore any player so paid would face suspension. This stance by the RFU brought about a meeting of twenty-one representatives of the northern rugby clubs to decide on the matter. The meeting was held at "The George Hotel" Huddersfield on the 29th August 1895 and it was duly decided to break away from the parent body and form the Northern Rugby Union, which would later change its name to the Rugby League. This great schism would cause bad blood between the two forms of the game for the next 100 years and rapprochement only happened when Union went professional shortly after the 1995 World Cup.
Although the two codes of rugby are played with differing laws (rules) they still uphold the original tenet which set them apart from association football (soccer), that of running with the ball in hand with the aim of touching down over the opponent's goal line (scoring a try).
As a life long rugby supporter, both as a Union player and a spectator I enjoy both games and my wish is that they would re-unite as one unified code and play to rules acceptable to both parties. I feel that fifteen-a-side is now too many on the park, given that the fitness levels have improved substantially since the game was invented back in the 1840's. The pitch remains the same size as it was at 100m long by 65m wide and thirteen-a-side would be a better bet, after all soccer and American football only have eleven players per side.
I know full well that there are diehards in both camps that would treat my suggestion of re-unification as heresy, but if you believe in the Pareto Principle (or the 80/20 rule) then I say that most people would be happy to go along with it.
Main image: The Roses Match, a famous painting by William Barnes Wollen. It depicts a late 19th century rugby match between Lancashire and Yorkshire. 
References and Further Reading
"The World of Rugby - a History of Rugby Union Football" by John Reason and Carwyn James. Companion book to the BBC TV series 1979.
"The Union Game - a Rugby History" by Sean Smith. Companion book to the BBC TV series 1999.
"A People's Game - The Official History of Rugby League, 1895-1995" by Geoffrey Moorhouse
"My Kind of Rugby" by Ray French (dual international in Union and League).
"More Kinds of Rugby" by Ray French
"The Oval World - A global history of rugby" by Tony Collins first published 2015.
Disclaimer: Any views expressed by individuals and organisations are their own and do not in any way represent the views of The Heritage Portal.