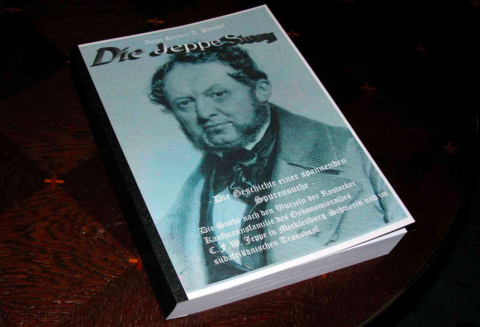 Disclaimer: Any views expressed by individuals and organisations are their own and do not in any way represent the views of The Heritage Portal. If you find any mistakes or historical inaccuracies, please contact the editor.
Tuesday, October 13, 2015 - 13:13
My story begins in Bremen Town Hall where I was invited to celebrate "10 years of Democracy in South Africa". There I got to know the Bremer author Heinz Gustafsson, who had just presented his book "Namibia, Bremen and Germany, a Rocky Road to Friendship". We started talking and I realised we both shared a passion for Africa. I told him about our pilot project (with the local Rotarians and the teachers of the "St. Enda's School" in Hillbrow) to give economically disadvantaged students vocational training and he spoke about his new project, the book "South Africa and Germany, looking for common roots".
He asked me if I could help him in the search for sources mentioning "the Jeppe Brothers". I said yes not knowing where this would lead! Later, when the first documents were procured and the mountain of paper on my desk grew, I asked what he still needed for his book and he answered that he now had more than enough material. I enquired what would happen to the remaining papers remarking that they were too good to be disposed of. He grinned and said: 'Why don't you think about writing your own book"? Thus began my thrilling research adventure!
I began by looking at the life story of the Rostock seed dealer Carl Friedrich Wilhelm Jeppe (*1792-1852) and his descendants. As I only knew about his three sons I thought it would be a relatively simple project. I contacted the Chamber of Commerce in Rostock but unfortunately they told me they had no records of that time.
Carl Friedrich Wilhelm Jeppe - via Herbert A Peschel
My own knowledge of the period was deeply flawed; I was an engineer for automation not an historian. I therefore consulted numerous books and records so I would be able to ask targeted questions. As the three sons had emigrated to the Zuid-Afrikaansche Republiek (ZAR) between 1848-70 I started to do research in South Africa; Mecklenburg I would tackle later.
Through the development aid project mentioned earlier I got in touch with the Rotarians in Johannesburg. The training expert happened to be my friend Gunter. He was born in my hometown and had spent more than 40 years in South Africa as the Southern African head of the logistics group Kuehne & Nagel. One of his friends was Rotarian Tom Wheeler, the former South African ambassador to Turkey and in this time he worked in various administrative and research capacities at the South African Institute of International Affairs between 2003 and 2014. Gunter and I asked him for help in tracking down old books and documents in which the "Jeppe Brothers" appear. Tom agreed to our request and sent some of his staff into the archives to see what they could find.
Everything they found landed on my desk in Bremen (a stack of more than 10 cm), including possible references and footnotes. I tackled the pile at once and became fascinated with the history of the ZAR. By reading books about ancient Mecklenburg I also became intimately familiar with the problems experienced by emigrants from Germany. I learned why they left their homes and set out on the arduous journey to North and South America, or as in my case into 'dark unknown Africa'. The desire for adventure may have been one reason but you must also remember that the servitude (Knechtschaft) and serfdom (Leibeigenschaft) in Mecklenburg was only abolished in 1820. Many people, no longer bondmen of Lords, struggled to find housing and create livelihoods for themselves.
During early online research I came across a page called "Jeppe Family" run by the computer scientist Nils Jeppe. At that time he lived in Hamburg and was interested in his family history. He was enthusiastic about my research and as visitors to his website left their details when writing about their family I was able make contact with Jeppe family members around the world. During other online searches I found news about a South African painter Barbara Jeppe and made contact with an artist agency that informed me that Barbara Jeppe had long since passed away but her daughter Leigh Voigt managed the work of her mother and was herself a well-known painter in South Africa.
Leigh had been interested in the history of her ancestors from Mecklenburg since childhood and had collected a spectrum of information in two old wooden sea-boxes. We became friends over the internet and I provided her with all the information that I had unearthed.
Leigh then introduced me to Lindsay Frederick Brown from Hanover in the United States whose PhD thesis researched at the cartographic work of Frederick Heinrich Jeppe (today Lindsay works as Associate Professor of History at the University of Oregon). We are still in contact and he asked me to explore the history of the first Transvaal post-stamps and the scandal that grew from it. The result was a booklet telling the story of two boys who were educated in Mecklenburg in Güstrow, in the profession of a plumber and an engraver and who years later became the "Hof-Klempner" and engraver and first "General-Postmaster" of the ZAR respectively. Together they created the first postal stamps of the Transvaal. This did not go without a hitch, and the result was a major scandal that shocked the world.
In 2007/2008 my wife and I were hosted by Leigh Voigt at her majestic home in Schagen near Nelspruit. She showed me a draft of a Family Tree which she had created from archival resources. This family tree is remarkable and contains 900 descendants from the bloodline. Today a framed version adorns my office and has been a massive help during my research journey.
Herbert A Peschel
Leigh appointed me as an honorary member of the South African Jeppe families and after that she opened the two wooden sea boxes in which the family had managed their belongings from Mecklenburg to the former Transvaal. For two whole days I sifted through these treasures. We agreed that I should only report on Mecklenburg born emigrants and their ancestors. Leigh would report about family members born in Africa in a separate book in English.
On a slightly different note there is a story which sums up the delight of my Jeppe research journey. One day I received an email from an unknown lady from Melbourne in which she wrote: "I am Ännie and have heard a lot about you and your research from my brother Carl in Australia and cousin Leigh from Africa". She mentioned that she would be visiting Hamburg and was wondering if she could pop by Bremen to visit us for a 'Cup of Tea'. She came…I picked her up at the Bremen Main Station and took her the nearly 20 kilometres to our residence in Bremen North. As a gift she brought a biscuit box containing ancient photos of the family. Needless to say the tea went cold as I scanned the remarkable collection! After about 2 hours I drove her and her cookie box back to Bremen Central Station - and she was gone.
We kept in touch and the next year she visited us with her friend in Hamburg, the former Prof. Michael Löffelholz at Hamburg University, for a long weekend. Over the last few years I have realised that it is highly likely that once you have established contact with a family from South Africa or Australia you will be connected with many other relatives. If I were to follow all the referrals to South Africa, Australia, USA, and Canada, I would spend the next few years travelling!
Herbert A. Peschel
Engineer i. R. & author. Also known as "mouse - Herbert" in Bremen's genealogy association "The Mouse" in the State Archives at Bremen - and as an apprentice of the reading and writing art in the "History Workshop at Burg-Hagen in Bremen".