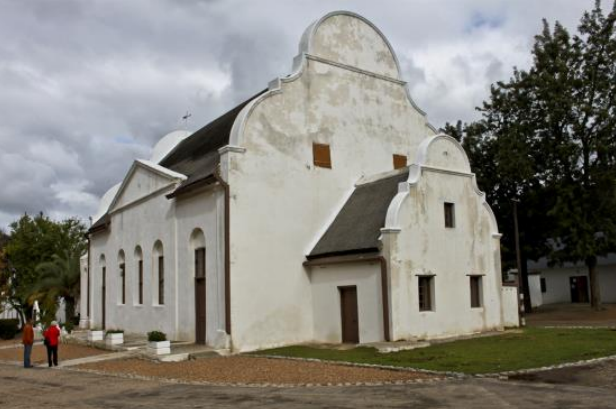 Sunday, September 4, 2016 - 11:01
About 50 kilometres from Cape Town, just off the busy R27 West Coast Road, lies the town of Mamre. The town itself is unremarkable, being a dormitory town whose inhabitants work in Cape Town or nearby Atlantis and Darling. However, there is a most remarkable Moravian Mission Station on the western side of Mamre.
The area was originally known as Groene Kloof and in 1700 a meat contractor Henning Hüsing was given grazing rights by the VOC administration at Cape Town Castle. In 1701 the Governor, Willem Adriaan van der Stel, established a military post to protect the farmers from the marauding Khoisan. However, one should bear in mind that the Khoisan were merely trying to reclaim their ancient lands from the farmers who stole them in the first place!
Groene Kloof later became a cattle post of the VOC, which existed until 1791.
In 1808 the Moravian missionaries JF Kohrhammer and JH Schmitt, who were based at Genadendal (near Caledon) were given permission by Governor The Earl of Caledon to establish a Mission Station here. The government farm De Kleine Post and the adjoining Louwskloof and Cruijwagenskraal were given to the Moravians for this purpose. In 1854, the Moravians renamed the area as Mamre. The Moravian converts were, from 1808, allowed to settle on the land close to the church, the origins of the present day Mamre.
The church was completed in 1818. The complex today includes a school, cook house and long house (former barracks) and was declared a National Monument in 1967. The water mill was declared a national monument in 1973. The main group of buildings is still owned, administered and used by the Moravian Church.
In 1885, the organ was ordered from Denmark and was initiated on 27 November 1887 and can still be found in its original form.
The Church Bell is a heavy 250 kg with certain biblical text verses inscribed thereon. The date on the Gable of the Parsonage is 1697, which makes this building the oldest in Mamre. This building served as a place of religious services, education for the children and finally was home to the missionaries.
In 1830 a horse mill was built to grind corn for bread making. In 1839 the horse mill was replaced by a water mill. In 1873, a steam engine was used to turn the mill along with the water, which was replaced with a diesel engine. The mill stopped operating in December 1954.
The water mill in Mamre (Phil Beck)
This article first appeared in the September 2013 edition of the BHA News (the newsletter of the Boksburg and East Rand Historical Society) 
Disclaimer: Any views expressed by individuals and organisations are their own and do not in any way represent the views of The Heritage Portal.