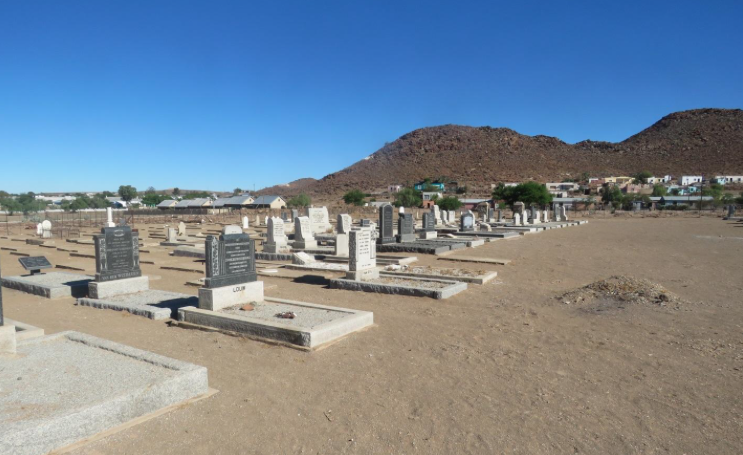 Saturday, January 19, 2019 - 10:06
When you read the book 'Letters of Stone' by South African author Steven Robins, which tracks the lives and fates of the Robinsky family in Southern Africa, Berlin, Riga and ultimately Auschwitz, you may be tempted to visit Williston to experience first-hand where one of the principal figures of this poignant story lived. Here you will find Robinsky Street, commemorating Robins' great uncle Eugen Robinski who fled Konigsberg, East Prussia to become a successful businessman, hotel owner and one-time mayor of this small Karoo town.
But even if your interests are more mundane, Williston will not disappoint. Situated on the Karoo Highlands Route, the town and surrounding areas offer, amongst others, beautiful clear night skies, rock paintings, corbelled houses, remnants of the Anglo Boer War, artisanal cheeses, succulent Karoo lamb and the possible sighting of that rarest and most endangered of all South African animals, the Riverine rabbit. But for this author the main attraction lay in the Williston Cemetery.
Stuurmansfontein Corbelled House (South African Panorama)
The older and smaller Karoo towns offer the cemetery enthusiast some of the most historical and interesting tombstones in South Africa. Unfortunately, all historical cemeteries are facing similar problems; slow deterioration of tombstones due to prolonged exposure to harsh climatic conditions and then the more immediate and hazardous one, malicious damage by vandals. Regrettably the historic Williston cemetery is not immune to either. Local cemetery tour guide Elsa van Schalkwyk was visibly upset to observe the most historic and beautifully hand engraved tombstone in the old Amandelboom section of the Williston Cemetery had been vandalised in the interval between her previous visit and ours.  
The town was originally called Amandelboom, after an almond tree was planted next to a small fountain by an early trekboer farmer Johan Abraham Nel in 1768, near to what are now called the 'Sing Koppe' (Song Hills) to celebrate the birth of his second son. Nel was from Stellenbosch and apparently looking for a suitable farm in the region. The 'Sing Koppe' are two small hills just north of the cemetery (see main image) and so named because a missionary teacher named F. W. Beineke created a little footpath to the top where during the festive seasons Christmas carols were sung.
A German Rhenish mission station was established in 1845 by Johann Heinrich Lutz and Beinecke to minister to the semi nomadic Baster (Coloured) people.
In 1883 Amandelboom was named Williston in honour of a former Cape Colonial Secretary. Unfortunately, neither the Dictionary of South African Biography nor the publication 'Missionary Settlements in South Africa - A Report on Their Historical Background and prospects for Conservation', contains any information on Lutz, Beinecke, Williston or the mission church at Amandelboom.
Be that as it may, it is pleasing to confirm the old mission church building has been preserved and now serves as the local Museum.
What makes this cemetery so unusual is the presence of some very interesting hand engraved tombstones. Most engravers of the 19th and early 20th centuries unfortunately omitted to inscribe their names on the tombstones hence we will most likely never know who they were. There seems to be only a handful of engravers who recorded their names on their handiwork and it is important that their work is recorded as our link to the past.
We are therefore fortunate to add to this very short list of engravers, one more craftsman who sculpted some very attractive tombstones in the Williston area. He is Cornelius de Waal who according to local lore was trained by one James Wright, originally a stone mason from Stirling, Scotland. Wright and his wife (nee Fairleigh) came to South Africa in 1858, in service of a Mr. Kohler who was awarded the contract to build the South African Museum. At some later stage Wright moved to Ceres, then Victoria-West and finally to Rooisand in the Williston area. We do not know when and how Wright happened to meet the young De Waal but at some stage Wright must have realised that De Waal had a natural aptitude for stone engraving. Wright shared some of his knowledge of stone cutting with De Waal who then started engraving tombstones for the local Williston town and farming communities. According to Elsa van Schalkwyk, as yet no tombstone fashioned by Wright has emerged in Williston, but it is speculated that the cemetery at the neighbouring Fraserburg may possibly contain one or more.
De Waal (1863–1947), received no formal education but his mother taught him basic reading and writing skills prior to his confirmation in church. De Waal manufactured his own engraving tools from the steel rims of wagon wheels and some of these tools of trade can be seen at the Williston Museum. He would identify suitable sandstone or slate formations, drill holes in the bedrock and insert small quantities of home-made explosives to break the selected slab free. Alternatively, thin sticks would be inserted into the drilled holes and then moistened. As the sticks expanded they would crack the slab free. The rough slab would then be transported by donkey sleigh to a place of De Waal's choosing where he would complete the engravings. To complete the engraving of a tombstone would usually take him between four and five months and the fee would range from five to seven pounds per tombstone. When he was not engraving tombstones, De Waal worked either as a blacksmith or dug wells for farmers. Interestingly, there is a partially finished tombstone with one corner cracked, still attached to the bedrock at one of the neighbouring farms. Since there are no other graves in the vicinity, it is speculated that De Waal intended to engrave this slab for his own tombstone. This may well be true since De Waal's tombstone is a fairly standard one obtainable from any general tombstone supplier and one would expect such a talented engraver to have had a hand engraved tombstone marking his own grave.
Spare a thought for the intense disappointment De Waal must have suffered when the slab unexpectedly cracked after having worked on it for several months.
It was not that unusual in the 19th and early 20th century for families on outlying farms to commission two tombstones simultaneously from a visiting craftsman. One never knew when an unexpected death might occur and therefore a second tombstone and coffin would often be stored in the loft. One can frequently spot the second tombstone in smaller and rural cemeteries because unlike the first one prepared for the deceased; the second one prepared 'just in case' or 'in anticipation' usually lacks the date of death.
The Williston cemetery is situated between Jan Simpson Street and the 'Sing Koppe', with the Jewish precinct on the eastern end, followed by a precinct containing mainly Dutch Reformed graves and the old Amandelboom precinct on the western end where Coloured people are buried.
One of the demographic changes one notices in the cemeteries of smaller towns is the total migration of the once small but vibrant Jewish rural communities to the larger cities. In many of these rural Jewish cemetery precincts the last graves date back to the 1960s or even earlier. Gittes Oddes who died in 1950 is the last person to be buried in Williston's small Jewish section. Visitors to Jewish precincts in some historical cemeteries will notice the upright or vertical tombstones have recently been cemented horizontally on the graves. The Jewish Board of Deputies implemented this to protect the graves and their tombstones from possible vandalism.
Graceful horizontal tombstone, sometimes called 'table grave' of Jurjen John Bald engraved by Cornelius de Waal in 1923. Note how his initial C. has been adorned at the bottom of the stone. (SJ De Klerk)
Next to Simson street and approximately six rows east of the fence dividing the Dutch Reformed precinct from the Amandelboom precinct, is the slightly raised but horizontally placed coffin shaped tombstone of Jurjen John Bald, engraved in 1923 by De Waal. Such horizontal and slightly raised tombstones are often referred to as 'table graves', for the obvious reason. It is remarkable to note that the horizontal slab is of uniform thickness throughout and its still excellent condition testifies to De Waal's intimate knowledge of sandstone. The family of the deceased would have provided the epitaph to De Waal who would have written it down on a piece of paper. The wording contains a description of the deceased, then a farewell message from the parents followed by a message from the surviving sister. Today, some of the words would be considered wrongly spelt, but De Waal would have engraved the words of the epitaph exactly as they were pronounced in those years. For instance, the words 'herinnering' is spelt as 'herhendering' and the surname 'Du Toit' is engraved as 'Du Toet', as pronounced then.
Adjacent and immediately north of the above tombstone is another fine example of tombstone folk art. The engraver is unknown but in many instances it would have been a family member of the deceased. This tombstone was clearly well considered before being sculpted. The stones fit very closely and the writing is readable. Note the two trees engraved on the tombstone. The growing one reflects past life whereas the wilting tree symbolises death.
Outstanding example of folk art engraved on the tombstone of Johanna Adrieana Wilders born 1907, but engraved as pronounced '197'. (SJ de Klerk)
Two rows to the west and immediately adjacent to the street are four graves of Imperial soldiers who died during and after the Anglo Boer War. It is thought they probably died because of dysentery, which was rife during the war. The Times History of the Boer War does not mention any skirmishes between Boer and British occurring at Williston, but that in itself does not mean there weren't any. There were literally hundreds of skirmishes across the country and not all were recorded.
We do know that one of the war's disreputable incidents occurred when a Free State Commando occupied Calvinia early in 1901 and tortured and executed Abraham Esau, a prominent local Coloured Community leader and fiercely patriotic British agent, for providing intelligence to the British. The recent defacement of the monument erected to Esau just outside of Calvinia is ample proof that the bitterness of this incident has not yet abated.
Robins quotes a more cordial story, probably apocryphal, which he in turn heard from Elsa van Schalkwyk of how Robinsky's pub became the venue for a raucous gathering of Boer burghers and a small group of captured British soldiers. The party racked up a substantial drinks bill and it was finally agreed that whoever won the war would settle the bill.
In the same row but placed in a more northerly direction are two interesting upright tombstones. One was engraved by De Waal who clearly expended much time and effort in completing the engraving to a high standard. Even the back of the tombstone contains some attractive engraving. The engraved blossom branch shows a snapped bud, the symbol of a life cut short.
Tombstone of Jacobus Adriaan Louw engraved by Cornelius de Waal. The back of the tombstone also contains an engraving of the tree of life. (SJ de Klerk)
The adjacent tombstone is not a tombstone engraved by De Waal but still an outstanding example of tombstone folk art.
There is a long row of unmarked and cement plastered graves distributed north to south against the fence, containing the remains of people who died during the Spanish Flu epidemic in October 1918. Local lore has it that so many people died that month that up to six corpses were interred in one grave. It is estimated that during Black October 1918, the month when the second wave of the Spanish Flu was at its most virulent, Williston suffered a death rate of 13.08 per 1000 people. Williston's population only totaled 8500 people in 1918 and the sudden deaths of just over a 100 people must have stunned the community. In comparison, the death rate at Calvinia was 13.23, but at Carnarvon it was much higher at 38.88 per 1000 people.
Between 250 000 and 350 000 people died in South Africa from the Spanish Influenza. Because of the large number of deaths in October 1918, it was colloquially known as 'Black October'. 
 
Immediately west of the 1918 graves in a small fenced area is the grave of J. F. R. Herbst, whose tombstone is another fine example of folk art by an unknown craftsman.
Tombstone of J. F. R. Herbst, a fine example of tombstone folk art. The engraver is unknown. (SJ de Klerk)

Next to it is the historic grave of Carolina Lutz the wife of Reverend Heinrich Lutz who established the mission station in 1846. She died giving birth to their son.
To the west of these graves is the Amandelboom precinct, the oldest in the cemetery.
Against the western boundary is the small tombstone of Elizabeth Opperman. The tombstone contains a very attractive artistic engraving of the tree of life.
Situated slightly to the north of her grave is the very attractive and historical slate tombstone of Sara Maria Kersner. The tombstone is placed flat on the grave mound constructed from loosely placed large stones. Unfortunately, this tombstone is also the one recently vandalised. A lovely engraved wreath of flowers surrounds the epitaph. The epitaph reads: 
              
Tot
Gedachtenis van
Sara Maria Kersner
Huis Vrouw van
Peter Jacobs
Gebooren te Beaufort
10 Feb 1835 AD
Overleden te Amandelboem
Den 20 Jan 1859 AD
In den Ouderdom van 28 Jaren
11 Maanden 
20 Dagen.

(In memory of Sara Maria Kersner, house wife of Peter Jacobs, born at Beaufort 10 Feb. 1835 AD, died at Amandelboom on 20 Jan. 1859 AD at the age of 28 years 11 months, 20 days.)
It is a pity that the name of the engraver is not recorded on the tombstone but he must have been very competent.
The husband, Peter Jacobs was apparently an affluent Coloured person farming in the vicinity of the Sak River. 
Tombstone of Sara Maria Kersner dating from 1859. The engraver is unfortunately unknown. (SJ de Klerk)

Towards the north-western area of this precinct are a few more interesting graves. There are two graves where flat stones are placed at an upright angle on an oval shaped raised grave mound. It is thought be that this manner of demarcating a grave may have originated with the Rhenish missionaries. They are unusual and quite different from the other graves in the immediate area, which are also covered by stone mounds.
Two unusual oval shaped graves distinctly different from other surrounding ones. (SJ de Klerk)

Fairly close to these two graves is a very unusual and historical tombstone where the letters on the tombstone are not engraved but instead raised against a flat background. This is a very difficult technique for any engraver to master. The background has to be sanded with a harder stone than the sandstone. The epitaph is difficult to read, possibly because the engraver was barely literate. The numbers 191 at the top of the tombstone, mean the year 1901, but were engraved as pronounced at that time.
Unusual tombstone with raised epitaph letters not engraved into the stone. The engraver is unknown. (SJ de Klerk)

Williston is to be congratulated for creating the first cemetery route in South Africa on 1 May 1999. It must have been a very emotional experience for De Waal's then elderly daughter who attended the opening ceremony of this route.
The author wishes to express his appreciation to Mrs. Elsa van Schalkwyk who graciously guided him around the Williston Cemetery. She also provided a copy of her notes together with a map of the cemetery for use by him. Mrs. Van Schalkwyk is a font of knowledge and since she indicated that she would no longer be conducting field trips to surrounding farms where other fine examples of De Waal's engraved tombstones are to be found, one hopes someone as enthusiastic and knowledgeable as herself will continue with the good work.
About the author: SJ De Klerk held many senior positions in HR during a distinguished career in the private sector. Since retiring he has dedicated time and resources to researching, exploring and writing about South Africa's historical cemeteries.

Sources
Author's interview with Elsa van Schalkwyk, Local Tour Guide at Williston. December 2018.
Childers E. Editor. Vol. 5. 1907. The Times History of the War in South Africa1899 – 1902. Sampson Low, Marston, and Company Ltd. London.
Coetzee G. 21 April 1999. By Williston se grafsteenroete ry mens nie weer verby nie. Article in 'Die Burger' newspaper. 
Experience Williston and Explore the Area. Non dated. Karoo Highlands Route – Tour Packages and Information Guide. 
Japha D., Japha V., Le Grange L., Todeschini F. 1993. Mission Settlements in South Africa: A Report on their Historical Background and Prospects for Conservation. University of Cape Town for the Department of Environment Affairs. 
Marais E. Non dated. Gepaste Simbole op Grafte. Publisher of article unknown
Pretorius C. J. 1992. Die Geskiedenis van Volkskuns in Suid-Afrika. Vlaeburg Uitgewers. Vlaeburg.
Phillips H. 1990. 'Black October': The Impact of the Spanish Influenza Epidemic of 1918 on South Africa. Archives Year Book 1990 (1). The Government Printer, Pretoria.
Robins S. 2016. Letters of Stone – From Nazi Germany to South Africa. Penguin Books. South Africa.
Schoeman C. 2013. Schoeman C. The Historical Karoo. Traces of the Past in South Africa's Arid Interior. Replica Press, India.
Van Schalkwyk E. Non dated. Notes on Graves in Williston Cemetery.
Volkskunsroete op Williston. 16 April 1999. Article in the 'Noordwester' newspaper. Author unknown.
Warwick p. 1983. Black People and the South African War 1899-1902. Ravan Press. Johannesburg.
Disclaimer: Any views expressed by individuals and organisations are their own and do not in any way represent the views of The Heritage Portal.