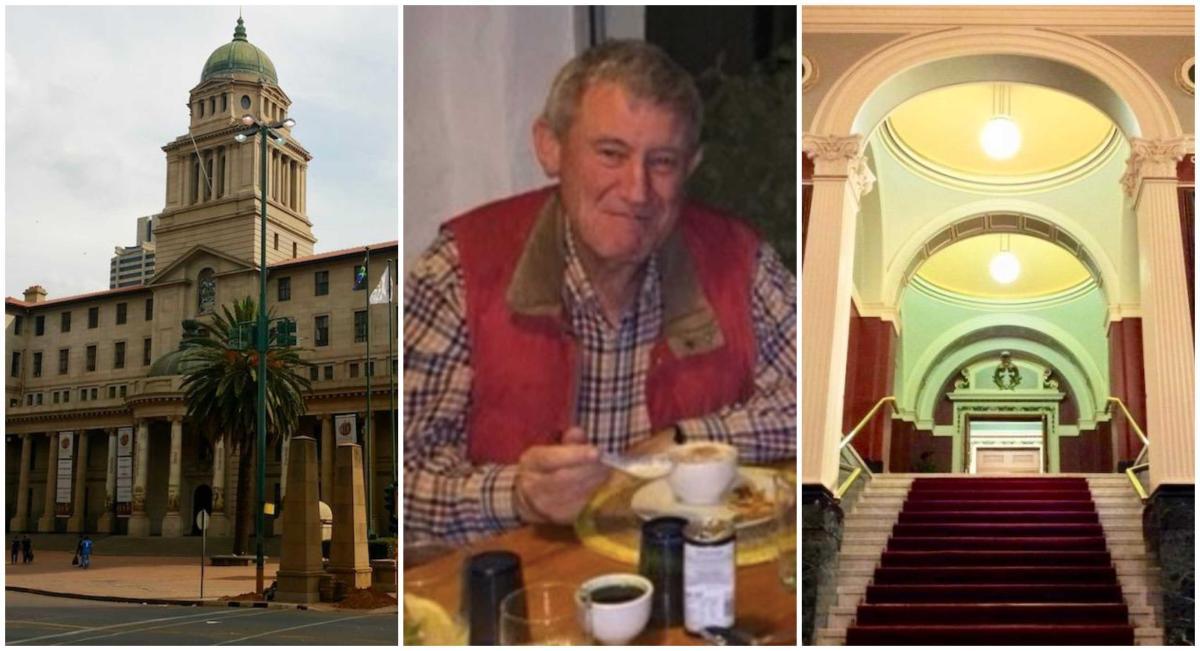 Disclaimer: Any views expressed by individuals and organisations are their own and do not in any way represent the views of The Heritage Portal. If you find any mistakes or historical inaccuracies, please contact the editor.
Wednesday, November 16, 2022 - 19:20
Marcus Holmes (1952-2022), a principal partner of the architectural practice Fassler Kamstra + Holmes Architects, passed away on 9th November 2022 in Linksfield Hospital after a short illness (borne with stoicism and anger). He died far too young; he still had so much more creativity to give and work to do. We are left with the image of Marcus as the tall, gangling man (he was over six feet tall),  who wore tight narrow trousers, a broad stylish leather belt and beautiful leather shoes to show off his good looks, long feet and thin figure. For over four decades, he was a vibrant, creative and forceful voice who contributed hugely to the South African architectural landscape. He was an extraordinary person.
Marcus was born in Oxford, England and came to South Africa with his parents in the 1950s. He was educated at St Andrews College in Grahamstown where he obtained a first class matric in 1969. He was a proud product of St Andrews where he shone in science and mathematics.
St Andrews College Clocktower (20 Historic Schools)
He originally thought he would study engineering but instead earned a BArch degree at Wits in 1977. Marcus bloomed and blossomed young; he completed several projects while still a student – Blackroofs, a Baker house in the Valley Road Westcliff, being the most important. Shortly after graduating, he joined the practice of Mira Fassler Kamstra to create the firm of Fassler Kamstra & Holmes. This was changed after Mira left the practice to Fassler Kamstra + Holmes. He remained a self-employed architect for over 40 years. He speedily made a name for himself with his combination of a faithful preservation of past classic architecture, beautiful plans and drawings, meticulous attention to detail, and a thorough knowledge of the interrelationship of architecture and engineering. He insisted on perfection in his architectural drawings and in his presentation of projects.
Department of Architecture at Wits (The Heritage Portal)
Blackroofs (Kathy Munro)
Marcus was a chartered member of the Royal Institute of British Architects (since 2003). He was registered as a professional architect with the South African Council for the Architectural Profession (since 2001) and a member of the Pretoria Institute for Architecture.
Ours was a friendship that went back 50 years. I first met Marcus in 1972 when he was a wise and very sophisticated first year student (he had had the experience of conscript army years). I taught Marcus in a course on economic history. It was my first year of teaching. I was very nervous and very green but it was Marcus who encouraged me and appreciated me as a teacher. He became a friend and drew some wonderful 19th century housing drawings for me (my area of research). He always said that my one-year broad course on European / British economic history (colonial as it was half a century ago) was a superb educational foundation for an architect. He encouraged me to contribute lectures on working class housing history to the students in the Department of Architecture and that was a happy interlude and the start of professional friendships with architects.
We lost touch after he graduated but whenever we encountered one another we instantly resumed our friendship. He met and liked my husband Keith and became a frequent visitor to our home. In recent years, we again became close with a resumed shared interest in heritage studies and bibliographic interests. He would come to our simple family dinners and always brought along a favourite milk or apple tart, ice cream and cream (bought from the favourite Norwood Spar). Our lively conversations over dinner would be followed by Marcus spreading his long thin frame out on the carpet and falling asleep for half an hour or until I prodded him to say: "either stay the night or please drive home". We had the pleasure of hosting Marcus for his 70th birthday in May. Little did we know that it would be a last celebration. What a privilege. Marcus had so many stories to share and tell about architectural personalities and projects, both the successes and the failures.
He was very much the son of Johannesburg and knew this city intimately, but he also knew Pretoria too and extended his work in that direction.
Johannesburg skyline (The Heritage Portal)
Pretoria skyline (The Heritage Portal)
I shall miss his stories about the people he met in his long career and taking a drive through the suburbs with Marcus now the teacher. I also enjoyed reminiscing about the commonalities of our childhood. Both our fathers were English and were immigrants and worked for African Explosives. We shared a very similar childhood type of upbringing at Modderfontein Dynamite Factory company village though Marcus was the same age as my younger brother (both born in 1952). He and my brother did their compulsory military service while they were still teenagers.
His years spent in practice with Mira Fassler Kamstra was a time of great achievement and recognition. The practice FKH was the inheritor of the John Fassler tradition that went back to 1933; Mira Fassler Kamstra was John Fassler's daughter.
Mira Fassler Kamstra (left) with Clive Chipkin and Stephanie Fassler Ross

I once asked him which of his many projects came top of his list of achievements and he replied that his work on the conversion of the Johannesburg City Hall into the Gauteng Legislature, a vast project completed with Mira in record time was his proudest achievement. A few years ago Marcus led a Johannesburg Heritage Tour of the Gauteng Legislature and we all had the opportunity to view the magical and magnificent effects achieved on the Edwardian Town Hall of old. Marcus always had the engineer's approach to architecture and so he went scrambling along and behind the roofing rafters to ensure structural soundness.  
Gauteng Legislature (The Heritage Portal)
Inside the Gauteng Legislature (The Heritage Portal)
Sadly, it was at that point that Marcus caught the fungal lung disease, Histoplasmosis. This illness stayed with him for the rest of his life and bouts recurred. His tall strapping frame and thin figure hid this grave chronic health problem. His tour of the Gauteng Legislature for the Johannesburg Heritage Foundation was a never forgotten adventure and educational experience.
His partnership with Mira Fassler Kamstra was a close one and these two brilliantly creative people took heritage restoration work to new heights. In 1997, when Mira left to work on her own, the practice name was changed to Fassler Kamstra + Holmes. The practice list of projects is lengthy and included the following conservation architecture projects: Blackroofs, North Lodge; Dolobran, the Customs House, Rissik Street Post Office, The Pines, Johannesburg Art Gallery, Johannesburg City Hall, Johannesburg Library, Casa Bedo, Case Dobe, Prynnsberg Manor, Darjeeling House, Piccadilly Mansions, Oxford Manor, Chancellor House, Ravenscraig and Lauriston Court among others. Sadly, many projects were not completed.
North Lodge (The Heritage Portal)
Dolobran (The Heritage Portal)

Marcus was immensely knowledgeable about Herbert Baker and, in his approach to restoration, he always wanted the spirit of the Baker school to remain exposed and obvious. He wanted a seamless look. The partnership undertook restoration work on heritage homes and major public and commercial buildings. As the authority on the works of Herbert Baker and with Mira Fassler Kamstra, he worked on the restoration of the following Johannesburg Baker homes: Blackroof, Kleine Schuur, Northwards, the rectory of St George's Church in Parktown, St  Margarets, Villa Arcadia, Bishopskop, Stonehouse, Dysart House, Glenshiel and the Pallinghurst Stables.
Northwards (The Heritage Portal)
Dysart House (The Heritage Portal)
Old postcard of Glenshiel
In the Baker tradition, Marcus was passionate about the architecture of the Union Buildings. On one occasion he led a Lutyens Trust tour of the Union Buildings; there is a little known article about this tour, available online in which the author draws on Marcus' talk to get at the underlying objectives of the greatest Baker project. Click here to view.
Union Buildings
In 2000, together with Wilma Cruise, Marcus won the South African Architect Project Award for the design for the National Monument to the Women of South Africa.
In 1985, Marcus and Mira contributed to the UIA International Architect: Southern Africa (Issue 8). Their contribution in this issue was on two verandahed houses in the Transvaal, completed in 1975 and 1980 (House de la Harpe and House at Lone Hill). Together Marcus and Mira were the young glamourous South African 'starchitect' couple.
Following on from the Primary and Nursery schools for which Mira Fassler Kamstra had been previously recognised in 1977, their joint work was recognized in 1980 in a Project award for the Saheti High School. In 1994 the partnership was awarded the Dulux Creative Colour Award for the Gauteng Legislative Complex. Marcus had the highest praise for the work and genius of Mira Fassler Kamstra. Together they built a holiday house at Port Alfred which is still Mira's home today.
West Reach House, Port Alfred (Roger Fisher)

The contemporary works associated with Fassler Kamstra + Holmes included the General Cologne Reinsurance Corporate Headquarters, Alexandra Police Station, Nokuthula Special School, Falling Waters, Phaphame Initiaties, Retort Hotel, Grid City, 22 Wellington Road, HGC Conference & Function Venue, Henniesrust Housing and Farm Development and Gatehouse Furman.
In 2021 it was a special delight to travel with Marcus to the HASA symposium at Swellendam. He introduced us to Lemoenfontein near Beaufort West, originally a 19th century hunting lodge and now a country lodge. We had fun in sharing a lovely old Swellendam house for the three days of the conference. Marcus had come prepared to give a talk and show his project plans for the Sugar Bridge restoration possibilities near Swellendam. He was the champion of this project and was deeply knowledgeable about all the bridges of the area. He gave Keith and I a personal tour and explained why these old bridges were historically important. His drawings were magnificent. It was a missed opportunity because, though it was an intimate symposium attended by so many local enthusiasts, he was unable to sneak onto the programme.
Sugar Bridge
Marcus had recently been working on his own major project in Forest Town as he had bought the House Cohen designed by Pancho Guedes on New Forest Road. He admired Pancho as a master architect and worked hard to strip the house back to the original design, with a view to respectful reconstruction. He gave me a tour of his clearly loved project with mad striding enthusiasm as he stepped over puddles and gullies and up and down concrete blocks. He could see the restored house in his mind's eye and he made me envision it too. Regrettably, his house remains a construction site – but it is a bit of heritage showing his admiration of Guedes, with a new layer and interpretation added by Holmes.
In his Artefacts entry Marcus commented that he is "both preoccupied in search for a timeless architecture which transcends the fashion of the day while being firmly rooted to its context of both time and space." He said he was happiest while physically involved in construction. He found his metier / style / niche when young and was happiest when he took on the role of "the master builder – architect" which he saw as most necessary for the making of a fine building. He said that most architects were excluded from that opportunity. His approach to heritage restoration was often to adopt a seamless transition between old and new and to make the new retain a faithful respect of the original; not for him the distinctive juxtaposing of the modern contrasting additions; in this he took a contrary view to someone like the late Rocco Bosman.
The architectural profession (and particularly those concerned with heritage restoration) is a tight knit community. Marcus contributed much to the profession and in his early days was a member of the Transvaal Institute of Architects Education Action Group and the TIA Heritage Committee. He was a trustee of the Friends of the Johannesburg Art Gallery from 1989 to 2013. Most recently he and I worked on the initial committee to shape the Herbert Prins Colosseum Award in its relaunch as a Gauteng Institute of Architect's award. However, by the time we went into the active work of assessment and judging, Marcus was clearly too ill to participate though he kept this situation a secret and made other excuses for his absence.
Colosseum Award
Marcus was a member of the Construction Adjudication Association of South Africa and was often called upon to give expert evidence on subjects such as the National Heritage Resources Act, the works of Herbert Baker, architectural copyright, construction contracts and agreements, the failure of surface finishes and project briefing, logic and programming.
Marcus always appreciated the combination of good looks and brains in the women in his life. He was not married and had the immense sadness of losing the women who he said were the loves of his life, Mira who left to work on her own and Karlien who died of cancer. I think he was happiest when he gallantly offered his arm to a lady. I have a mental picture of seeing him a few months ago at the Rand Club in just such a pose. His manners were impeccable – he still did things like opening the car door for a female companion.
Rand Club (The Heritage Portal)
Marcus embraced people, cherished his close friends and was much loved in turn. He enjoyed the close friendship of many men and women and all of us will miss him. He arrived at our recent 50th wedding anniversary lunch in early September, but stayed for no more than a greeting, a hug and a kiss as he needed to be with another friend who had been diagnosed with a terminal illness. Little did we know that this was indeed our last encounter and that he too would soon be gone. Marcus lived life to the fullest, loved people and thrived in conversation and stimulating arguments with his friends. He was a man who sparkled with new ideas and an innovative reinterpretation of old ideas; he was faithful to traditional tenets and essential principles in architecture.
The last two Covid years were particularly tough for Marcus as hoped for commissions did not materialize and he juggled his own construction projects with depleted funds. Marcus was distraught when his key researcher in compiling heritage impact studies, Johann Bruwer, passed away in 2021. He said that Johann was the finest of Heritage Impact researchers. Yet Marcus remained cheerful and determined and continued his work despite the loss of friends and key work colleagues.
Over a long career, Marcus built up an impressive archive and library reflecting both his work and his wider interests across history, architecture, engineering, good design, past master architects, politics, current affairs, Africana and Johannesburg. He liked books for their own sake and he was well read in architecture as well as wider world issues. It was my pleasure to find books that I knew Marcus would appreciate for his collection. I loved the whoop of joy when something abstruse or quirky turned up in a serendipitous way. I hope we are able to keep his archive and at least some of his book collection together and ensure that it goes to a university school of architecture.
He admired the work of Clive Chipkin and shared Clive's fine historical tracking of philosophical and design links. Last weekend, I bought a copy of Irving's book Indian Summer: Lutyens, Baker and Imperial Delhi. I was excited when my auction bid landed this book because it is a classic work and this was to be his Christmas present. Alas it is not to be.
Marcus is survived by his original partner Mira Fassler Kamstra and their shared family (Boris, Gregor and Donia, Mira's children, who he loved dearly and who he considered as his own), his brother, Nicholas Holmes , and his sister, Jessica, who lives in England.
He is fondly remembered and will be missed by his many friends in the profession and in the heritage community.
Kathy Munro is an Honorary Associate Professor in the School of Architecture and Planning at the University of the Witwatersrand. She enjoyed a long career as an academic and in management at Wits University. She trained as an economic historian. She is an enthusiastic book person and has built her own somewhat eclectic book collection over 40 years. Her interests cover Africana, Johannesburg history, history, art history, travel, business and banking histories. She researches and writes on historical architecture and heritage matters. She is a member of the Board of the Johannesburg Heritage Foundation and is a docent at the Wits Arts Museum. She is currently working on a couple of projects on Johannesburg architects and is researching South African architects, war cemeteries and memorials. Kathy is a member of the online book community the Library thing and recommends this cataloging website and worldwide network as a book lover's haven. She is also the Chairperson of HASA.