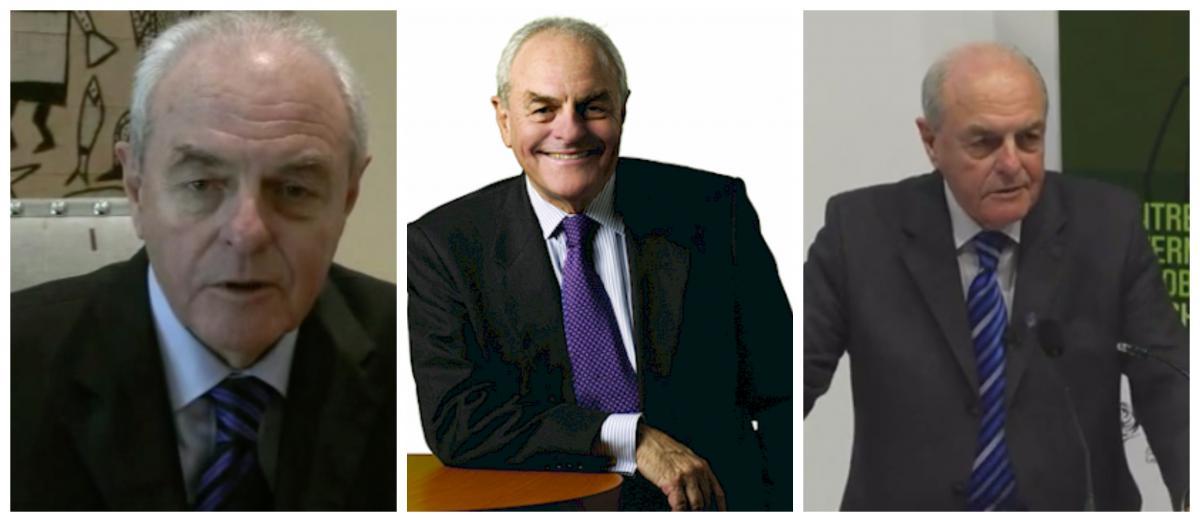 Thursday, January 23, 2020 - 11:13
The article below forms part of Mike Alfred's series on Joburg personalities from the first decade of the 21st century. Click here to view Kathy Munro's fantastic introduction and here to view the series index. The stories were written in 2005/6.
Mervyn King spoke to me in a conference room. I asked to see his office expecting it to offer clues to an outstanding career. It wasn't special: not particularly large, certainly comfortable and expensively furnished, but not greatly different to any other functional space in the building. No memorabilia were evident, just piles of paper for a project on which he was slaving. I asked about the two eighteenth century naval prints hanging on one wall and was told that they were left over when the other executives had selected their art. King has aged well apart for a little off the top. His eyes are steely blue and he exudes a controlled energy. He's undoubtedly wealthy. He tells me that he's arranged to 'die a poor man.' His money lies in trusts for the family. His wife has to nag him to buy new suits and shirts although he looks immaculate. He collects wine and legal tomes. They're bequeathed to the family. He loves his car, a Jag. Annual holidays are indulgent, but life largely comprises work.
Mervyn King, well known Joburg advocate, former judge and businessman, has spent much of his working life telling people how they might behave. It's comforting to acknowledge therefore, that his ethos stems from a crystal sense of probity. He combines the attributes of visionary and man of action; he implements that which he plans. He's bold and extroverted, a man focused on life's external challenges. His talents are valued by the many who've asked him to help them out of trouble or to break new ground. He enjoys brokering huge financial deals. Several of his career milestones smack of high drama. He has been the subject of extensive publicity, most, but not all of it favourable. Many packed files of newspaper clippings starting with his year as Wits Cheerleader in 1956, will provide him with enough material to one day, sit down to write his story. But for the time being, he's too busy touring the world, expounding the principles of Corporate Governance and guiding executives on the manifold arts of company chairmanship. Close to seventy, busier than ever, he reports, 'this is the most stimulating period of my life.'
Growing up in Yeoville, King has lived in Johannesburg all his life, apart from those few years in Harare with his parents who moved to start a new business venture. Within a few years, the family returned to live in Norwood when King matriculated at Athlone Boys High. He's done well for himself. Today he lives in a 'beautiful home on Houghton Ridge.' When he gazes north towards the Magaliesburg he 'could be anywhere on earth' but Johannesburg is where his network is. He's so integrated, he'd never dream of living or working anywhere else. When he headed the Durban based Frame Group he didn't re-locate, he commuted weekly. He sees Johannesburg as a city 'where people are very friendly. 'We don't have beaches or rivers or mountains so we spend time entertaining people in our homes. I went into the city the other day; I was delighted to see how clean it's looking.'
Looking up Fox Street towards the Carlton Centre (The Heritage Portal)
King's mother, who suffered hardship during the Depression, made King understand that a good education provided the underpinnings of success. He always wanted to be a lawyer. Earning money in part time jobs, he studied at Wits, where he earned his BA in Music History, a Cum Laude LLB, and several academic prizes including the Philip Millin Prize as the best Mercantile Law student and the Society of Advocates prize for the most distinguished 1960 Law graduate. But a dull swot, he was not.
He spent some time incarcerated in one of the women's' residences. His handcuff-linked body guards deemed it the only place to keep him safe from kidnapping. Intense rivalry between Wits and Tukkies [Pretoria] Universities during the annual intervarsity rugby match festivities, flagged the respective cheerleaders fair game for abduction. 'I was in paradise I tell you, for three nights. All those beautiful girls! [Growls] It was bloody wonderful I can tell you.' One can hear the hardly contained roar of his tumescent late adolescence. Kept safe, among a bevy of feminine undergraduates, he was later to be seen, dressed in blue tails, swaying and gesturing in front of an Ellis Park stand, directing half drunk or wholly drunk Witsies, in their competitive jeering, singing and chanting as the opposing teams battled on the turf below. Today he maintains not only his affection for, but involves himself in fundraising and other duties in service towards his Alma Mater, having held positions including that of Chairperson of both the Board of Governors and the fund raising body.
Wits Great Hall (The Heritage Portal)
During his early career, King practiced as an advocate specializing in commercial law. He chose it initially because he was stimulated by its intellectual complexity. Also, because criminal and divorce cases interested him far less. And because it was a specialization then followed by few qualifying lawyers, it gave him a competitive edge in the legal market place. Later he completed a higher Diploma in Taxation. When he entered commerce in 1980, perturbed not only by the paucity of specialists but specialists with a practical flair, he became a party to the development of a Wits Higher Diploma in Company Law. This provided graduates with business game learning, hitherto lacking in LLB studies. Today he obtains pleasure from meeting people in the current hurly burly of business who remember the value of this course.  
One might expect that King's life, so dominated by work, lacks the benefits of relaxation? Not at all. He reads history and biographies. He often sits awake in the small hours watching world cricket. You might often see him at classical music concerts.  
His lifetime enjoyment of hiking led him to establish the Mervyn King Trail across Joburg's major east-west ridge between Hillbrow and Gilloolys Farm. King overcame many urban regulations in establishing the trail and also persuaded Murray and Roberts, the construction company, to build the pedestrian footbridge across Nugget St. Sadly, the trail is seldom used now, as crime and vagrancy prevention measures have thrown fences across the path. King recently wrote to Mayor Amos Masondo, requesting action to revive this picturesque walk, offering citizens its vista of a Joburg largely as it was before, and shortly after, the Anglo Boer War. 
Book Cover
Was there sufficient time for family? Working 14 and 16 hours a day when building his legal practice, King puts a whole new slant on spending quality time with his two sons. Both are now highly successful businessmen, one with an accountancy qualification, the other with a legal degree. Did he play a role in that? He believes he did. King devoted Sunday afternoons and evenings and Friday night suppers to his sons. The suppers were 'run like board meetings, I was the chairman.' They discussed business and legal procedures. The interchanges became more sophisticated as the boys grew older. Their launch into business appears part of a natural trajectory.
King's career advanced well. He didn't serve articles with one of the fashionable legal firms, but learnt some important ins and outs with attorney Joel Melamed. When he entered chambers, he was on his own. It did not take long before his specialist knowledge of commercial law, his capacity for hard work and his boldness, saw him advising some of the country's top businessmen. By 1975, aged 38, he was appointed Senior Counsel and in 1977, he first sat as a Judge. But shortly after, came an unforeseen change of direction. Like many white South Africans, King's awakening to political realities was not immediate. 'To my shame perhaps, I was so busy building my commercial/legal career that I paid little attention to politics; that happened when I got onto the Bench and when I heard an appeal involving an Indian couple who had run foul of the Group Areas Act. Unable to find accommodation in Lenasia they had been ejected from places in Doornfontein and Fordsburg and were now appealing against the charges. I dismissed the appeal which I was obliged to do, as I had undertaken in my oath of office, to enforce the law. But I did indicate to the Appellate Division that I questioned whether it was the intention of the Act to cause such enormous hardship? The couple lost their appeal. That episode had a huge impact on me, I can tell you. I suddenly thought, my God, I've become an instrument of enforcement! I began to feel dirty. And that was an important but not the only factor that caused me to resign my judgeship' 
King was readmitted as an advocate after an enquiry by the Bar Council chaired by Arthur Chaskelson and Johan Kriegler. 'But then I thought, do I actually want to continue practicing in this atmosphere? So I thought, what the hell, I'd been advising clients in commercial matters for long enough, so why don't I go into business? Standard Bank offered me a job and Natie Kirsh of Metro Cash and Carry, a former client of mine, asked me to join him to build the biggest distribution house in Southern Africa. So then I become a director of Kirsh Trading.' Talk about the deep end! 'Soon, Sanlam became the major shareholder, Kirsh left, and Sanlam asked me to Chair the Kirsh Trading Group. So then I became the Chairman of all those companies: Metro, Dion, Checkers, Russels, Stuttafords. In 84/85 interest rates went to 25% and the group was borrowed to the extent of 450 million and we ran into a liquidity crisis. I had to turn the thing around and 179 million was borrowed from Sanlam and within three or four years we paid it back. That was my first taste of really "big business;" my previous experience had prepared me, but it seemed as though I'd crossed a threshold. I discovered a capacity for operating at the highest level.' 
After successfully contesting Philip Frame's will, the family appointed King as one of four new trustees to oversee the operation of the Frame Group. Several years later, having sought Counsel's opinion, the trustees deemed it commercially necessary to advise the family to sell their shares in the company. The sale, in 1987, of the family shares, raised some R257 million, up to that time, the biggest single transaction on the JSE. Several large financial institutions, among them Old Mutual, Sanlam and Liberty Life, purchased the major portion of shares at R23 each. Asked by those financial institutions, King agreed to become non executive Chairman of the Frame Group. On the 19th of October, 1987, the stock market crashed. The Frame shares dropped to R9 overnight. At the same time, the Frame Group was one of the first companies to suffer from the change in Government policies which moved away from tariff protection to more open international trade. In King's words, 'We began to bleed!'
'At that point, Fred du Plessis, Chairman of Sanlam, said, "Mervyn, you got us into this, you've got to get us out of it. Leave Kirsch Trading, you've turned it around; now become executive Chairman at Frame and turn that around otherwise it'll go into liquidation." So I resigned from Kirsch Trading, joined Frame as executive Chairman and immediately devised a turnaround plan which entailed raising R400 million for new plant. This was necessary because Philip Frame had never scrapped redundant machinery, he'd merely moved it around Southern Africa to sites where he could use tariff barriers and government wage subsidies to establish what would normally have been non profitable undertakings. He created much employment, but when the tariff walls came down and we had to compete, it became necessary to shut plants and retrench workers. When I arrived at Frame there were approximately 30 000 employees; when I left eight years later, there were four and a half thousand.    
'It was a horrific exercise. I received death threats. It was painful, you can't believe. To ameliorate the job losses we, with the trade unions, established, the Zenzeleni [Help yourself] Trust which sold knitted fabric at cost to our retrenched workers and which, after training, they turned into T shirts and things like that, enabling many of them to make a living. Despite the fact that we openly negotiated retrenchment packages with the union, Noseweek, the South African equivalent of Private Eye, alleged a conspiracy which resulted in our appointment as trustees, and furthermore, suggested the trustees should have used trust money to maintain employee levels. A former Frame Financial Director wrote a detailed letter of explanation to Noseweek, which they published in truncated form but it seemed they did not accept our arguments. They chose to stick to their 'story' and not acknowledge the director's factual account. Of course, to have paid wages with trust money would have been illegal.
'The day I left, eight years later, the Frame group had substantial cash in the bank, the R400 million loan had been repaid and we'd made over R70 million profit that year.'
Then, against a background of stern foreign merchant banking competition, King became a major player in a series of moves involving the establishment of new financial businesses, mainly through mergers. Among other deals this led to the establishment of Capital Alliance Life, and ultimately, First Rand Ltd. Eventually he came to rest, so to speak, after that flurry of moves during the democratic nineties, as the Chairman of Brait Societe Anonyme, the largest private equity company in Africa. This non executive role allows him the time to chair many boards and continue his helping activities, many of them without thought of remuneration. He recalls his role in Operation Hunger when millions of children were saved from malnutrition. He mentions his current initiative called Business against Poverty in which different industries will provide development and employment opportunities in their spheres of expertise. He talks about his sporting interests.
'I've always had a great love of cricket. I thought I should play for the South Africa but I wasn't good enough,' he jokes. 'I devoted myself to administration.' King helped Ali Bacher, Chief Executive of the United Cricket Board form the Executive Cricket Club. This was a body of ten business leaders who each undertook to raise R100 000 a year for ten years to promote mini cricket, a West Indian technique devised for fast tracking black youngsters. 
'Today I chair the United Cricket Board's disciplinary committee. During the World Cup the International Cricket Conference asked me to chair the Cup Doping Committee. Within twenty four hours of his arrival, Shane Warne the Australian leg spinner was found to have taken a performance enhancing substance. Warne flew back to Australia where the allegations originated and the case was heard. He claimed that his mother gave him some medicine. Warne was suspended for a year.'  
Later, when King was in Australia lecturing on Corporate Legal Systems, a member of the audience asked, in somewhat aggrieved tones, why he didn't hear the Shane Warne case. King explained and the man sat. A little later he rose again asking, 'If you had dealt with the matter, what would you have done? King replied with his well known sharpness, 'I would have punished his mother.' The full interchange was covered in the press under large headlines. King's legal talk earned a couple of sentences.
King was asked by the SA government to devise procedures for running National athletics and tennis. He headed Athletics SA as President for two years, pleased to have 'got the system up and running.' He regretfully turned down the request to fill a similar position in tennis. 
Although King is mainly a businessman, he maintains a powerful role in the legal world. As the SA representative to the Court of International Arbitration in Paris, King realised that 'SA was suffering the same malaise as other countries. The judicial system could not keep up with the rapid advances in electronic commerce. In SA we had the international problem of new judicial appointees without any depth of experience in the technological advances in commerce. What we needed was an administered arbitration system where parties are bound by rules. When I was President of the South African Chamber of Business I worked with businessmen, lawyers and accountants to form the Arbitration Foundation of Southern Africa which has now become the leading cross border arbitration body in this part of the world.'
King chairs many boards. His capacity to rapidly read and absorb complex data is invaluable. He has the mental capacity to move from one meeting to another and there concentrate solely and accurately on the matters before him. He's been told that his mind represents a train, with the matters germane to each company meeting sharply and securely contained within its own carriage. He has strong views about the chairmanship role. He's recently conveyed those views in workshops conducted in Eastern Europe, in Mauritius and elsewhere, as he's well qualified to do. 'I've earned my T shirt. If I open my T shirt, you can see my corporate scars. I've done it!' He asserts the Chairman's function: 'A chairman is not the leader of the business, he's the leader of the board. He should be a good listener. He should be collegiate but also maintain an arms length stance. He should act as confidant to the Chief Executive. It's a reflective role. He should call for investigation, should separate facts from assumption, lead people with their strengths and weaknesses, to the best outcome. It's a matter of drawing the threads together. You never get it all right. He should have courage, leading the board to the best decision at that time, being prepared to risk condemnation and unpopularity in the process. He should not compromise his independence by needing the fee.'
Talking briefly about one of his 'deeper scars,' King mentions the trials of Insurance Company, AA Mutual. As a non executive director some eighteen years ago, King learnt, early one morning, of the disappearance of the company's Chief Executive. The man's wife found a note which said that she'd never see him again; nor did she, or any of his former colleagues. Subsequently, the shareholders learnt of huge irregularities related to a claim of unknown dimensions registered overseas. King's attitude was that the company should defend any claims arising from the activities of the absconded man. Finding themselves in a 'black hole,' a situation where they had no initial conception of ultimate liabilities, AA Mutual requested help from other SA short term insurers without success. Against opposition, the company went into curatorship. Claims of millions of Rand, were paid in full, plus interest. The five liquidators earned R43 million in fees, the Receiver of Revenue got millions and 14 000 employees lost their jobs. 'I thought it was a huge injustice. At the time I said, "this company is not insolvent, the assets exceed the liabilities!" The facts bear this out. The shareholders are still today, attempting to obtain some R40 million in retained income. That issue left me with an indelible scar.'    
King is perhaps best known, certainly in South Africa, but increasingly all over the world, for his report on Corporate Governance. After 1994, the JSE, the Society of Accountants, the Law Society and the Institute of Directors together decided that a charter of transparent company governance was needed as the commercial contribution to expanding democracy. The Cadbury report on the financial aspects of governance had recently appeared in Britain. But in South Africa which had largely excluded black people from senior executive involvement, a much wider charter was needed. Aspects such as affirmative action and employee rights needed to be addressed. King continues, 'I got one of those calls: "Will you select the members of and head a committee on Corporate Governance?" I agreed, with the proviso that the members would work without remuneration. When prospective members asked,"How much? 'I said,"nothing, you'll be working for the good of South Africa. "When we presented the report it was described as both evolutionary and revolutionary in governance terms. We specified that a board, while remaining accountable for the company and through it to the shareholders, had also to act responsibly towards other stakeholders such as suppliers, employees, the community at large and so forth. The "triple bottom line" concept spread worldwide. The King Report is used for teaching students in international Business Schools. Then, as Governance developed, I was asked to lead the committee which produced King Two. I was asked to lead the Commonwealth Association of Corporate Governance'
The Institute of Directors reported that King Two, a proudly South African product, is impacting the world. Queries from developed and developing countries flood in. Governance under King's direction, has moved far beyond the merely financial. Director behaviour must encompass the "softer issues' like the environment, employee health and safety. King himself flies all over the world lecturing businessmen, professionals and government officials on the principles of acceptable company governance.
Indeed, King's Governance expertise, disseminated during his extensive international speaking schedules, and memberships of several international governance bodies, has won him recognition of the highest order. In March 2006 he was invited by the Secretary General to join a steering committee of six eminent persons to conduct an independent evaluation of governance in within United Nations funds, programmes and specialized agencies. The first meeting was held in Geneva on March 16th. The other members are from Brazil, Mauritius, Japan, India and the UK. The committee will recommend how best to strengthen the governance framework of the UN through the application of international best practice principles.
Earlier in the year King was appointed Professor Extraordinaire at UNISA's College of Economic and Management Sciences. Professor Barney Pityana, UNISA Vice Chancellor, acknowledged King's role in shaping African and international debates around corporate governance and the role of business in society. The full exposition of King's concept of corporate governance is contained in his recently published book The Corporate Citizen.
Book Cover
Is there a secret to King's success? Probably not, apart from great courage, the confidence to take and make the most of opportunities, hard work, hard work and more hard work, and towards the culmination of a scintillating career, an exceptional insight into the strategic possibilities and necessities governing business conduct in the early 21st century.
King believes that 'South Africa today, is one of the most exciting countries in the world. But if you're illiterate and innumerate, how can you possibly obtain employment in this information age? I think that the key to the future lies in education. In those companies in which I'm involved, our social responsibility focuses on education. We have a fifteen year window to get people educated and bring them into the economic mainstream so we can really take off. In the meanwhile, business must hold the economy together. But we face huge red tape issues and rigid labour laws. We must make it easier for people to start a business. If we get these things right we'll be a jewel of a country. We have a fine infrastructure. Race relations are hugely improved. In the spheres in which I move, I see no prejudice any more.'
About the author: Mike has spent most of his life in Johannesburg. He earned his living as a human resources practitioner, first in large companies as a manager, [many stimulating years with AECI] and later in his own small HR consultancy. Much of his later occupational time was spent running training courses for managers on how to handle staff within the framework of South African labour legislation, He wrote and published The Manpower Brief, an IR, HR and sociopolitical newsletter, which was popular in many large companies during the 80s and early 90s. A selection of Briefs were incorporated into the book, People Really Matter published by Knowledge Resources. While working, he wrote several business books, one of which, on negotiating, was a sell-out.
In his 'retirement,' he has written extensively about Johannesburg, publishing articles mainly in The Star and Sunday Times. Working with Beryl Porter of Walk & Talk Tours, he developed and guided many walking tours around historic Joburg – Braamfontein, Parktown, Newtown, Centre City, Constitution Hill, Kensington & Troyeville, Fordsburg etc. He regularly took visitors to Soweto. His book Johannesburg Portraits – from Lionel Phillips to Sibongile Khumalo, offered popular biographical essays of well known Joburg citizens. His researched paper on Judge FET Krause who surrendered Johannesburg to Field Marshall Roberts during the Anglo-Boer War, was published in the Johannesburg Heritage Journal. The same journal published his series on famous local paleoanthropologists. 
Mike is also a widely published poet. Botsotso recently published his third book of poetry, Poetic Licence. His current historical work, published by co-author Peter Delmar of the Parkview Press, The Johannesburg Explorer Book, takes readers on a journey through old Johannesburg, weaving together a history of events and people, which make this city such a fascinating place. His most recent book, a work of journalism, Twelve plus One, featuring transcribed interviews with Johannesburg poets was issued in 2014.
He lived with his wife Cecily, in a century old, renovated house on Langermann Kop, Kensington. A widower since July 2014, he now lives in Eventide Retirement Village in Muizenberg. He believes himself very fortunate in that his son, daughter in law and grandsons live nearby. His daughter lives in Sydney with her husband and son. In case you're wondering, Luke Alfred, Mike's son, is the well-known journalist and author.
Disclaimer: Any views expressed by individuals and organisations are their own and do not in any way represent the views of The Heritage Portal.