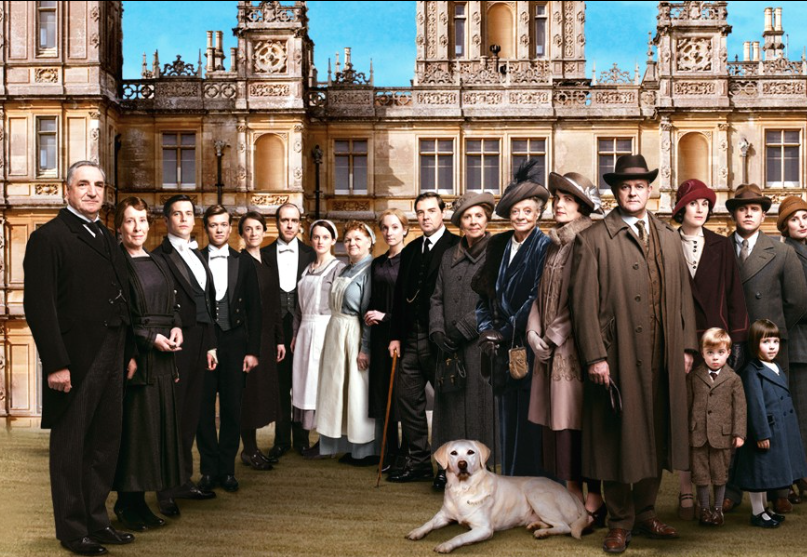 Sunday, May 6, 2018 - 13:45
Robert Crawley, the 7th Earl of Grantham (a British peer) is a fictional character in the popular television period drama, "Downton Abbey", set one hundred years ago. His family seat is Downton Abbey, Yorkshire, where he lives with his wife Cora, the Countess Grantham and their three daughters, the Ladies Mary, Edith and Sybil. He, being one of the landed gentry, generates his major income from tenant farmers farming on his Estate which he inherited from his father the 6th Earl. The rub is that he has no son and heir to inherit from him and his title must pass, on his death, to the nearest male heir. This is due to the law of primogeniture, which precludes the female line inheriting.

In the very first episode of Downton Abbey the nearest male heir, Robert's cousin James and his cousin's son Patrick are both lost at sea when the RMS Titanic of the White Star Line sinks in the early hours of the 15th April 1912 after hitting an iceberg on her maiden voyage to New York. A search is made for a more distant male relative to become next in line and the family lawyer, Murray finds that it is Matthew Crawley, a solicitor from Manchester.
The 'Upstairs Downstairs' goings on at Downton continue for another 13 years (1912-1925) through six series (screened between 2010 and 2015) and rumours abound that a full length feature film is a possibility, although Maggy Smith says her character, Lady Violet, the Dowager Countess of Grantham (Robert's mother) will be too old by then.

Julian Fellowes the creator of Downton Abbey is also known to favour a prequel using younger actors to play the parts of Robert and Cora – why not Dan Stevens and Michelle Dockery who played Cousin Matthew and Lady Mary in the original series. Information regarding the young Robert, from what we can glean from the series, is scant, however we do know that he fought in the South African War (a.k.a. the Second Anglo Boer War, 1899 to 1902); so why not invent a past for Robert with a decidedly South African bent, with full apologies to Julian Fellowes.  
Julian Fellowes via Wikipedia
Lord Grantham (BBC South Africa)
A Past for Lord Grantham

Robert Crawley was born into nobility in the year of 1866 and as the first (and only) son became Viscount Downton. He was driven from an early age by the notion of Noblesse Oblige i.e. nobility obliges and he would act with honour, kindness and generosity towards others. His strong sense of duty led him towards a career in the British Army and he "passed out" from the Royal Military Academy, Sandhurst at the age of 21 (1887). He would join the Grenadiers as a subaltern (second lieutenant) and enjoyed the life of a young army officer with the bonhomie and team spirit inculcated at Eton College. However, the family fortune had dwindled away and his father, the 6th Earl, was keen that Robert should find a Nouveau riche American heiress to marry. It has to be said that although Robert married Cora for her money, she was so vivacious he fell in love with her very quickly. The match was made on a trip he took to Newport, Rhode Island, in 1889 and they became man and wife a year later with the wedding reception held at the Levinson's (the In-laws) "Cottage" at Newport.

After an Atlantic crossing and a honeymoon spent on the French Riviera, Robert returned to his regiment at Wellington Barracks on Birdcage Walk, just around the corner from Buckingham Palace and was promoted to lieutenant. Lord Grantham's London townhouse was Grantham House on St. James Square and for the first six months of marriage Robert and Cora would reside there and entertain family during the London Season (which ended on the 11th August). Cora was expecting their first born in 1891 and she would have her confinement at the family seat, Downton Abbey. Cora would have a baby girl named Mary Josephine, thereafter Cora would stay at the stately home and only return to London for the Season. As the 1890's progressed the couple would have two more children Edith and Sybil and although Robert wished for a son and heir he was happy with his brood.

Robert was able to balance his military career with his family life as long as he was not posted abroad, but the time came when he would be shipped out with the 1st Battalion of the Grenadiers to Gibraltar and thence to Egypt in preparation for the war in the Sudan against the Dervishes and he would fight at the Battle of Omdurman on 2nd September 1898. The combined British and Egyptian Armies were victorious thanks to the rapid firing Maxim gun and Kitchener of Khartoum was hailed a hero.
Kitchener (via Wikipedia)


By early 1899 the winds of war between Boer and Brit were starting to blow ever harder in South Africa due to the aftermath of the failed Jameson Raid of 2nd January 1896. Since that date there had been what amounted to an uneasy truce between the Cape Colony and the South African Republic (a.k.a Transvaal). The Volksraad in Pretoria led by the President, Paul Kruger, had been arming against any further insurrection of Johannesburg (an English speaking mining town between Pretoria and the Vaal river) and the Republic had amassed an arsenal bristling with Mauser rifles and Long Tom canons; all bought from the taxation of the Uitlanders and the Gold Mines of the Rand. The citizens of Johannesburg with their capitalist values (note that not all were pro-British) were at odds with the Boers (farmers) who wished to remain pastoralists and one or the other would prevail to take over not only the Transvaal but also the whole of South Africa as far as the Zambezi; it was winner takes all. A game of poker was being played by the two protagonists, Oom Paul Kruger of the Transvaal and Alfred Milner, Governor of the Cape Colony. The stakes were high and the pot was to be which flag would fly overhead; would it be the Vierkleur (four colours) or Union Jack? Both men were prepared to go to the brink and their intransigence would lead to untold misery, suffering and rancour for all those living in the region.
Paul Kruger (Seventy Golden Years)
Alfred Milner (via Wikipedia)


It was with the foreknowledge of an impending war that the 32 year old Captain Robert Crawley stepped ashore at Cape Town harbour in January 1899. It was a bright sunny day, as it was mid-summer in the southern hemisphere and he could be forgiven for thinking all was peace and tranquillity. Any such thoughts were to be quickly dispelled the following day when he had an interview with the Cape Governor Alfred Milner, who gave him secret instructions for activities to be carried out in the Boer Republics. Captain Crawley was a rare breed in the British Army as he had a flair for languages especially those of the Germanic branch i.e. German (High and Low), Dutch and Flemish. He learned fluent High German from a German Governess during his childhood before being sent away to boarding school. During school holidays he could hone his German when he was taken on skiing trips to Austria and Switzerland. Being fluent in both English and German made the speaking of Dutch a lot easier and he was able to master Dutch and Flemish with ease on several trips to the Low Countries. In fact he could even speak Yiddish to his half Jewish wife Cora Crawley (nee Levinson) just for fun.

His new base would be Pretoria where his language skills would make him a perfect Liaison Officer to the British Agent in the Transvaal as the Boers spoke in a dialect of Dutch which would become in time recognised as a language in its own right – Afrikaans. This liaison duty would act as his cover for spying activities to find out the strength and weaknesses of the Commando call-up system (i.e. all burgers from 16 to 60 were obligated to serve the nation in time of war).
Raadsaal in Pretoria (The Heritage Portal)


Robert Crawley was promoted to Major, prior to being sent up country to Pretoria by train, a two day journey of over 1000 miles, travelling via De Aar, Naauwpoort, Colesberg, Bloemfontein and Johannesburg. Johannesburg was a fascination to him as the sand coloured mine dumps seemed so out of place on the Highveld. He and his father had invested heavily in Goldfields shares and he knew Cecil Rhodes not only by name but had met him once in London in February 1897, at the time of the House of Commons select committee investigation into the Jameson Raid.

Robert Crawley had formed his own opinion of the Jameson Raid and as a fellow soldier he was sympathetic towards "Dr Jim" as Leander Starr Jameson, the leader of the raid was fondly called. He put the blame fairly and squarely on an American capitalist mining engineer called John Hays Hammond and called him derisively the 'Cowboy Capitalist', a man who was the leader of a Johannesburg uprising that never was, as he lost his nerve at the last minute. Crawley and Hammond would meet many years later at the Coronation of King George V in 1911.
Leander Starr Jameson
John Hays Hammond - George Grantham Bain Collection (via Wikipedia)

Senior army officers were privileged to have a Batman (a.k.a. an Orderly) to act as a valet and baggage handler and sometimes as a groom for the officer's horses. Major Crawley was lucky enough to have a first class man as his Batman, Corporal John Bates. Bates was unmarried at the age of 29, more learned than most of the rank and file and physically fit having been an amateur boxing champion (which was to be an advantage in the tight spots that they would get into). For a private soldier to become a Batman was a leg up the military ladder as it usually meant a two stripe promotion to corporal and better pay, food allowance and living conditions. In addition to this, should the officer that he served gain promotion to a colonel and above he accordingly was made up to sergeant. Crawley and Bates had a bond forged in the hardships of battle which went beyond the usual master servant relationship of the time.

Whilst in Pretoria and on journeys undertaken around the Republic, Major Crawley always had Corporal Bates to accompany him not only to do the menial tasks but also to protect his back. They both soon realised that the Boer would be no push over as he was a crack shot having learned to shoot from an early age. He was also physically fitter than most infantrymen as when not working on the farm he would be out hunting game for the pot. Boers were also good horsemen and their horses were accustomed to the rigors of the open veld. In his dispatches, Crawley would emphasise that the Boers, should they become an adversary in war, would present a stronger fighting force than any that the British Army had faced since Waterloo in 1815. In fact he had warmed to these farmers on the veld as they talked to him directly just as a Yorkshireman would. He started to become unsettled in his mission as he was reporting back to higher authority that caution and compromise should be sought to prevent the outbreak of war, but he soon realised that his assessment was not what the politicians wanted to hear and that they were hungry for war; after all what could two small backward bucolic Boer Republics do against the might of the British Empire?

War eventually came on the 11th October 1899, the day after Paul Kruger's 74th birthday and it would not end until 31st May 1902. Major Crawley would see action with his regiment the Grenadiers and he and Bates would be in the thick of it. He believed in fighting for Queen and Country but he also had a strong sense of fair play which nagged him when he was ordered to burn down homesteads. At war's end he would resign his commission having been sickened by the horrors of the war and he would return to the family seat in Yorkshire where he would re-unite with his wife and growing family and help his ailing father in the running of the estate.
Farm Burning during the South African War


There was no suggestion of impropriety on the part of Lord Grantham whilst he served in South Africa, even though there was a rumour, doubtless spread by Thomas (first footman) and O'Brien (lady's maid), that John Bates only became His Lordship's Valet because he knew something unseemly, which the 7th Earl wished kept quiet. His war record was in fact spotless and it was for that very reason that he was so downcast in 1916 when his regiment did not want to send him to France and only wanted him to keep morale up on the home front.
A Potent Brew of Literature

With no wish to plagiarise famous authors, there is a large body of written prose both factual and fictional which can be used as source material for a screenplay for a television series perhaps entitled "Down(ton) and Out(spanned) on the Veld" or some such. In particular Stuart Cloete's historical novel of the Boer War "Rags of Glory", published in 1963, deserved to be made into a motion picture. I believe that the film producer Albert "Cubby" Broccoli (of James Bond fame) showed interest, enlisting David Lean as his director, but for one reason or another it was never filmed which was a great pity. Stuart Cloete (1897- 1976) was the king of the historical African novel, over which his heir Wilbur Smith continues to reign. If you throw in Rudyard Kipling, H. Rider Haggard, Edgar Wallace, Arthur Conan Doyle, Denys Reitz, Thomas Packenham, Rayne Kruger and Charles Van Onselen there is a potent brew of literature to be sipped for anyone brave enough. Go on Julian Fellowes drink from the Calabash.
Book Cover
Disclaimer: Any views expressed by individuals and organisations are their own and do not in any way represent the views of The Heritage Portal.