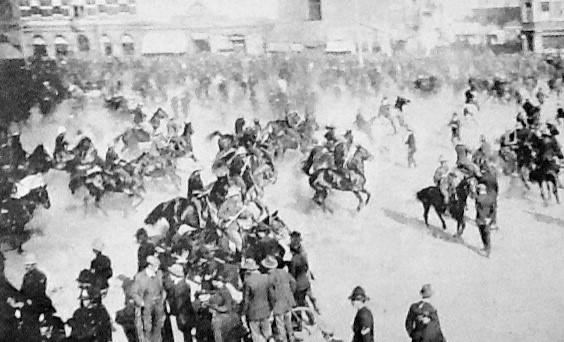 Sunday, August 7, 2016 - 13:55
[Originally published in 2015] I recently acquired a fascinating item of Johannesburg Africana. It is a pamphlet publication of the 1913 strike and disturbances on the Witwatersrand and Johannesburg. It's a slight document of 32 pages including four pages of period adverts published by the Central News Agency. Was it a newspaper insert or sold by the CNA? Coverage includes the story of the strike, a casualty list, a Johannesburg central district map of the "area of disturbance" and 14 pages of contemporary black and white photographs.
Pamphlet Publication of the 1913 Strike
The events took place from late May 1913 to early July. The account in this small pamphlet has a journalistic immediacy of "the man on the spot" observations of what happened, why and what were the consequences. It's a fairly even handed factual analysis, but comes down heavily on the side of law and order and condemns the anarchy of public disturbance and violence.
There were 21 deaths of miners and bystanders, though organized labour made much of the panoply of public mourning and a grand funeral. Almost all deaths were the result of rifle fire by the military or police. Some people killed, such as a pianist, a photographer, a dentist's apprentice and two commercial travellers were unlucky to be in the wrong place at the wrong time and caught in the cross fire.
The grand funeral
The Rand Club came under attack, the Star newspaper offices were burnt down, railway headquarters and Park station were another scene of battle and two gunsmiths shops (Loveday Street and President Streets) were looted.
The offices of The Star were set on fire during the strike
Rioting at Park Station during the strike
The fascinating elements were the power of organized labour vs the power of mine owners, the readiness of civic forces (police and the Union defence force) to respond with firepower, the intensity of the violence and the longer term political consequences. The excitement of the moment was rapidly captured in a souvenir pamphlet but with a lighter touch also showing adverts promoting Mazawattee Tea, Sunbeam boot polish, Dee And Ess Cocoa, stylish suits, furniture from Geen and Richards, and Cuthbert's shoes.
The strike was a foretaste of the general strike of 1922 and a reminder that 21st century catastrophes such as the Marikana shooting of platinum mine strikers in 2012 had a century old antecedent. The 1913 strike has been well covered in historical research and writing but the appeal of a piece of contemporary ephemera is that it captures the moment. I wonder how many copies of this pamphlet have survived. It illustrates that ephemera can become collectable. Time to search the attics!
Disclaimer: Any views expressed by individuals and organisations are their own and do not in any way represent the views of The Heritage Portal.