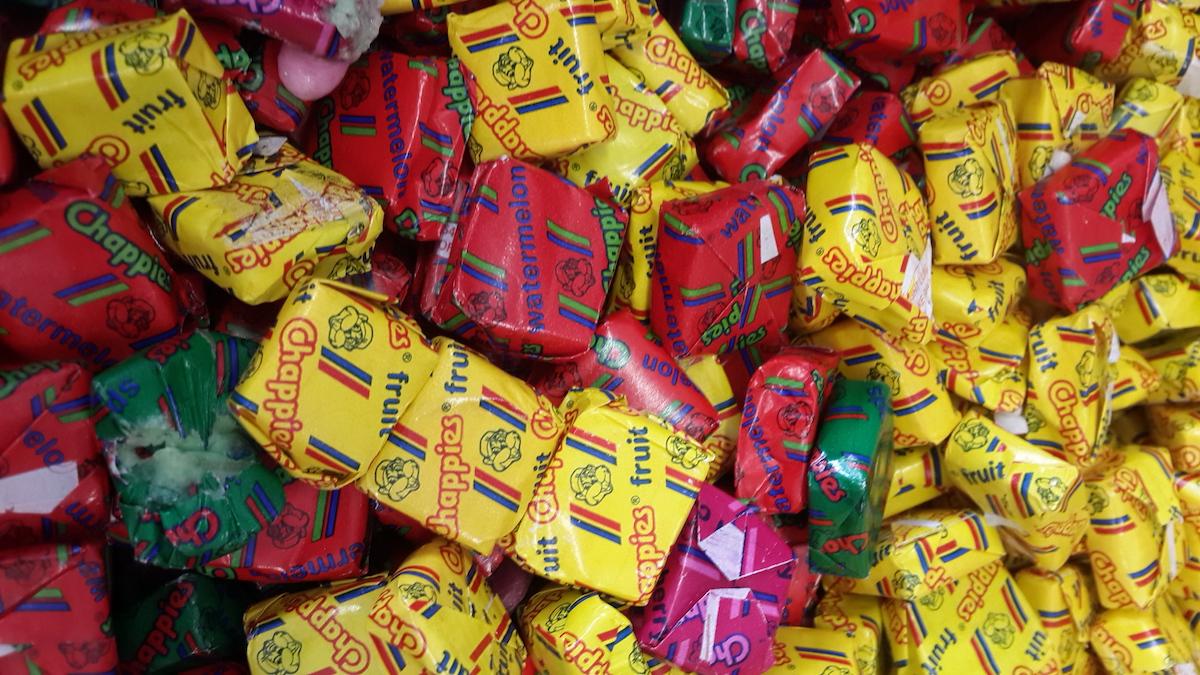 Friday, January 26, 2018 - 09:49
Below is a fascinating article on the origins and development of the famous Chappies brand. It was written by well known journalist Lucille Davie on 10 March 2003 and appeared on the City of Joburg's website. Read all the way to the bottom for a 2018 update. Click here to check out more of Davie's work.
When I was 12 years old a girl in my Grade 7 class, Charmaine Clarkson, won 1st prize in a sweet competition. She was to share the prize with her classmates: we each got a box of Chappies Chewing Gum. It was a great prize.
I only remember her name because of the Chappies prize. A few days ago I met the man who created Chappies. His name is Arthur Ginsberg and he's 85 years old. He lives in Killarney, Johannesburg, and retired from the confectionery business 20 years ago, but remembers the Chappies story well. 
Arthur Ginsberg
In the 60s and 70s Chappies was to the youth what Coke is today – everyone chewed Chappies. It became an iconic South African sweet, recognised by everyone in its distinctive yellow wrapper with blue and red stripes, and chipmunk head. Youngsters still love Chappies today. You could blow great bubbles with Chappies, and it was the cheapest gum on the market – you could get two Chappies for a penny. 
It came in a range of colours and flavours, in small squares with four Did you Know? questions inside the wrapper.
In the mid-1930s Ginsberg had just finished school and was looking for a job. He lived in Troyeville, and the big Chapelat Sweets factory was also in the suburb, an eight minute walk from his home. He became the cost accountant at Chapelat while completing a BComm degree at Wits University at night. 
Ginsberg served in World War 2 and by the early 1950s he had been made head of marketing and sales at Chapelat."I was a great believer in advertising."
Chapelat produced a range of confectionery - from the most expensive chocolates on the market to the cheapest toffees. Chapelat's major customer was OK Bazaars. OK then bought Turnwrights, another confectionery supplier, and dropped Chapelat "like a hot coal". 
This left Chapelat in a bit of a jam. They needed a new product and new business. Ginsberg looked around the market. "I noticed that Wicks bubble gum was selling at a penny each. I wondered about making a gum that sells two for a penny." He experimented with a bubble gum base which Chapelat got from the US. The base was 100% synthetic, consisting of different rosins making up an inorganic substance which becomes malleable when heated.
"This comes in square lumps of no particular colour – a greyish, opaque mass," says Ginsberg.
After it is heated, this base is then put into a large metal container to be mixed, much like the dough machines that pizza restaurants use. Flavourants and colourants are added, together with glucose and sugar. The glucose, which is made from maize, helps to keep the sugar in a liquid state, as well as giving the chewer a bit of energy.
From here the bubble gum goes through an extruder, and comes out in long strips. Those strips are then sent through cut and wrap machines, and in those days, 1 200 Chappies used to be produced each minute.
There were five initial flavours: lemon, orange, strawberry, cherry and pineapple. The gum is wrapped in waxed paper so that it doesn't stick to the paper.
And how did he come upon the name? "While still in the initial experimental stage, I decided on an abbreviation of Chapelat, and that was Chappies."
Marketing Chappies
The next thing was to market Chappies. Here Ginsberg proved to be a genius. He decided to make them attractive to children by having four Did you know? questions on the inside of each wrapper. There's no doubt it worked. People growing up in the 50s and 60s still remember the Did you Knows? I know, I'm one of them.
And where did all those questions come from? The Three Wise Men, the name of a popular quiz programme on Springbok Radio, the most popular radio station at the time. The three men were Eric Rosenthal, Arthur Blexley and Dennis Glauber. The company later approached academics from Wits University, and asked for lists of questions.
Ginsberg estimates that there were around 5 000 to 6 000 questions generated in those first years. Questions were used more than once.
They were a huge success, but the marketing went further. Ginsberg says he was the first person who took advertising space in The Sunday Times magazine in the form of a cartoon. Every week a Chappies cartoon ran in the magazine, done by cartoonist Bob Connolly.
The depictions were simple but effective: a hot air balloon or a submarine sprung a leak, and it was plugged with Chappies.
From time to time new gimmicky brands were produced: a Beatles bubble gum with pictures of the famous four, or a Donald Duck bubble gum.
A selection of images of the Chappies brand via google images
Competitions
Competitions were run, and hundreds of thousands of children sent in their entries.
"One of the competitions asked kids to show how much they liked Chappies by sending in wrappers. We received beautiful panoramas made up of cardboard pasted with wrappers," he enthuses. The prizes were great: motorbikes, TV sets and radios.
Another strategy was to give out free Chappies rulers, pencils and notebooks in the townships. "We ordered one million pencils from Staedtler, and distributed them." The rulers contained a simple message: "Make Chappies your rule".
Banner advertising was placed at township railway stations and other vantage points.
In time a cartoon chipmunk was inserted under "Chappies" on the wrapper. It was felt that rural black children who possibly couldn't read needed to distinguish the real Chappies from any substitutes on the market, and the chipmunk was distinctive. The wrapper still contains the chipmunk today.
There was another element to promoting the brand in the rural areas. "We felt that black rural kids possibly didn't have breakfast and if they chewed Chappies, they'd at least give them a little bit of energy," says Ginsberg.
Flavours
Once the five flavours were established in the market, others were introduced: spearmint, peppermint, herbal, silver fruit (a mix of the five flavours).
These days there are four flavours to choose from: spearmint, fruit, watermelon and grape. And, says Ginsberg, it's now made in Swaziland where it's close to its source of sugar, grown in Swaziland and KwaZulu-Natal.
"Chappies became the biggest volume seller in South Africa. Just like Coca Cola was to be found in every nook and cranny, so Chappies was everywhere," says Ginsberg.
The brand was exported to Zambia, the Congo and Zimbabwe. In the late 1970s Chappies held 90% of the market. It was about this time that Ginsberg and his partners sold to Cadbury's – it was time to retire. Cadbury's still owns and produces the brand.
Ginsberg says that mothers "never forgave me" for creating a "sticky currency". If shopkeepers needed to give a half a penny change, a Chappies gum was given instead. Chappies became the generic term for bubble gum.
Did Chappies make him a millionaire? "No, but I'm not poor, just comfortable."
You can still buy Chappies, but be prepared to fork out 25 cents for the small square gum.
Update: 12 January 2018
Arthur Ginsberg died on 31 May 2007, aged 89. His wife Anne still lives in Killarney. She remembers with nostalgia the story of Chappies, and the different uses people found for the gum, besides chewing it. It was used as a currency. It was useful as a sugar surge for pupils who might not have had breakfast, but she says it was also used to hold down the corrugated iron sheets of township shacks. Nowadays a square of Chappies costs 50c.
Lucille Davie has for many years written about Jozi people and places, as well as the city's history and heritage. Take a look at lucilledavie.co.za.
Disclaimer: Any views expressed by individuals and organisations are their own and do not in any way represent the views of The Heritage Portal.