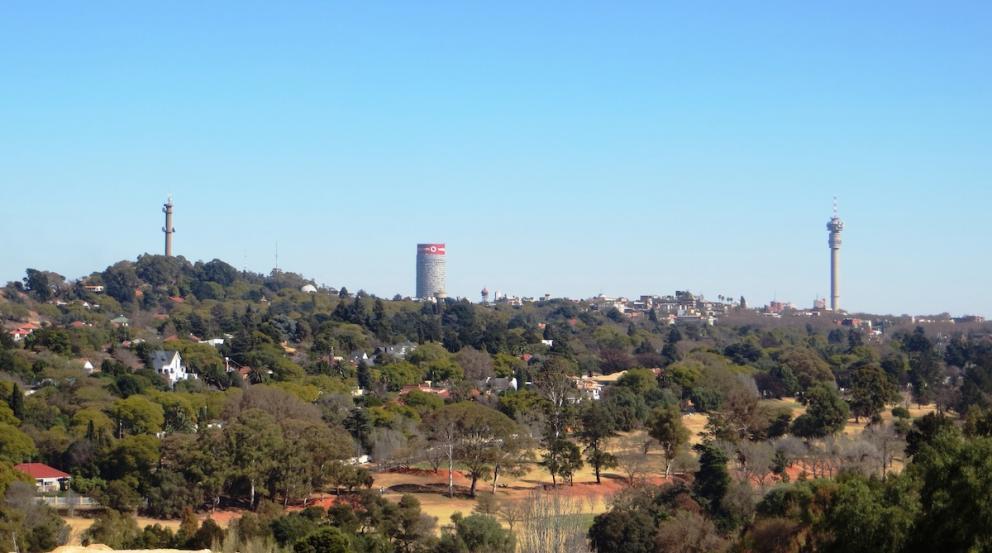 Braamfontein Spruit Trail, edited by James Clarke, sponsored by AECI Ltd, published 1981. This soft covered pamphlet and handbook was published more than 3 decades ago has now become an item of Johannesburg Africana . It is 52 pages in length but is a dual book with text in both English and Afrikaans. This still useful handbook offers a practical guide to walking the trail in four sections, Parktown / Westcliff urban walk, Dale Lace Park to Delta Park, from Delta Park to the Sandton Field and Study Centre, finally from that point to the Sandton Boundary. Detailed maps of the Witwatersrand watershed support the historical background. The book is illustrative of an excellent environmental effort to create an urban parkland for Johannesburg residents. The booklet is neatly illustrated with coloured photographs and reminds us that Johannesburg still offers a wonderful landscapes and parks.
2015 price guide: R50-100 
The Mervyn King Ridge Trail, from Landscape to Townscape - a City and its Origins, was published by the Johannesburg City Council in 1986. Research and Text by Sally Argent and Nola Green. This was a Johannesburg Centenary project of the Planning Department of Johannesburg Council, its 63 pages with a fold out end map of the complete trail, is a wonderful guide and handbook to walking what was intended to be the second inner city walking trail (the first being the Braamfontein Spruit and the third being the Sand Spruit). The route runs from Pieter Roos Park in Hillbrow, through Hillbrow, across Highlands, along the Observatory Ridge, through Bezuidenhout Park, on to Bruma and Morninghill and culminating at Gillooly's Farm. Sadly the trail may still be there but crime grime and a lack of safety means that few people risk the walk today and signposting is lacking. Perhaps the reconversion of the Bruma lake into a parkland will bring people back. The booklet covers the history of the farms and townships, the more recent development of suburbs, the geology of the ridges, bird species and indigenous plans likely to be found en route. This little treasured piece of Johannesburg Africana is well illustrated with photographs of early pioneers, route maps, panoramic views and delightful drawings. Some of the city's best viewsites are from the top of these eastern ridges.
2015 Price Guide: R50 - R100
Kathy Munro is an Honorary Associate Professor in the School of Architecture and Planning at the University of the Witwatersrand. She enjoyed a long career as an academic and in management at Wits University. She trained as an economic historian. She is an enthusiastic book person and has built her own somewhat eclectic book collection over 40 years. Her interests cover Africana, Johannesburg history, history, art history, travel, business and banking histories.  She researches and writes on historical architecture and heritage matters. She is a member of the Board of the Johannesburg Heritage Foundation and is a docent at the Wits Arts Museum. She is currently working on a couple of projects on Johannesburg architects and is researching South African architects, war cemeteries and memorials. Kathy is a member of the online book community the Library thing and recommends this cataloging website and worldwide network as a book lover's haven.
Tuesday, October 13, 2015 - 20:20