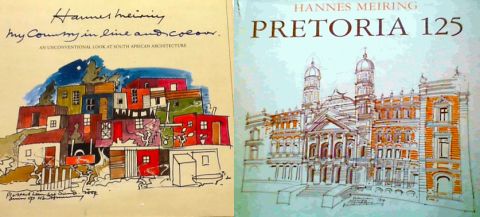 Hannes Meiring: My Country in Line and Colour - An Unconventional Look at South African Architecture. Fernwood Press, 2004.  Meiring was a fine architect who died in 2010. He was a sensitive conservation and heritage professional.  Published some 11 years ago this finely produced volume is a compilation of many of Meiring's architectural sketches and water colours . His talent and joy in sharing his insights as an architect and artist is infectious and as an anthology it gives pleasure to page through and to take time to see a building through Meiring's eyes .  He runs us through the gamut of architectural genres,  styles and South African places from indigenous houses , to Cape Dutch , from West coast simple cottages to the grand old mansions and street scenes of Paarl , Stellenbosch , Maritzburg , Kimberley,  Cape Town, Pretoria , Johannesburg . His pen emphasizes  the details of fret work  , gables, brickwork , doorways and draws you to examine detail.    His city street frontages gives us his slightly nostalgic glimpses of old places and spaces.  The commentary on a personal collection of favourite frontages is informative and well researched .  This mature book is a gem for any Africana collection .
2015 Price Guide: Local prices R150 to R250 but overseas internet sources show prices in excess of R1000
Hannes Meiring: Pretoria 125, Human and Rousseau, 1980. This bilingual text (English and Afrikaans) celebrates the growth of Pretoria from Voortrekker settlement to  the administrative capital over a 125 year period.  The book was sponsored by Murray and Roberts  and is filled with Meiring's pen and ink sketches in black and white, of Pretoria's heritage buildings.  It has the feel in style and layout of the architect's sketchbook  and there is an informed commentary for each of the drawings with a date, the name of the architect. Meiring's pen and eye draws you to the details of ornamentation and facades, from the forts and suburbs to the centre of the city, from Union buildings to church square. The arrangement is according to region of the city. The book is an expression of a love affair of the architect - artist - author with his city and captures Pretoria as it was some 35 years ago and captures the ambience of the city.  The two languages text and the lack of clear labels for each sketch (you need to cross check against of a numbering system of drawing to accompanying paragraph) are minor drawbacks.  
2015 Price Guide: R200 - R275
Both books are attractive works and now highly collectable. I prefer the "My Country" book because it ranges more widely, is more colourful and is a more confident production by the mature architect. 
Kathy Munro is an Honorary Associate Professor in the School of Architecture and Planning at the University of the Witwatersrand. She enjoyed a long career as an academic and in management at Wits University. She trained as an economic historian. She is an enthusiastic book person and has built her own somewhat eclectic book collection over 40 years. Her interests cover Africana, Johannesburg history, history, art history, travel, business and banking histories.  She researches and writes on historical architecture and heritage matters. She is a member of the Board of the Johannesburg Heritage Foundation and is a docent at the Wits Arts Museum. She is currently working on a couple of projects on Johannesburg architects and is researching South African architects, war cemeteries and memorials. Kathy is a member of the online book community the Library thing and recommends this cataloging website and worldwide network as a book lover's haven.
Wednesday, October 14, 2015 - 14:55