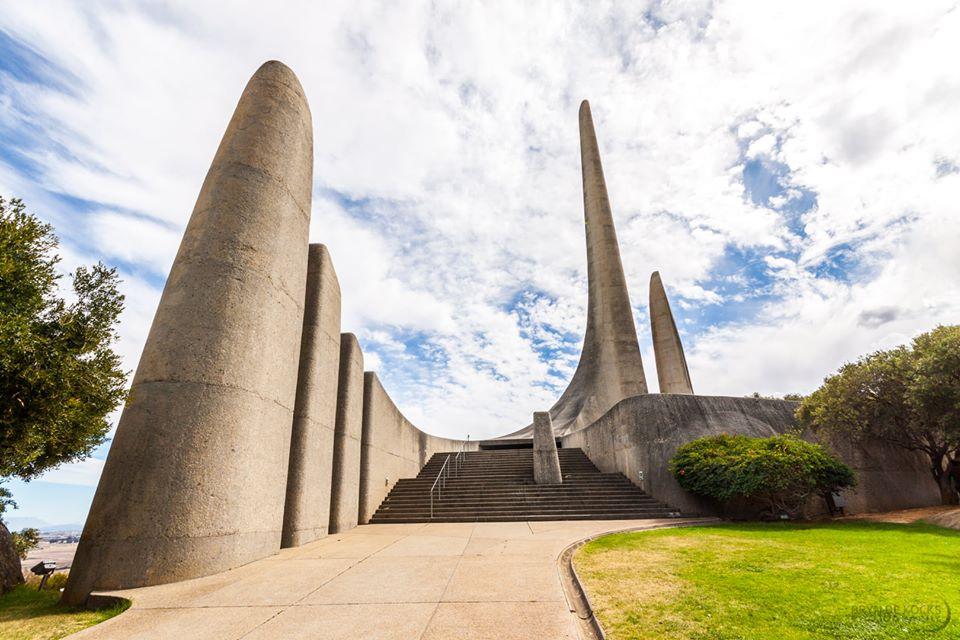 Modernist Architectural Tour: firstly, to the Taal monument for a guided tour – a bastion of the Afrikaans language represented through the sculptural form and strength of concrete.
Then followed by a visit to a house designed by architect Pius Pahl (of the Bauhaus and Modern Movement School). The design represents the era of light and connection to nature. This is achieved through the use of skeletal timber bones which forms the connection between the interior and the exterior. A lecture will be given by the architect – Servaas de Kock, of Malherbe Rust Architects, on his involvement with the house over the years.
Date & Time: 22 February 2020 10h00 at the Taal Monument
Directions: From the N1 take exit 55 to Paarl, turn left into Main Rd, turn left into Flambeau St (at the miniature water mill). Turn left at the T-junction and proceed along Flambeau Street and turn left into Chapelle St, continue to T-junction and turn right into Gabbema Doordrift St – this road winds all the way up to the monument.
Duration: 3 hours.
Price: R140.00 pp MCC & snacks incl. Limited to 20 persons. No wheelchair access. 
Bookings made via the email on simonvdstel@outlook.com will be appreciated. All the bookings are done through the secretary, Pat Benbow-Hebbert. Office hours (Mon – Fri 08:30 – 13:00).
The Foundation is not responsible for any injuries or loss incurred during outings. Members and their guests take part at their own risk.
Please note non-members are charged an additional fee of R25pp for outings booked (extra fee not applicable to lectures that are sponsored by the Conservator Trust). Requests for concessions on outings could be discussed with Pat in confidence.
Banking details: ABSA Branch Code 632005. Account 38019980011 Savings Account Simon van der Stel Foundation. Please state your name in reference column.
EFT payments please (cash deposits attract bank fees).
Only a limited number of people can be accommodated per outing. You are therefore advised to book early.
Cancellation fee: 25%. Cancellations made 1 week or less before the event - no refund.
Take note that the organiser's cell number is given at each outing. Make use of this service to establish whether an outing will proceed in case of inclement weather or to get directions. Use these numbers only on the day of the outing.
Organiser: Gareth Nolan (cell: 0823079403) & Nikki Zigras (cell: 0631618578)
Created
Sunday, January 5, 2020 - 09:24
Disclaimer: Any views expressed by individuals and organisations are their own and do not in any way represent the views of The Heritage Portal.