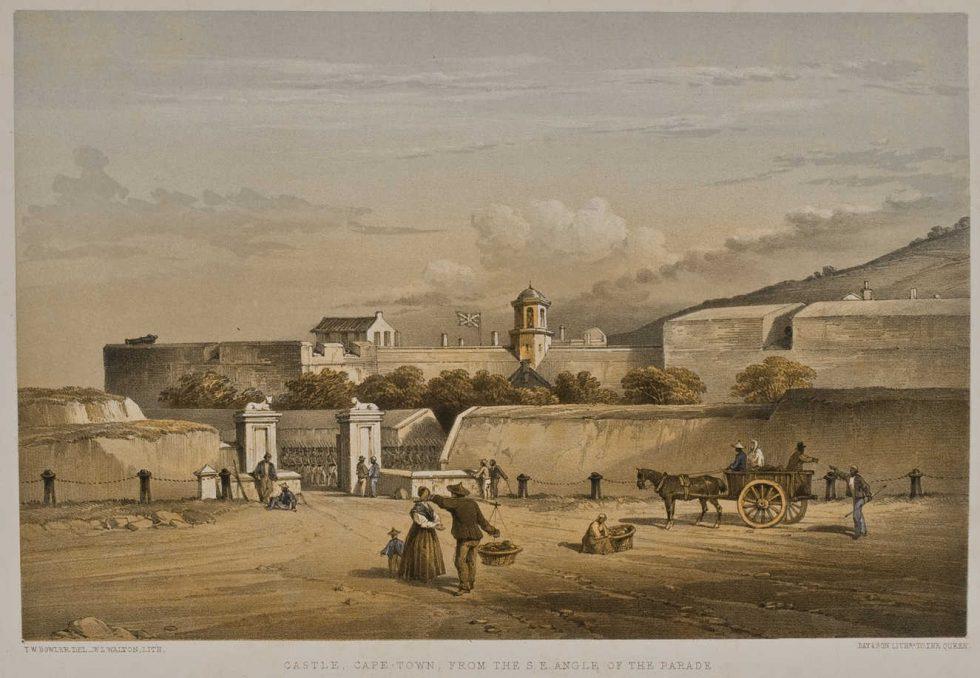 First Nations to democracy: three centuries of stories about the shaping of the Cape Town as we know it. Hugely knowledgeable and experienced guide, Lesley Cox, is leading this popular Culture Connect walking tour. She is the expert. You'll have your eyes opened, even if you know the city centre well.
We start at Haas cafe,19 Buitenkant St (District 6), at 10am and finish at 12:30pm, by the World War memorials in Company's Gardens (the upper bit, just up from Company's Garden Restaurant).
We imagine life before the European settlers arrived and when the sea was by the Castle and Grand Parade. We first walk to the Old Granary which has had so many uses, including a court and prison; now it is home to The Desmond & Leah Tutu Legacy Foundation. Opposite we'll stop by the easily missed Cissie Gool memorial, she was the first black woman in the country in local government. At City Hall we'll learn about this flamboyant Victorian Classical edifice with its new Mandela exhibition, by his statue marking his first speech as a free man on 11 Feb 1990. We'll pass a mural to his then wife, Winnie Mandela, on our way to Greenmarket Square, via the General Post Office, Proudfoot Memorial, flower sellers and plaque marking "Least We Forget", the two minute silence started in Cape Town (South Africa's gift to the world).
At Church Square, which Lesley calls the Slave Precinct, we'll get an understanding of early settler life at the Cape. We'll stop by St George's Anglican Cathedral and the segment of the Berlin Wall. Then head through Company's Gardens. On route we will we engage with South Africa's political history, especially when we are outside South Africa's Parliament. We'll stop at the statues of Jan Smuts, Sir George Grey and Cecil Rhodes, plus the Arch for Arch.
Lesley, with 169 reviews in TripAdvisor all five out of five, has been guiding for 18 years in and around Cape Town. She has an Honours Degree in History from the University of South Africa and specialises in walking tours in city centre. Some of you may have met Lesley as she regularly attends Culture Connect's open tours and lectures about South African history. Lesley is an active committee member of the Simon van del Stel Foundation of Cape Town, nationally known as the Heritage Association of South Africa.
R250 per person if you pay 10 days prior, or R300 each, includes an illustrated history compiled for this tour that shows what it all used to look like, plus key dates
All tours will be small but please wear a mask and cancel if you are ill
Sat 14 Aug, Tues 24 Aug, Wed 8 Sept, Sat 25 Sept, Sat 23 Oct  – do suggest other dates
Or have a private tour – wonderful for your friend and/or family 'bubble' (four minimum)
Later in the year we hope to go inside Standard Bank, Adderley St, after the success of the visit in June (it has been closed to the public for over a decade)
To book email kate@cultureconnectsa.com or WhatsApp/Phone 072 377 8014
Remember to wear footwear good for walking on pavements. Please dress according to the weather and, if you are likely to get thirsty or peckish, water and snacks. As with all cities around the world, please keep your phone and wallet safe during the tour; leave jewellery at home.
Created
Friday, July 23, 2021 - 12:23
Disclaimer: Any views expressed by individuals and organisations are their own and do not in any way represent the views of The Heritage Portal.