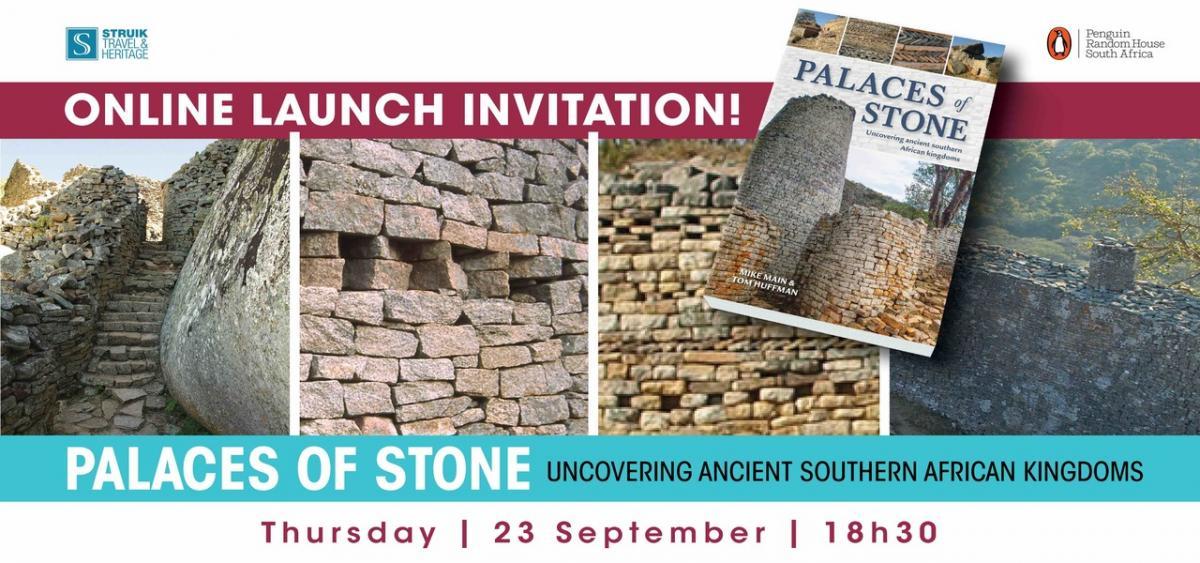 Patricia Glyn will be in conversation with Mike Main & Prof Tom Huffman. Earlier this year Patricia spent time in the Botswana bush with Mike Main, visiting some of the stone palaces that he and Tom Huffman describe in their book. It was an eye-opening adventure and she hopes to bring some of its insights to the online launch, along with much else she has learned from their fascinating book.
Across the face of southern Africa are more than 460 remarkable stone palaces - some small, others rambling, but many are astonishing. All are the legacy of kingdoms past.
Some, such as Great Zimbabwe, Khami in Botswana and Mapungubwe in South Africa, are famous world heritage sites, but the majority are unknown to the general public, unsung and unappreciated.
'Palaces of Stone' brings to life the history of various early African societies, from AD 900 to approximately 1850. By exploring a selection of known and unknown sites, the authors uncover the emergence of ancient civilisations and reconstruct the meaning of the ruins they left behind. Woven into the narrative are stories of powerful political states; Flourishing local economies; long-distance trade; and the destruction wrought by colonialism and modern-day treasure hunters. This book will appeal to anyone interested in Africa's ancient heritage.
There will be a Question & Answer session at the end of the talk.
The launch will be live-streamed on the Struik Nature Club Facebook page on the day of the event. All registrants will be sent a link to the presentation once it has been uploaded to the Penguin Random House SA YouTube channel.
Registrants will receive a 20% discount on 'Palaces of Stone' on the Struik Nature Club online book store (https://bit.ly/3hYmuAw) until September 30. Use voucher code PALACES when checking out to redeem your discount.
23 September 2021 at 18:30
Click here to register
Created
Wednesday, September 22, 2021 - 09:02
Disclaimer: Any views expressed by individuals and organisations are their own and do not in any way represent the views of The Heritage Portal.