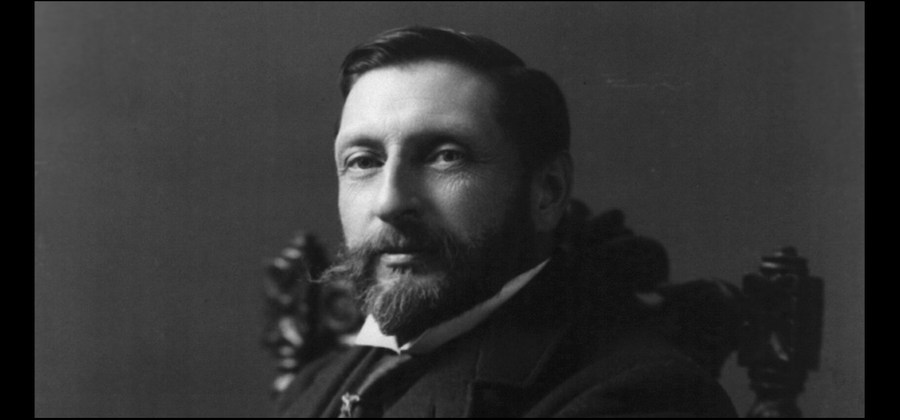 Tuesday, September 11, 2018 - 17:21
In March 1922 the Italian painter and sculptor Francesco La Monaca produced a bust of Sir Henry Rider Haggard, the author of King Solomon's Mines, Allan Quatermain and She, which formed part of an exhibition at the Bromhead, Cutts and Company's Fine Art Gallery, 18 Cork Street, London, featuring 34 busts in bronze and marble by La Monaca of eminent English figures of the time including George Bernard Shaw, Sybil Thorndike, and Randall Davidson, the Archbishop of Canterbury. According to Haggard the bust was judged 'a fine and vital work of art.'
In 1932 the bronze found its way to Pretoria and was exhibited along with other Haggard related items in a glass case at the Pretoria Publicity Association where they were still available for viewing in 1955 according to an article in the Rand Daily Mail published in August of that year. Where they are now is a mystery.
Haggard died in 1925 and in 1932 his widow Lady Louisa Haggard donated the bust and seventeen other items connected with her late husband to the Pretoria Publicity Association. These included a single barrelled rifle made by J. Purdey of London in 1835 used by Haggard in life and in his books by his fictional alter ego Allan Quatermain. This was accompanied by Haggard's stirrups, some Zulu artefacts and several Martini-Henry cartridge cases retrieved from the battlefield of Isandlwana by Haggard in 1914. There were also some photographs: one of the raising of the British flag over Pretoria on the occasion of the British Annexation of the Transvaal in 1877 and two of 'Jess's Cottage'. These latter images indicative of Haggard's substantial links to Pretoria which prompted Lady Haggard's donation.
Old postcard of Jess's Cottage
In 1875, at the age of 19, Haggard came to South Africa as an unpaid supernumerary on the staff of Sir Henry Bulwer, newly appointed Lieutenant-Governor of Natal. In Pietermaritzburg he was taken under the wing of Sir Theophilus Shepstone and duly became a member of his mission which annexed the Transvaal in 1877 – Haggard helped raise the flag. Thereafter Haggard became Master and Registrar of the High Court under Judge John Kotze. 
Established in Pretoria Haggard joined forces with a friend and fellow civil servant, Arthur Cochrane, to build a small cottage which they ironically named 'The Palatial'. It later became known as 'Jess's Cottage' after its use as a location in Haggard's novel Jess, one of his most popular novels set against the backdrop of the First Anglo-Boer War and published in 1887. 
In 1879 Haggard and Cochrane resigned and went farming in Natal, just outside Newcastle. The same year Haggard went to England for a visit and met Louisa Margitson who, after a legal battle with her guardians, he married in 1880. The couple returned to the farm in Natal just in time for the First Anglo-Boer War. The outcome of the war and the retrocession of the Transvaal saw them return to England in 1881. Haggard embarked on a legal career and began writing books in his spare time. Following the phenomenal success of King Solomon's Mines in 1885 he became a full-time writer. However, Haggard remained interested in public service and in the late 1890s began to address the plight of rural England, establishing himself as farmer and agricultural expert. He also crusaded for the settlement of the urban poor and unemployed on the land, both in England and the Dominions of the British Empire. His knighthood bestowed in 1912 was in recognition of these various endeavours.
Book Cover
In 1914 Haggard returned to South Africa for the first time since 1881 as a member of the Dominions Royal Commission investigating South Africa's economic, agricultural and industrial health with a view to strengthening the country's ties with the United Kingdom. During the commission's visit to Pretoria Haggard took a break from his official duties to seek out 'The Palatial'. His thoughts and reflections on this and other aspects of his trip can be found in Diary of an African Journey published for the first time in 2000.
While in Pretoria Haggard was chided for the biased treatment of Afrikaners in his books and other writings. Something he acknowledged and apologised for in a public speech though not to the satisfaction of a letter writer to the Pretoria News signing himself pseudonymously 'Dutch Africander' (later identified as Gustav Preller) who accused Haggard of returning to 'the same irreconcilable racialism, the same old . . . lies' in his more recent books.
These sentiments had a sequel in 1967. In March of that year it was announced that 'The Palatial' was to be demolished to make way for a block of flats. A number of people expressed the wish that it be preserved as a museum, possibly as a more suitable home for Lady Haggard's donation. H.M. Rex, who was sympathetic to this, was asked to prepare the April edition of Pretoriana as a 'special Haggard-house edition'. He recorded what happened in a pamphlet Die Strydvraag oor Die Bewaring en Restourasie van Die Woonhuis van Henry Rider Haggard in Pretoria (The Dispute over the Conservation and Restoration of the Dwelling-house of Henry Rider Haggard in Pretoria) and how as a result of his research he 'gradually became convinced that I would violate my conscience should I, as an Afrikaner, continue to assist in commemorating Rider Haggard, in Pretoria, the centre of Afrikanerdom. My sense of honour, as an Afrikaner, as a descendant of the Boers that Haggard slandered… left me no other choice than to completely distance myself from any effort, in whatever form, of honouring Rider Haggard.' 
The project subsequently foundered and 'The Palatial' aka 'Jess's Cottage' was demolished. Today its site is occupied by a car manufacturing company close to a small cul-de-sac named Rider Haggard Street which runs parallel to Thabo Sehume Street on the southern edge of the Pretoria CBD.
Rider Haggard Street in Pretoria (Google Maps)
I have made various inquiries as to the whereabouts of Lady Haggard's donation, which is of considerable historic, literary and artistic interest. So far without success. Perhaps this article might provoke its re-discovery.
Stephen Coan is a writer and journalist. He edited and introduced H. Rider Haggard's Diary of An African Journey and (with Alfred Tella) Mameena and other plays: The complete dramatic works of H. Rider Haggard for publication by the University of KwaZulu-Natal Press.
Disclaimer: Any views expressed by individuals and organisations are their own and do not in any way represent the views of The Heritage Portal.