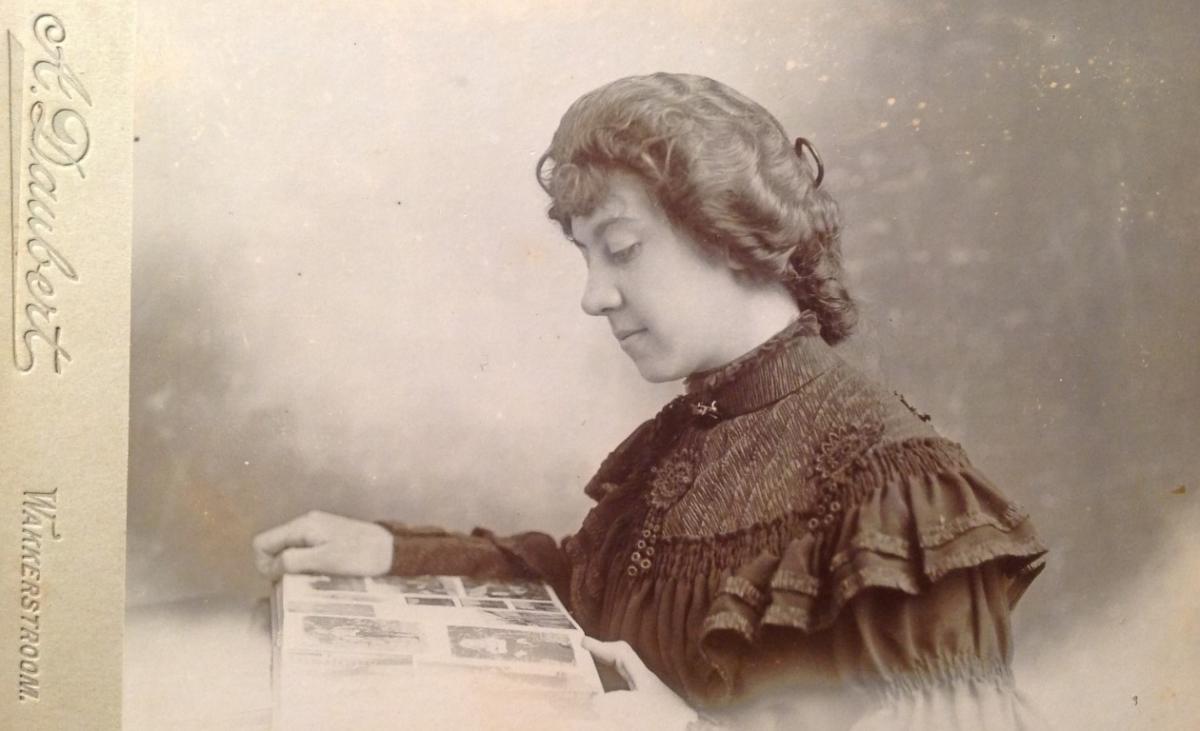 Thursday, June 29, 2017 - 17:13
Most photographers at the turn of the last century were upstanding and hard-working citizens, however, there is always the exception. This article is about one such exception, namely the photographer Maximillian Alfred Daubert who was based in towns such as Wakkerstroom, Reitz and Pietermaritzburg. Daubert who often clashed with the law, spent many months in local jails, due to various criminal transgressions.
Maximillian Alfred Daubert, was born in Braunschweig, Germany on 24 August 1865. His father was Heinrich Wilhelm Daubert and his mother Doretta Daubert (Nee Haacke). Alfred left Germany at the age of 23 and arrived in South Africa some time during 1888.
Photograph of Daubert, wife Alette (Nee Smit) and eldest son Heinrich (Circa 1912) taken by the photographer Jennings based in Vrede. Jennings was also active in Reitz where Daubert resided for a while.
Alfred Daubert initially moved around South Africa at regular intervals. It is possible that he was an assistant photographer at the studios of some more established photographers in the towns he visited before he finally settled in Wakkerstroom.
His movements were as follows:
Kimberley between 1888 and 1889
Johannesburg (Kerk & Harrison Street) between 1889 and 1891
Winburg between 1892 and 1896
Back in Johannesburg for 8 months during 1896.
Volksrust for 2 months during 1896.
He settled in Wakkerstroom during 1896. Daubert's house and studio in Kerkstraat (the then main street) was positioned behind the small commercial centre in Badenhorst Street. This house, referred to by the locals as the Daubert house, was sadly demolished during 1986. (Marthinus Wesselstroom, as Wakkerstroom was initially called, was established during November 1859, which makes Wakkerstroom one of the oldest towns in the old Transvaal).
Badenhorst Street in Wakkerstroom. The Daubert house was behind the building on the right. Photograph by Daubert. Published as postcard (Circa 1908)
He remained in Wakkerstroom for 14 years (until 1911), before moving to Reitz where he also practiced as a photographer.
Due to Alfred becoming a prisoner of war during 1915, his wife had to sell the property in Reitz during 1916. From there she moved to Pietermaritzburg.
It seems that after his release from the prisoner of war camp, he was based in Pietermaritzburg for a while before retiring to the farm Weltevreden in the Utrecht district (Not far from Wakkerstroom).
It was during his initial years in South Africa (1890 – 1915) that Alfred clashed with the law on a regular basis. The first incident (at least in South Africa) occurred in Johannesburg. Daubert was then aged 25.
In an oath (dated July 1890) undertaken by Daubert after being arrested, he states the following:
That he is a draughtsman residing in Johannesburg. He passed a man that called himself Morrison on Saturday 13 July 1890 at noon, stating: "I spoke to him about money matters saying I was getting hard up only having a few shillings left and unable to get a situation". Upon this, Morrison apparently showed him a piece of paper on which a £5 was printed. Morrison suggested that Daubert can cut the £5 from this paper and paste it on a real £1 note.  Daubert's admission continues: "I took the piece of paper from him and according to his advice acted. I tried to pass the £1 note for a £5 note when I was arrested".
The note referred to above was presented to Alfred Perking, the acting manager at the Perkeas Opera Company (at Theatre Royal Ticket Office). Daubert asked Perking for two tickets and whether he had change for £5. On receiving the Standard Bank £5 note, Perking noticed that the paper on the corner of the note was pealing off. When confronting Daubert about this, Daubert explained that a van der Berg owed him £15 and that this was one of the notes he received. In Perking's statement to the police he claims that Daubert spoke good English.
Daubert was released on £75 bail on 18 July 1890. He needed to appear in court within the next 6 months after his release. A request for Daubert to become state witness after the arrest of Morrison was turned down by the state prosecutor.
On 25 July 1890, the state prosecutor requested that Daubert's bail be increased to £150 as Daubert could not be found. It is not clear what the consequences were for Daubert following this, other than his request for parole during early 1899 (at Wakkerstroom) being rejected due to his previous criminal record. It is assumed that this decision related to this 1890 transgression in Johannesburg.
Whilst residing in Wakkerstroom, Alfred was imprisoned on three occasions:
He received a 2-year prison sentence for being in possession of stolen goods. He was arrested on 1 October 1897, convicted on 14 March 1898 and released on 3 October 1899. A petition for his release was signed by some 94 Wakkerstroom residents on 8 April 1899. He spent his 2-year sentence in the Wakkerstroom prison.
He received a 4-month prison sentence on 1 June 1905 for the theft of a camera lens. This theft took place on a visit to Johannesburg. It is not clear where he was jailed for this transgression – more than likely Pretoria.
Alfred was again sentenced for housebreaking and theft on 10 October 1910. The penalty here was 12 months in the Wakkerstroom prison.
Boer soldiers – in the streets of Wakkerstroom – Cabinet card format photograph by Daubert (Circa 1900)      
During September 1906, a year after his release from serving his second prison sentence (1905), Alfred then 41, applied for naturalisation. The then resident magistrate to Wakkerstroom, Bentinck had to respond to this application, in which he made one particular short-sighted statement.
Bentinck issued a certificate supporting Daubert's application for naturalisation. Part of the certificate reads "M.A. Daubert is known to me and is to the best of my knowledge and belief a person of good repute – Now – but he was convicted of theft of photo lens 1 year ago and was awarded 4 months hard labour without option of a fine…. Since he finished his imprisonment he behaved himself here…. He was twice in gaol (housebreaking with intent to steal/theft) under late government".
The Colonial secretary's office responded by indicating that Daubert's application had been rejected, as a convicted prisoner cannot be viewed as a man with "good repute".
To this Bentinck in turn responded: "(Daubert) lived a thoroughly respectable life for a good year – redeemed his lost character as he does not drink, works hard and well and keeps his wife and family far better than the majority of people do. Presumably a criminal is not always a criminal". Bentinck obviously had no idea how wrong he could have been on this last point.
What Bentinck was clearly not aware of was Daubert's criminal transgression in Johannesburg 16 years prior. Nor did he imagine that Daubert would spend time in prison on another two occasions, namely the October 1910 prison sentence and the March 1915 sentence.
du Preez children – Cabinet card format photograph by Daubert (Circa 1910)
On 15 March 1915, Alfred received another 9-month prison sentence for housebreaking and theft in Reitz. He served this sentence at the Pretoria prison.
On his release from the Pretoria prison during November 1915, Alfred was incarcerated and branded an enemy of the state due to his German heritage. He spent 4 years as a prisoner of war at Fort Napier in Pietermaritzburg.
During 1916, his wife had to sell their property in Reitz as it was too far for her to travel to visit him at Fort Napier. They also claimed that they sold the property in order for them to repatriate to Germany. Daubert was released on parole on 19 July 1919. Repatriation never happened as Alfred passed away on the farm Weltevreden in the district Utrecht on 6 July 1951 aged 86. His eldest daughter Elisabeth (a Kotze) was at his bedside when he passed away.
Alfred married a South African citizen, Alette Catherine Smit. Alette, 17 years Alfred's junior, was born in Vryheid. The Daubert's had ten children, 8 boys and 2 girls, namely Heinrich Wilhelm (4/11/1902), Maria Johanna Elisabeth (25/9/1904), Maximillian Alfred (29/7/1906), Otto (29/9/07), Hans (2/4/09) and Adolf (12/10/1913). The first 5 children were born in Wakkerstroom, whilst the sixth, Adolf, was born in Reitz. The only record of Daubert's youngest four was found on his death notice. These four children (Alette Cathrina, Maximillian Christian, Paul Rudolph and Rudolph Daniel) were more than likely born after Alfred's release from the prison of war camp during 1919. Alfred was aged 54 on his release from the prison of war camp.
Wedding photograph of unknown couple – Cabinet card format photograph by Daubert (Circa 1905)
At the time of his death, Daubert left less than £300 in his will.
Daubert was but one of many colorful or shady characters who practiced the art of photography in an attempt to generate an income at the turn of the century.
The question arises, how did a man that was imprisoned as often as Daubert was provide for his family of 11? It can be safely assumed that generating an income was a challenge to the family, and, in order to make ends meet, his youngest child, Rudolph Daniel was adopted by their own daughter Elisabeth and her husband during 1932.
Daubert however still needs to be acknowledged for the photographs produced of the small village of Wakkerstroom. Postcard images that have been discovered to date were seemingly all captured by Daubert, leaving us with some idea of what this small town looked like.
Wakkerstroom Court House. Photograph by Daubert. Published as postcard (Circa 1908)
Wakkerstroom Church (built 1891) with Harvey Greenacre store in the background. Photograph by Daubert. Published as postcard (Circa 1908)
No photographs have been identified to date taken by Daubert in towns other than Wakkerstroom.
References: Various documents at the National Archives:
All photographs included form part of the Hardijzer photographic research collection.
Main image: Cabinet Card format photograph by Daubert. One of the better quality images produced by him.
About the author: Carol is passionate about South African Photographica – anything and everything to do with the history of photography. He not only collects anything relating to photography, but also extensively conducts research in this field. He has published a variety of articles on this topic and assisted a publisher and fellow researchers in the field. Of particular interest to Carol are historical South African photographs. He is conducting research on South African based photographers from before 1910. He is also in the process of cataloguing Boer War stereo images produced by a variety of publishers. Carol has one of the largest private photographic collections in South Africa.
Disclaimer: Any views expressed by individuals and organisations are their own and do not in any way represent the views of The Heritage Portal.