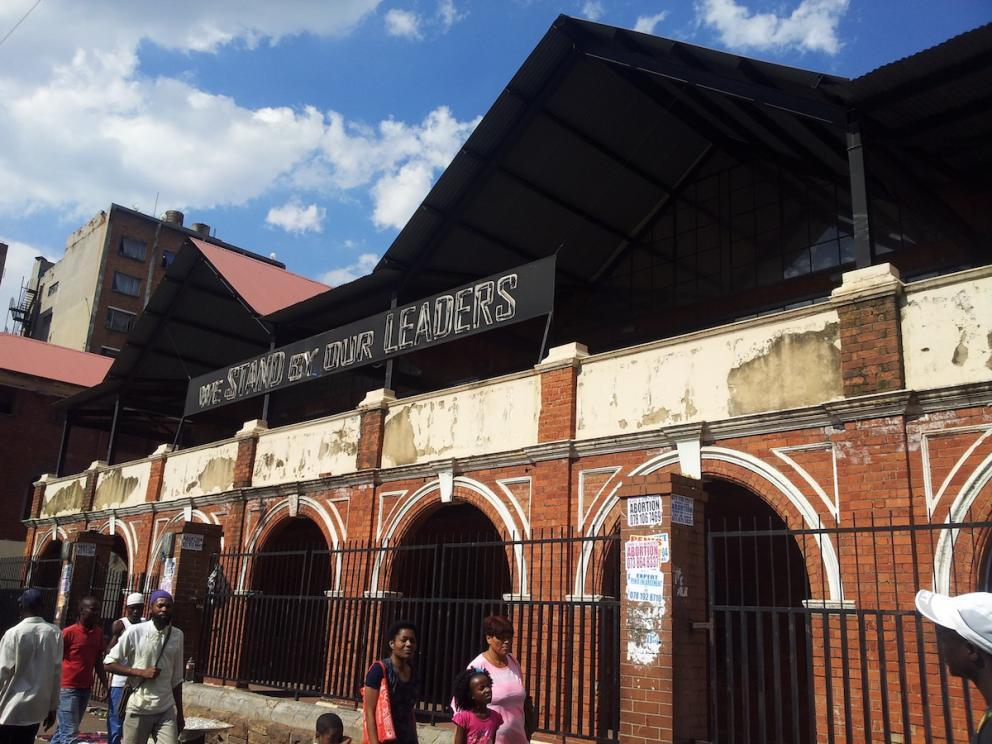 Wednesday, February 3, 2016 - 16:58
A critique by Dr Frescura on the state of heritage conservation in South Africa appeared on The Heritage Portal on the 1st December, 2015. Ms Smuts and Mr Gribble, responded to the criticism, writing on behalf of SAHRA, in which they mount a defense of the national heritage resources authority (SAHRA). [Click here to view both pieces]
Both the critique and the rebuttal by Smuts and Gribble call for comment because an analysis of the rebuttal suggests that, notwithstanding its rather superficial and unconvincing nature, it is nevertheless officially sanctioned by the heritage authority in terms of Section 14 (1) (a) and (b).  This section states:
"The affairs of SAHRA are under the control, management and direction of a Council consisting of—
(a) at least nine but not more than 15 members appointed by the Minister in the prescribed manner, of which nine members must respectively represent each of the provinces of South Africa; and
(b) the chief executive officer of SAHRA."
The rebuttal is far from reassuring because it reveals that:
SAHRA appears to pick and choose what sections of the NHRA to obey and those parts of the legislation that do not suit its convenience, purpose or policy are ignored.  This leads to a situation where the system of heritage management as envisaged in the NHRA fails; and
Smuts and Gribble, in their interpretation of the Act, are not always accurate.
Therefore when it is alleged, inter alia, that from a legislative and practical point of view the system of heritage conservation is a failure, and SAHRA should be held responsible, I concur – but not necessarily for the same reason that Frescura cites.
This should be all too apparent in the light of the analysis that follows.
(1) THE TERM "HISTORICAL CONSERVATION"
It is regrettable that Frescura refers to "historical conservation" without defining what he means.  The term is alien to the NHRA and reference to it has not been found in any official document pertaining to it.
However, the National Monuments Act No. 28 of 1969 (NMA) (as amended in 1991) does employ "historical" in combination with the word "site". The term Historical Site is reminiscent of Structures: Section 34 of the NHRA.
(i) Historical Site
The NMA defines "Historical Site" as:  "…any identifiable building or part thereof, marker, milestone, gravestone, landmark or tell older than 50 years";
It is assumed, therefore, that when Frescura refers to "Historical Conservation" he is alluding to "structures" that are older than 60 years, namely structures that were built during the apartheid era.  These are sometimes referred to as "Colonial".
The world "Colonial" is invariably used in a political way to signify disapproval.
SAHRA, as the custodian of the National Estate, should explain what it means when Smuts and Gribble say "South Africa's cultural heritage resources consist of more than "brick and mortar" because Frescura does not suggest that this is not so.
It seems SAHRA conflates "brick and mortar" with "Colonial" and Section 34 (of the NHRA).
(ii) Section 34 (1) of the NHRA states:
"No person may alter or demolish any structure or part of a structure which is older than 60 years without a permit issued by the relevant provincial heritage resources authority."
It is remarkable how similar the definition of "Historical Site" and Section 34 are to each other.
Section 34 (1) is solely a provincial competence.  Therefore, Smuts and Gribble are correct when they suggest that PHRAs should be held responsible for this aspect of the NHRA.  However this does not exonerate SAHRA completely because Smuts and Gribble fail to mention the rest of the section (namely Section 34 (2) which deals with what should happen after an assessment by a PHRA. See (2) Brick and Mortar. 
The postulated connection between the definition of "Historical Site" and Section 34 is unfortunate because the National Monuments Act was devoted to the protection of structures which were constructed before 1944 and are sometimes, rather disparagingly, or abusively, called "Colonial".  It seems that when SAHRA refers to "bricks and mortar" they are sugaring the pill, but mean Colonial heritage resources?
That SAHRA does not share Frescura's admiration for old buildings is apparent, but these happen to reflect past (and often now discredited, national aspirations and achievements). However, these aspirations are significant, notwithstanding that Apartheid distorted the economic, social and political order for more than three hundred years. Frescura describes this significance when he says this about old structures and places:
"This is why we look to architecture to provide a solid and incontestable basis for historical fact.  The motives and values of its builders may be subject to periodical contestation and revision, but the bricks and mortar live on.  It is probably true to say that most people do not remember their lives as one constant flow, but rather as a sequence of events, much like beads strung out in a necklace.  Architecture links our memories into a tangible continuum which gives a sense of perspective to our lives.  Take away the buildings and you take away the continuum; take away that continuum and you replace it with a sense of disorientation and personal loss."
Frescura claims that heritage resources management is compromised.  I agree with this assessment, not only because of the apparent political bias, but because Smuts and Gribble do not mention Section 34 (2) in their implausible and superficial defence of SAHRA.
When critically significant structures and places (brick and mortar) are neglected, or destroyed, then history is sanitised or distorted, often for political ends.
Therefore, SAHRA, as the custodians of the National Estate should explain what it means when it says "South Africa's cultural heritage resources consist of more than "brick and mortar". 
Frescura says that SAHRA is negligent when it comes to the conservation of old structures, if only because they are cherished by a minority group.  That such neglect savours of political bias and prejudice is ultra vires the NHRA.
(iii) Section 5 (1) (d) states:
"All authorities, bodies and persons performing functions and exercising powers in terms of this Act for the management of heritage resources must recognise the following principles:
 (d) heritage resources management must guard against the use of heritage for sectarian purposes or political gain."
As a consequence of this neglect, Frescura claims that heritage resources management is compromised. I agree with this assessment, not only because of the apparent political bias, but because the excuses for not attending to Section 34 (2) are implausible and superficial.
(iv) Chapter 11 of the NHRA
Smuts and Gribble aver that SAHRA is overworked, under-capacitated and that the heritage authority, in terms of the NHRA, is required to do so much more than just look after "bricks and mortar".  This is no defense because SAHRA has done nothing to minimise the impact of the shortcomings.  Furthermore the rebuttal exposes weaknesses that have been evident ever since 1999 when the Act was promulgated. 
One of the issues that the Smuts and Gribble response highlights is the fact that, with a multitude of legislative requirements contained in the NHRA, SAHRA chooses to ignore Chapter II: Protection and Management of Heritage Resources: Part 1: Formal Protection.
Formal Protection includes a number of sections of the NHRA, namely, 27, 28, 29 and 31.  These provide a nexus between the statutory duties of SAHRA and the PHRAs.  So does Section 34, though it falls outside the ambit of part I (formal protection) into that of Part 2: General Protection. 
(2) "BRICK AND MORTAR" 
Section 34 (1) protects heritage (brick and mortar) resources older than 60 years. It also sets in motion the procedures for protection, but not declaration of old structures and places.  The requirement of declaration is covered by Section 34 (2) and Sections 27, 28, 29 and 31.
All these sections are a vital part of the three-tier system of heritage conservation – a cornerstone of the legislation that involves the conservation of structures and places.
However, the term "brick and mortar" should not only apply to Section 34 of the NHRA.
(i) The Procedures for Declaration
Section 34 (2) requires that:
"Within three months of the refusal of the provincial heritage resources authority to issue a permit, consideration must be given to the protection of the place concerned in terms of one of the formal designations provided for in Part 1 of Chapter II."
This means sections 27, 28, 29 and 31.
It should be noted that in Gauteng (and this is likely to apply in other provinces as well) demolition permits are regularly refused without the follow-up procedures of Section 34 (2) being enforced, but note the peremptory nature of Section 34 (2).  "Must" does not mean "at the discretion of SAHRA".
Therefore, whenever a permit is refused by a PHRA it is obligatory that certain requirements shall follow.  The prescribed actions are set out in Chapter II which is titled "Protection and Management of Heritage Resources, Part 1:  Formal Protection.
Chapter II, Part 2, General Protection and Part 3: Management (namely Sections 33 to 46) are presumably the ones Smuts and Gribble refer to when they allege that Frescura:
"…takes no account of the wide range of heritage resources for which SAHRA is responsible."
However, no mention is made of Section 34 (2) or Sections 27 to 32.
Section 34 (2) is very much a responsibility of SAHRA when a PHRA refuses a demolition permit [in terms of Section 34 (1)] and it is deemed to have national cultural significance.
Section 34 (2) can in this way become a SAHRA competence, but in the light of Smuts and Gribbles' scathing comments about "brick and mortar", the doubts expressed by Frescura, namely that SAHRA is not capable or willing to administer the functional requirements of the Act, is of real concern.
This doubt arises because four of the six sections referred to under Part 1: Formal Protection, relate to places and structures, and consequently can be classified as "brick and mortar".  They are:
Section 27:  National heritage sites and provincial heritage sites;
Section 28:  Protected Areas;
Section 29:  Provisional Protection;
Section 31:  Heritage Area
Smuts and Gribble do not mention the above sections. This is not surprising because SAHRA, by its own admission, has relegated this aspect of the National Estate to the ash can of history, notwithstanding that it is responsible for the coordination, management and identification of Grade I resources and the National Estate.
(3) GENERAL PROTECTION AND MANAGEMENT
It seems that SAHRA chooses to ignore the majority of a panoply of formal protection functions as prescribed in the Act in preference to Part 2:  General Protection, and Part 3:  Management, namely:
Part 2
Import of objects….(Section 33)
Archaeology, Paleontology and meteorites (Section 35)
Burial grounds and Graves (Section 36)
Heritage Resources Management (Section 38)
Part 3
Inventory of National Estate (Section 39)
National Heritage Resources Assistance Programme (Section 40)
Restitution of heritage objects (Section 41)
Heritage Agreements (Section 42)
Incentives (Section 43)
Presentation of protected Resources (Section 44)
Compulsory Repair Order (Section 45)
Expropriation (Section 46)
The functions listed above are all important but it seems that SAHRA eschews those functions of the NHRA that formally protect places and structures of national (Grade I) significance.  If the reason for this is that it does not have the resources to do more (hinted at by Smuts and Gribble in SAHRA's rebuttal of Frescura's critique) this is understandable (not excusable), but if the neglect is occasioned by a politically expedient policy, this is contrary to the NRHA because General principles for Heritage Resources Management:  Section 5 (1) (d) of the NHRA requires:
"All authorities, bodies and persons performing functions and exercising powers in terms of this Act for the management of heritage resources must recognise the following principle(s):
(d) heritage resources management must guard against the use of heritage for sectarian       purposes or political gain."
The legal injunction that is repeated again for convenience is not sufficient to deter SAHRA from tacitly admitting to what seems to be a politically expedient approach to the management of brick and mortar heritage resources.
This prejudice finds expression in a reluctance to manage Grade 1 resources in respect of Section 27, 28, 29 and 31 of the NHRA.  This lends weight to Frescura's argument that "SAHRA had every opportunity of taking over and transforming to meet the needs of the new South African democracy…" but chose and still chooses not to do so."
These allegations are not refuted but instead we are treated to excuses that lists the things that SAHRA does, as though this mitigates the allegations that Frescura makes.
(4) WHAT SAHRA DOES: (IN REBUTTAL OF THE CLAIM THAT CONSESRVATION IS AN UNMITIGATED DISASTER) - (See the verbatim quote that follows).
Smuts and Gribble claim that the work SAHRA does, in addition to what is mandated in the NHRA, is excessive and that Frescura ignores this.
"At present, with only two fully functioning PHRA's, SAHRA is encumbered with a huge load of work in addition to its own mandated tasks.  For example, SAHRA's Archaeology, Paleontology and Meteorites Unit (APM) is processing the relevant Section 35 permit applications and Section 38 comments in EIAs and development proposals for the remainder of the country.  This is in addition to the requirements of its own, national mandate in respect of managing sites of national significance.  In 2014, this additional workload amounted to some 632 Section 38 cases, and some 234 permit applications."
In the next paragraph, also quoted verbatim below, SAHRA reiterates that it is overloaded with work that others should be doing, and says that the lack of funding results in SAHRA not being able to employ more staff to meet the requirements laid down in the Act.
"SAHRA works hard, against huge odds, to ensure that our collective national cultural heritage is protected and properly managed.  Despite a lack of adequate funding and the resultant limit on its ability to employ the necessary numbers of professional staff, SAHRA accomplishes an astonishing amount:  work which is made that much more difficult by uninformed sniping."
The two quotes are supposed to be in rebuttal of the criticisms made by Frescura, but are likely to be mistaken for an apologia because it draws attention to how inadequately SAHRA is funded or capacitated in relation to what its statutory duties are, and how overworked it is.  This emphasises that SAHRA is not capable of performing all its statutory functions.
It is tantamount to an admission that Frescura's claims are not without foundation and that SAHRA and the PHRAs are not functioning optimally.  It shifts the blame for this from SAHRA to the State for not giving the required support to excellent legislation, notwithstanding that the government had presumably sponsored and supported the legislation at the time that the Act was promulgated.
(5) SAHRA'S RESPONSIBILITY FOR THE MESS
Under the circumstances this is not an unreasonable defence because with the majority of the PHRAs being dysfunctional, how can the system function optimally? However, for this defence to succeed, the following questions must be answered:
"Where does the fault with the system lie?"
 "In terms of the NHRA does leadership lie with the State or with SAHRA in respect of the coordination, identification and management of the heritage resources of the country", and
"What is the role of the SAHRA Council?"
In answer to these questions the following sections of the NHRA are relevant:
(i) Section 8 (1) Responsibilities and competence of heritage resource authorities and local government for identification and management of National Estate, states:
"There is a three-tier system for heritage resources management, in which national level functions are the responsibility of SAHRA, provincial level functions are the responsibility of provincial heritage resources authorities and local level functions are the responsibility of local authorities. Heritage resources authorities and local authorities are accountable for their actions and decisions and the performance of functions under this system."
This section confirms who is responsible once the system is running, but is silent when only a little, or nothing, is done by the great cities, the provincial governments and the central government to support and implement the provisions of the Act, especially when the three-tier system is a key to the whole system of management of heritage resources in South Africa.
(ii) Section 8 (2) states:   
"SAHRA is responsible for the identification and management of Grade I heritage resources and heritage resources in accordance with the applicable provisions of this Act, and shall co-ordinate and monitor the management of the national estate in the Republic."
Note:  the "national estate" is defined in Section 3 of the NHRA.
Notwithstanding the unambiguous nature of Section 8 (1) and Section 8 (2) Smuts and Gribble allege that:
"Dr Frescura is either unaware of, or chooses to deny the responsibility of both Provincial and local government in managing South Africa's cultural Heritage and the role of central government in ensuring that the requirements of the Act are met".
This might be the logical response to a situation where Section 8 (1) is dysfunctional and is a travesty because a three-tier system of heritage resources management does not, at worst, exist in seven (7) of the nine (9) provinces. However, do Smuts and Gribble have sound reasons for implying that because the State has a moral responsibility for the mess that is heritage resources protection, SAHRA is justified in denying its statutory (legal) responsibility as described in Section 7, Section 8 and elsewhere in the NHRA?
(iii) Section 7:  Heritage Assessment Criteria and Grading – Section 7 (1) (a) states
"SAHRA, in consultation with the Minister and the MEC of every province, must by regulation establish a system of grading of places and objects which form part of the national estate, and which distinguishes between at least the categories—
(a) Grade I: Heritage resources with qualities so exceptional that they are of special national significance;"
Accordingly the National Estate and the establishment of provincial authorities are responsibilities vested in SAHRA, NOT as Smuts and Gribble declare, with central government or provincial and local government.
When, however, the heritage resources authorities mentioned do not exist, or are dysfunctional – where does the responsibility lie?
(iv) Section 8 (1) is clear. It may be reprehensible that the various levels of Government do not give (and have never given) adequate resources to the structures created by legislation.  This renders SAHRA and PHRAs, to various degrees, dysfunctional and the heritage conservation system as envisaged by the Act, a travesty.
Notwithstanding the plight of most of the provincial heritage resources authorities created by a situation, not of their making, they cannot shift their responsibilities, in terms of the Act, back to the State or disclaim, as Smuts and Gribble do, that SAHRA is not responsible for the mess.
(6) THE REMEDY
One remedy open to SAHRA would seem to be for its Council to refuse to operate an unworkable system.  This might not be politically expedient but it would be morally correct, because as things stand the illusion is created that the National Estate, as defined in Section 3 of the NHRA, is protected- when it is not.
Accordingly, it is doubtful that SAHRA can effectively monitor the management of the national estate because PHRAs are, for the most part, ineffectual or dysfunctional.  Furthermore, because SAHRA no longer has branch offices in what Frescura calls "abandoned regional structures" it no longer has eyes close to where the action is in the provinces to monitor what the PHRAs do or are unable to do.
(i) Section 8 (6) (a) (i) and (b)
However, SAHRA's responsibility for ensuring the conservation of the national estate is further emphasised and entrenched in Section 8 (6) (a) (i) and (b) of the NHRA states:
"(a) A provincial heritage resources authority or a local authority shall not perform any function in terms of this Act or any other law for the management of heritage resources unless it is competent to do so. The capacity of a provincial heritage resources authority or local authority shall be assessed in terms of criteria prescribed by the Minister, including the availability of adequate staff, expertise, experience and administrative systems, to be applied—
(i) by SAHRA, in the assessment of the capacity of provincial authorities to perform specific functions in relation to prescribed categories of heritage resources;"
Note that SAHRA has a duty to ensure that PHRAs are competent. In Gauteng the PHRAG does not fulfil many of the duties prescribed in the NHRA, nor has it ever had the resources and capacity to function properly.  Evidence abounds that the PHRAG is dysfunctional.
Furthermore, a vital aspect of the legislation, namely the establishment of local authority -supported heritage committees charged with the protection of Grade III heritage, has not been established in Gauteng.  Thus SAHRA has permitted the PHRAG to function dysfunctionally for years, notwithstanding that Section 23 of the NHRA was also not being implemented.
(ii) Section 23 – Establishment of provincial heritage resources authorities, states:
"A MEC may establish a provincial heritage resources authority which shall be responsible for the management of the relevant heritage resources within the province, which shall be a body corporate capable of suing and being sued in its corporate name and which shall be governed by a Council constituted as prescribed by regulations published in the Provincial Gazette…."
Note the peremptory nature of the legislation with respect to responsibility. Many of the PHRAs (perhaps as many as seven of them) are inter alia not bodies corporate.  This means that:
PHRA's staff are provincial departmental employees that supposedly report to Council, but in reality retain allegiance to the head of their department;
The PHRA cannot receive money because they have no legal identity and accordingly, no bank account.
The allowance to run the PHRAs comes usually from the provincial department that allocates what it deems appropriate towards the running expenses of the authority (not what is needed to run a PHRA in accordance with the NHRA).  In the case of Gauteng the allowance is not remotely adequate.
Council members are paid honoraria by the department.  The procedure for the payment of honoraria is not unlike that operating for other employees of the provincial department concerned that receive monthly salaries.
Accordingly the PHRAs, when the Provincial Legislature has not passed enabling legislation, as prescribed by the Act, are dependent on the department designated to provide a home for it.
It follows, therefore that when a provincial department provides a "home" for the PHRA Council, it also assumes some of the responsibilities described in the NHRA.  For example, a PHRA thus constituted, cannot be sued for damages suffered by the public as a result of its negligence or wrong doing, because it is not a legal entity.  Court action would presumably have to be taken against a legal entity, namely the department concerned or the Provincial Government.   Similarly, the PHRA cannot take legal action, if or when its interests, or the interests of heritage conservation are threatened.
The issues described cast doubt on the autonomy of a PHRA Council.
Furthermore, the way the PHRA in Gauteng has been funded in the past has rendered it lacking in the capacity necessary to perform its statutory functions properly.
Notwithstanding this, SAHRA has countenanced its continuance and condoned the incapacity of the PHRAG to carry out is duties as defined by the Act.
Under the circumstances it is not surprising that the National Estate is endangered by SAHRA's lack of leadership.
(7) CONCLUSION
The system of management of the National Estate, as envisaged by the NHRA, is organic in nature.  It is expected to function as a system of interconnected parts which reinforce each other.
In common with other South African legislation, the NHRA is made up of various apparently separate sections.  SAHRA suggests that these can be dissected at will to meet arbitrary policy decisions derived in accordance with political expediency, or because there is a dearth of human and financial resources.
The conclusions do not accord with a reasonable reading of the Act that should be seen as a part of an interrelated system.  However, this seems not to be the view propagated by Smuts and Gribble when they defend SAHRA against the allegations made by Frescura.
Accordingly, when SAHRA treats with equanimity the fact that Section 7, 8, 23 and 34 are not being implemented, or when it avoids the conservation of "brick and mortar" structures and places, disregards the many other lapses in the implementation of the NHRA referred to in this report, then the legal edifice, that is the NHRA, crumbles and collapses.
Under the circumstances, Frescura, with good reason, suggests that conservation in South Africa is a disaster.
HERBERT PRINS - Architect and Heritage Consultant
Disclaimer: Any views expressed by individuals and organisations are their own and do not in any way represent the views of The Heritage Portal.