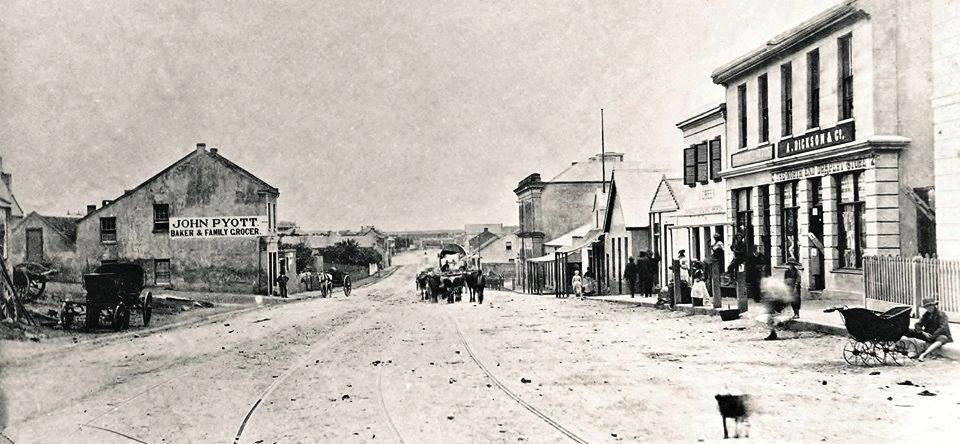 Saturday, April 6, 2019 - 14:50
Does anyone remember Pyott Biscuits? They were the makers of Salticrax, Romany Creams, Iced Zoo and many other SA favourites. Today they're all branded under the Bakers label and the Pyott name has largely been forgotten.
John Pyott arrived in Port Elizabeth from Scotland in 1882 and opened up a grocery store and bakery in Princess Street, which at the time was a continuation of Main Street. He then moved his business to Elizabeth Street and married Annie Mahaffey in 1884. The main image is the earliest known photograph of his humble beginnings.
In his book "John Pyott: 1862 – 1947", JS Bennie says that soon after Pyott married, the country was gripped by "gold fever" and he decided to go to the Witwatersrand to "see if there was any future for him there." He travelled to Durban by boat and bought a horse to take him to the gold fields, and on the way he came across another traveller on a "Cape Cart" with a lame horse. He offered the Dutch gentleman the use of his horse in return for a ride in the cart, and "with alacrity this was accepted. John Pyott's companion turned out to be none other than Paul Kruger!" But when Pyott saw how rough life was on the gold fields in Barberton and Johannesburg, he decided that it was no place for his wife and their small baby and he returned to Port Elizabeth.
John Pyott
After returning from the goldfields, Pyott moved his bakery to larger new premises in Broad Street where he concentrated on making biscuits, sweets, bread, jam and cakes. The importance of biscuits for sea travellers at that time cannot be overstated, and also their importance as sustenance for soldiers and citizens alike during the World Wars that were to follow. In fact during and after World War II flour was rationed to all except the biscuit manufacturers, but they were required to stop production of their choice lines in favour of nutrition (some readers may have fond memories of 'dog biscuits' during their army days).
In 1905 Pyott's business had become so successful that he opened a sales office in Johannesburg, and in 1914 he built another factory in Cape Town (the building is now known as The Old Biscuit Mill in Albert Road, Woodstock). In 1920 he opened another manufacturing plant in Durban. In 1946 when mass production machinery for biscuits became available, Pyott closed his factories in Cape Town and Durban and consolidated biscuit production in a brand new factory he built in Darling Street, Port Elizabeth. At this time his main competitors were Bakers Biscuits (Durban), Baumanns Biscuits (Cape Town), and Premier Biscuits (Johannesburg). 
Early Pyott Mill in Cape Town
Old Biscuit Mill Cape Town
In his memoir ("A Short History of the Biscuit Industry in South Africa"), LG Baumann, whose grandfather started Bakers and whose uncle started Baumanns, tells how John Pyott outwitted his competitors on at least three occasions. In 1965 'gypsy creams' (the generic name) was a biscuit that most manufacturers produced, and Bakers' Tuscany Creams was the market leader. However Pyott, with help from Cadbury, brought out Romany Creams and that was the end of the competition. The history of Iced Zoo was not too dissimilar. Baker's had a line called Playtime which had images of various toys glazed onto the biscuit. It was an expensive line because each biscuit required two glazing operations that could only be done by hand. But when Pyotts brought out their Iced Zoo line and designed a special machine for doing these two glazing operations, it soon took over the market as well. Pyott's bestselling line however was Salticrax which also became one of South Africa's bestselling biscuits of all time. According to L. G. Baumann the name was apparently ridiculed by Pyott's competitors when it was first launched, but the test of time has proved otherwise.
In 1970 the Pyott family sold the business to Nabisco, the biggest biscuit manufacturers in the world, who sold it to the Premier Milling Group in 1978, and who in turn sold it to Anglovaal (AVI) in 1983. AVI had already bought the other three large biscuit manufacturers by then and regrouped them all under the name, Associated Biscuits, which was later consolidated into National Brands. Somewhere along this path the Pyott name was dropped, and Salticrax, Romany Creams and Iced Zoo (among others) were all rebranded under the Bakers' label.
Premier Mill Port Elizabeth

However, John Pyott was not only known for his biscuits. He was also very active in public life and was highly respected around the country. According to "Suid-Afrikaanse Biografiese Woordeboek" (WJ de Kock, DW Krüger, Drr. CJ Beyers and JL Basson), in 1899 Pyott was elected to the Port Elizabeth Town Council and in 1903 he was elected to the Cape Colonial Legislative Council which was an Upper House of Review of the Cape Parliament In 1904 he was a member of the elected committee of the council appointed to investigate and report on the state of the industries in the colony. The colony's subsequent customs tariff system was based primarily on its representations. He was an outspoken advocate of the tightening of imports in favour of local products, and for the boosting of local butter yields to benefit both local farmers and industries alike. In 1910 he represented the Eastern Cape for the Union of South Africa, and in 1923 he was elected to the Board of Directors of the SA Reserve Bank and served on the Board until his retirement in 1941.
Click here to read the full story of John Pyott.
Bev Young is a prolific researcher and writer on Eastern Cape history. She has explored thousands of significant spaces and forgotten places across the province. Her archive of material is a priceless resource.
Disclaimer: Any views expressed by individuals and organisations are their own and do not in any way represent the views of The Heritage Portal.