List of Johannesburg central and suburban cinemas and theatres 1900 to 1990
Monday, February 25, 2019 - 18:49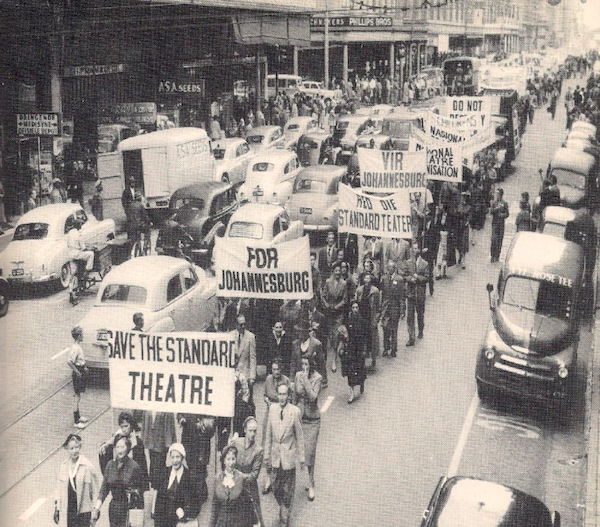 I have compiled a list of theatres, bioscopes and bio cafes in Johannesburg and surrounding areas and would love some help from the community to fill in any gaps. I have already received some wonderful assistance from members of the Facebook group Joburg/Hillbrow survivor South Africa especially Howard Thomas who was active in South African Theatre for over 50 years. I have also been able to source great details from Marc Latilla's blog Johannesburg 1912. 
It would be wonderful to add as many addresses as possible. Even just street names would be great.
Gary O'Bryan - gary@msgrecruit.co.za
Add details in the comments section below or email jamesball01@gmail.com and they will be added to the list below.
They are The Royal in Goldman Street Florida, the Savoy in Roodepoort and the 20th Century in Roodepoort.
20th Century, Kerk St 
20th Century, Roodepoort                   
Academy Theatre, Cnr Rissik and Smit St's (Became Siegfried Mynhardt)
Action Cinema, Plein St (Became Ster 1000)
Adam Leslie Theatre, 96 End St
Adelphi, Prairie St, Rosettenville
Albert Theatre, Braamfontein
Alexander, Stiemans st, Braamfontein (Was Reps Theatre)
Alhambra Theatre, Sivewright Ave, Doornfontein
Andre Huguenot theatre, Kaptjein St
Anstey's, President St
Apollo, Doornfontein
Arena Theatre, 25 St Augustine's Rd, Doornfontein
Ascot, Turffontein
Astoria, Noord St
Astra , Louis Botha Ave, Orange Grove
Avalon, See Taj, Fordsburg
Balansky, Sofiatown
Bijou Theatre, Jeppe Street
Black Sun, Berea
Blue fox, Oxford hotel, Rosebank
Braamfontein Theatre
Brooke Theatre, De Villiers St
Capri, Rosebank
Carlton Theatre, Fox St
Chelsea Theatre, Catherine St, Hillbrow
Cine 303, President St 
Cinerama, Claim St
City Hall, President St
Civic Theatre, Loveday St, Braamfontein
Clarendon Cinema, Cnr Twist and Kotze St's, Hillbrow
Club 58, Pretoria St, Hillbrow
Colosseum, Commissioner St
Constantia , Tyrwhitt Ave, Rosebank
Curzon, became Fine Arts,  Hillbrow
Doornfontein theatre
Embassy Tea Room Theatre, President St
Empire Entertainment, 108 Jeppe Street
Empire Theatre, 135 Commissioner St (Became the Kine Centre) 
Fine Arts (See Curzon)
Forum, Pritchard Street
Gaiety, 3/5 Kort Street 
Gala Cinelux, Randburg
Gem Theatre. Roberts Ave, Kensington
Globe Theatre, 47 Fox St (Became Empire)
Good Hope, Commissioner Street (Also known as the Uno)
Good Hope 2, Market St (Old Metro)
Grand Cinema, Main Rd, Rosettenville
Grand Theatre, Market St
Greenway / Rex , Greenside
Grove Kinema, Became Victory Theatre, Louis Botha Ave Orange Grove 
Highpoint Cinema, Highpoint Centre , Hillbrow
His Majesty's, Commissioner St
International, Pretoria St, Hillbrow
Intimate Theatre ex YMCA Theatre, Smit St
Jeppe Theatre, Jeppe St (Also Premiere Theatre)
Kings Cinema, Alexandra
Lake Cinema, Tyrone Ave, Parkview
Leonard Rayne, Doornfontein
Library Theatre, Sauer St, Library complex
Little Theatre (Also Barnato theatre), Corner House, Braamfontein
Lyric, Central Ave, Fordsburg
Majestic, Fordsburg
Malvern Kinema, Jules Str
Mayfair Theatre, 
Metro, Cnr Bree and Hoek St's
Metropolis Cinema, Cnr Jules and 19th Sts, Malvern
Mini Cine 1 and 2, Pretoria St, Hillbrow
Moncine. Bree St
Monte Carlo, Cnr Von Wielligh and Jeppe
Odeon Theatre, Oxford road, Rosebank
Odin Theatre, Sofiatown
Orpheum, Cnr Jeppe and Joubert St's
Oscar, Plein St
Palace Theatre, Pritchard St
Palace Cinema, Turffontein
Palladium, Cnr Commissioner and Fraser St's
Park, Regents Park
Parysia, Rosebank (Became the Constantia)
Piccadilly Theatre, Yeoville
Pigalle Theatre, Jorrisen St (Became Classic)
Planet Cinema, Fordsburg
Plastic Theatre, Northcliff
Playhouse Café Bioscope, Main Street
Playhouse Theatre, Loveday st, Braamfontein, later Jorrisen St, Braamfontein
Plaza Cinema, Cnr Rissik and Jeppe St's 
Premiere, Jeppe St (Also the Jeppe Cinema)
President Theatre, President Hotel
Protea , Rosebank
Regal Kinema, Appoliana St, Troyeville
Regent, Queen St, Kensington (Became Fairway) - Some say just a few premises West of the Langermann Drive/Queen Street intersection.
Ritz, Central Ave, Mayfair
Rivoli Tea Room Theatre, President St
Roxy Cinema, Mayfair West
Roxy Tea Room Theatre
Royal, 23rd St, Melville
Royal Orange Grove
Royal Cinerama, Louis Botha Ave, Orange Grove
Royalty Tea Room Theatre, Pritchard St
Roxy Bio Café, Kotze St, Hillbrow
Savoy Cinema de Luxe
Savoy, Roodepoort
Scala Theatre, Mellville
7 Arts originally The Avenue, became the Rex, Grant Ave, Norwood
Standard Theatre, Joubert St (Now Oppenheimer Park)
Star Bioscope, Denver
Starlite, President St
Ster City, Claim st
Ster Elite 1 and 2, Cnr Mooi and Marshall St's
Taj Cinema, 17th St, Fordsburg (Also known as the Avalon)
Theatre Royal, Market St
The Corlett, Birnam
The Rehearsal Room, Dorkay House, Eloff Street Extension
The Royal, Goldman Street Florida
The Star, 20th St, Fietas
Tivoli Theatre
Valley Cinema, Bertrams
Vaudette, Commissioner St
Victory Theatre, Louis Botha Ave,  Orange Grove (see Grove Cinema)
Village Theatre
Windmill Theatre, 277 Bree St
Windybrow Theatre, Nugget St, Hillbrow
Wits Theatre (Great Hall)
Yeoville Theatre
Comments will load below. If for any reason none appear click here for some troubleshooting tips. If you would like to post a comment and need assistance click here. Irrelevant and inappropriate comments will be removed by the moderator. Only add background and updates to the tracking threads.