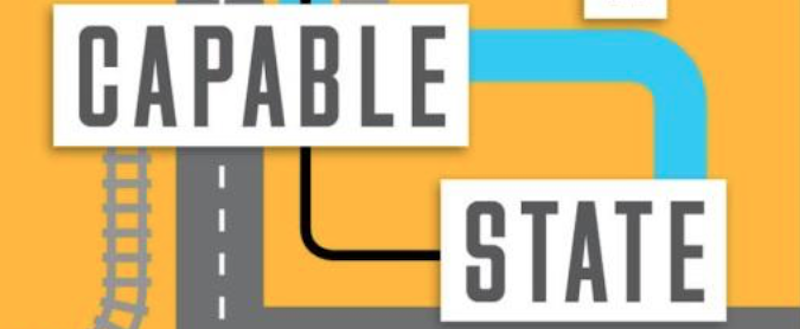 With the change in the office of the President from Jacob Zuma to Cyril Ramaphosa, the subject of what the state can and cannot do is topical. This book is a serious academic study written by scholars and activists of note who have thought hard, debated among themselves through many seminars and conferences and connected to the international agendas about global development. It is all part of a wider debate about where the world is going in the 21st century and how best for South Africa to arrive at a developed status destination. This study is dense and is a solid benchmark of the many areas of state activity, specifically at local level. It is a realistic analysis but also an idealistic take on the state of the country in this decade in particular but also covering the history since 1994. It is to be recommended as an academic text and handbook about South Africa for students, government officials, civil society, practitioners of town planning and even the rating agencies as we hover on the precipice of further downgrades of credit risk by Moody's or Standard and Poor. It is an interesting book because it got me thinking and questioning the assumptions behind the figures as I read the data provided.
Full Book Cover
The "capable State" and service delivery are now among those handy shorthand terms for a very large agenda that can kick in at national provincial or local level. Underlying the key areas of debate is the fundamental question of how to get South Africa to work, at work and in work. In my opinion the question goes beyond the matter of service delivery to the fundamentals of where do you find the resources to achieve the ideal society and is the state the right vehicle for the road to paradise on earth? Is this best done through a capitalist philosophy and private ownership with the resultant inequalities of the rich few owning much and the poor left to linger or can economic growth and an elusive concept of fairness be achieved through a socialist commitment to redistribution, land expropriation without compensation, state owned enterprises running electricity, water, airways, armaments, dairy farms and much more besides. This is the book to read if you wish to enter that debate as it is all about the facts and figures of service delivery and how well the state has done in many areas of intervention in the years since 1994.
South Africa is a social welfare society but can it really afford to be one? South African is a country with several tiers of government - parliament in Cape Town, 40 national departments, 9 provinces with all their departments and then the many departments at a local government level. Oh, and for the rural areas there are several traditional authorities. This book does not ask the question whether South Africa is over governed but it concentrates on the services delivered at one level – namely, local government. This book has the sub text, 'Service Delivery in Post-Apartheid South Africa'. It is a serious book about local government and how municipalities and local agencies have or have not delivered in the provision of services big and small.
We have a very good sense over the last few years as to what the state should not be doing: corruption, state capture, poor service delivery, a bloated civil service etc. Service delivery, when you don't have water, sanitation, housing and roads, transport or jobs leads to protests, disruptions and ultimately civil war. But service delivery expectations and the failure of service delivery then results in undermining confidence in the part of the economy that is about risk taking, capital investment, and a sentiment of confidence in the future.
Surely it was a Jeffersonian ideal that "the best government is the least government", and many South Africans after our experiences of the last few years might concur. However, the authors, while conceding that South Africa has been the "ailing nation" since 2008 don't go anywhere near asking  why the Jeffersonian model is relevant or irrelevant in South Africa. I recently visited Peru and there is nothing like seeing another country's problems to sharpen one's take on one's own country. Three thousand kms of driving over the Andes gave me the impression that politics matters with every possible adobe wall surface visible from the main road painted with the political slogans of the rival candidates for regional and national elections. Peru too is a country grappling with what to do with past corrupt leaders. Our first encounter with Peruvian politics was a political protest in favour of the release of ailing ex President Fujimori from prison. Such a scenario sounded like one that could just possibly play out in South Africa. I found it fascinating that so many of the towns and villages of Peru have the appearance of a gigantic building site with an enormous number of houses and businesses left incomplete with metal reinforcing rebars extruding upwards. Was Peru on the move?  Simple answer – completed buildings are taxed by the state, so no one ever completes anything. We don't have that problem in South Africa but it was a small vignette that showed the power of the state to intervene and yet not see the consequences. Lima is the capital and a magnet for internal migration with informal houses rising up precarious sandy slopes in the barrios yet you see abandoned RDP equivalent houses south in the desert alongside the Pacific highway. The poor have long since left to empower themselves in the city. It was fascinating to meet and talk to Venezuelans who had immigrated to Peru desperately in search of a better life and a working market economy. Then it was back to South Africa and our own political tensions plus the exhilaration of an inspiring Ramaphosa State of the Nation address to parliament.
One can start by asking, what has the capable state to do with heritage matters? This book has nothing to say about heritage and you won't find that word in the index, but bear with the subject and the writers and take away the central lesson that unless the state is "capable" at a national, provincial and city level there is little hope for heritage or other vital areas. But I think I am looking for a different kind of "capable state" to serve heritage to what the authors have in mind.
South Africa has a fine constitution and some superb legislation such as the National Heritage Resources Act and has an administrative framework to execute the legislation but unless there is  human capacity, skills, interest and knowledge with a committed civil service serving the public in a public spirited manner, our national estate will survive through neglect and a lack of renewal in a passive way. Again South America is a parallel example with old Buenos Aires heritage buildings left in a time warp because of a past failed state and political system. The capable state is of great importance to the built environment. Jane Jacobs gets an early laudatory mention as someone who pioneered thinking about cities and how they ought to work but it goes much further.
What then is the "capable state"? This is the title of the opening chapter but I found that there is no crisp definition in the broadest sense. After a few pages one arrives at a well hidden definition that  the capable state includes functional political arrangements, sound policies, the requisite technical and scientific skills, well-structured institutional access to finance and competent local government. Yes, I agree with all of that.
The book plunges quickly into the assumption that the task of the capable state is to deliver basic services to the poor and that fiscal and institutional arrangements that are put into place must be pro poor, with the provision that one worries about ecological constraints and economic aspirations at the same time – an addendum that is politically correct but not much more helpful. Here I wonder if this should be the guiding principle for probing "capacity". The vision of the authors is that  the capable state is grounded in a rights based and state led logic of development. In their view of how the system ought to work, the capable state starts by redistributing the financial and indeed all resources to the poor. It is the task of government to redistribute and subsidize to ensure affordability to an ill defined section of our society, namely the poor. It is an admirable goal but who are the poor and what if the very actions of government impoverish the tax paying components of the country that finances the generosity of the state?
What about the economic system, that underpins capacity in any country? Unless the state has the investment streams and the income flowing into its coffers there will be no capacity to organize services and delivery systems. In South Africa's case past history, colonial and apartheid systems,  unequal income distribution, and a lack of self-empowerment has made for an almost impossible challenge since the revolution of 1994. The 2018 budget could not escape the essential money question of the need to increase VAT to fund all the state wishes to do. That ultimately is a regressive tax that runs contrary to all the good intentions to aid the poor.
Of course the subject is complex and the authors have decades of experience in studying development, cities and planning and institutional methods. Their book in fact concentrates on local rather than national government and is a thoroughly researched study of municipalities, electricity, roads and public transport and housing. There are plenty of international comparisons of South Africa against other similar and dissimilar countries. Clearly there are no magic bullets to "fix" South Africa. The conclusion is that in fact there is "capacity" at local level, but there are service backlogs and fragility in state capacity in all areas at local government level. Capacity is uneven across the country and inequality remains. The authors conclude that since 1994 improved access to services has brought about poverty reduction, but the gap between rich and poor has widened and the wealthiest are getting wealthier. This is not a dissimilar conclusion to Thomas Piketty who tackles the question of wealth and poverty from the perspective of "capital" and ownership of wealth. It is a grand constitutional aspiration to stress human and economic rights but who carries the responsibilities to generate the income and the wealth to assure and ensure these fundamental rights. In South Africa our problems are exacerbated by the fact that much of the wealth of the country is being invested outside South Africa's borders so that the rich of the country are helping development abroad rather than South Africa. What will it take to change that trend?
I found this book stimulating, full of facts, figures, graphs and tables, but I totally disagree with conclusion that it is for government to subsidize the poor. I would much rather see the poor (whoever and wherever they are) step out of poverty through a state creating the right environment for economic growth. But that is another book entirely and one these authors would not be interested in writing. I would like to know whether we scrapped at least half the civil servants and eliminated at least one tier of government would we be better or worse off as a country, would we have more and better service delivery? Plenty of food for thought...
Kathy Munro is an Honorary Associate Professor in the School of Architecture and Planning at the University of the Witwatersrand. She enjoyed a long career as an academic and in management at Wits University. She trained as an economic historian. She is an enthusiastic book person and has built her own somewhat eclectic book collection over 40 years. Her interests cover Africana, Johannesburg history, history, art history, travel, business and banking histories. She researches and writes on historical architecture and heritage matters. She is a member of the Board of the Johannesburg Heritage Foundation and is a docent at the Wits Arts Museum. She is currently working on a couple of projects on Johannesburg architects and is researching South African architects, war cemeteries and memorials. Kathy is a member of the online book community the Library thing and recommends this cataloging website and worldwide network as a book lover's haven.
Friday, March 23, 2018 - 14:34