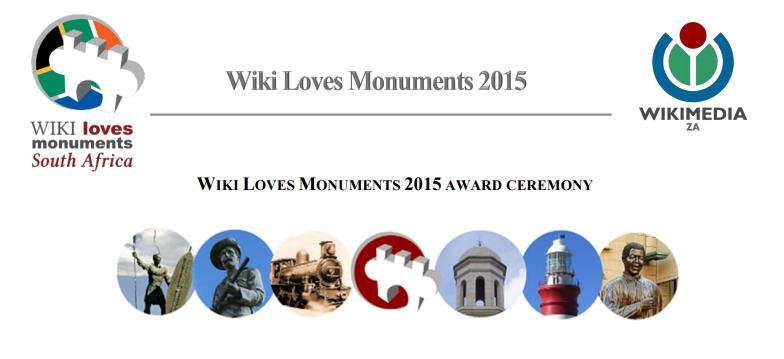 Expiry:
Saturday, November 28, 2015 - 00:00
Wikimedia South Africa will be hosting an open exhibition and award ceremony for Wiki Loves Monuments 2015 on Saturday, 28th November 2015. Winners from this year's event will be awarded their prizes. Winning Wiki Loves Monuments photographs from around the world will be on display at the event, as well as
photographs from past year's winners.
Printed versions of the photographs will be available for purchase to raise funds for Wikimedia South Africa.
Date and time: 6pm, Saturday, 28th November 2015
Location: TwentyFifty, 2nd Floor, 8 Spin Street, Cape Town
This event is to open to all.
This year's winners are
First Prize: Huguenot.jpg by Leanri van Heerden
Second Prize: CT City Hall with Palms by Magemu
Third Prize: CT City Hall Auditorium from Balcony by Magemu
Best Photographic Submission in the Western Cape: Huguenot.jpg by Leanri van Heerden
Best use on of WLM submissions on Wikipedia: Moltenodam (Af.Wikipedia) by User:LiebeB
Best use of WLM content to document heritages sites in the Western Cape on Wikipedia: Auwal Mosque by User:Knyzna1
To learn more about Wiki Loves Monuments, the chapter or any of our other initiatives, please contact:
Douglas Scott or Theresa Hume
Mobile : +27 (0) 79 515 8727 Mobile : +27 (0) 83 400 8521
E-Mail : douglas.i.scott@gmail.com E-Mail : theresa.hume@wikimedia.org.za
Skype : douglas0scott Skype : theresa_hume
Category:
Announcements
Events Exhibitions Tours
Created
Wednesday, November 25, 2015 - 13:06
Disclaimer: Any views expressed by individuals and organisations are their own and do not in any way represent the views of The Heritage Portal.