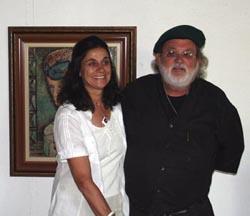 Expiry:
Thursday, December 31, 2015 - 00:00
From a meticulously restored collection of buildings in Calvinia to the ongoing protection, recording and archiving of Stone Age artefacts, vernacular ruins, graveyards and Bushman paintings in the wilderness area of the Cedarberg. These are the initiatives that were recognised last night at the Simon van der Stel awards dinner held in Clanwilliam in culmination of the Heritage Association of South Africa (HASA)'s annual symposium. The awards are the country's premier heritage awards for conservation work and have been in existence since 1969. The gold medal award is given to an individual while the gold certificate is awarded to a group or organisation. Both awards recognise outstanding conservation efforts across South Africa as judged by a distinguished panel of heritage and conservation professionals. The awards are shortlisted from nominations received from HASA affiliates from around the country.
This year's gold medal was awarded to Alta and Erwin Coetzee from Calvinia for their sensitive and committed restoration of a collection of historic Karoo buildings which has resulted in the creation of a viable heritage tourism destination. From the restoration of authentic reed ceilings, handmade nails to bricks crafted from clay and straw, the Coetzee's have restored important town buildings with integrity and an eye to preserving and celebrating the town's authentic fabric.
The gold certificate was awarded to the Eastern Cederberg Rock Art Group (eCRAG) for the group's work in the protection, recording and archiving of Stone Age artefacts, vernacular ruins, graveyards and Bushman paintings in the wilderness area of the Cedarberg.
eCRAG is a voluntary group of members of the South African Archaeological Society. Their aim is to locate and document rock art sites in the Cederberg, focusing on the Rooi Cederberg Karoo Park. They work in collaboration with local communities and property owners, aiming to help them find the best way to protect and manage their heritage sites.
In the first five years, eCRAG identified and documented over 600 rock art and archaeological sites. They have also prepared a number of management plans and have removed graffiti under permits issued by Heritage Western Cape.
Len Raymond, HASA chairperson and a past winner in his own right, congratulated the winners and called for greater awareness of the excellent work being undertaken by these activists.
To find out more about the restored buildings of Calvinia visit www.calvinia.co.za. For more information about eCRAG visit www.archaeologysa.co.za.
Previous Simon van der Stel award winners include last year's gold medal winner, Dr. Judy Maguire, Gawie Fagan, the Standard Bank archives, Anglo American Corporation, Hannes Meiring, Flo Bird, the Market Theatre Complex, Dr Philip Tobias, Dr James Kitching, Herbert Prins, Valli Moosa and Dr. Roger Charles Fisher. For a full list of past winners visit www.heritagesa.org
Any media enquiries may be directed to:
Len Raymond - Chairperson Heritage Association: of SA
082 651 9252 or dalrest@iafrica.com
Created
Tuesday, October 20, 2015 - 16:46
Disclaimer: Any views expressed by individuals and organisations are their own and do not in any way represent the views of The Heritage Portal.