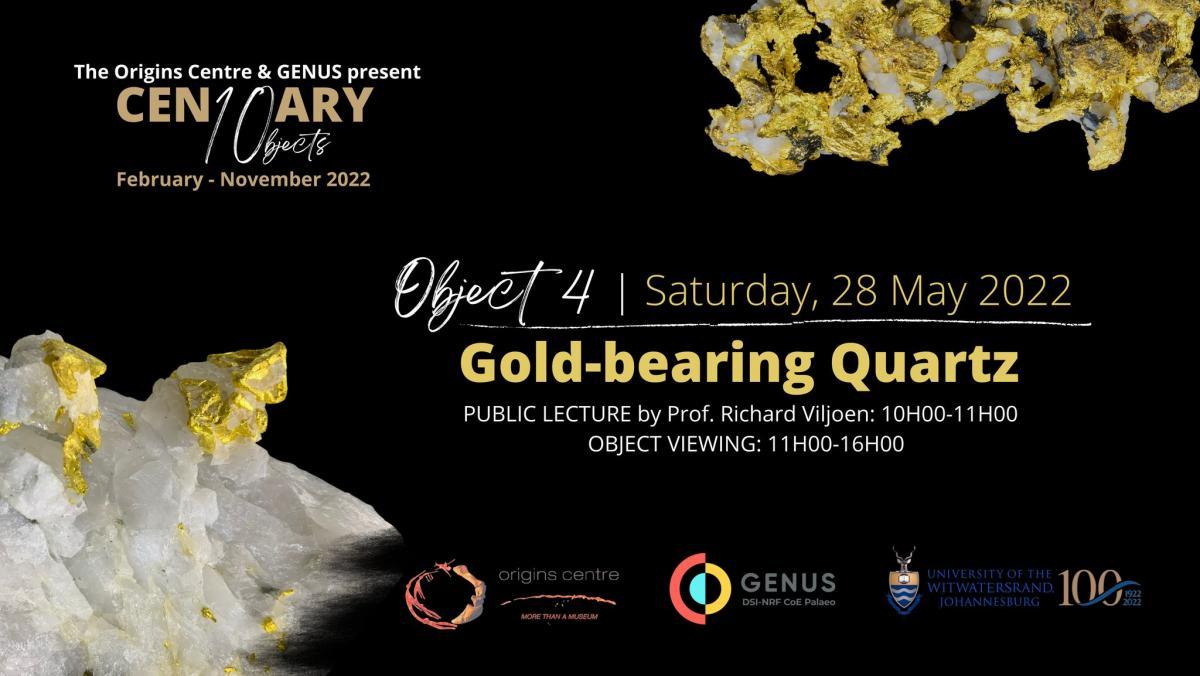 Expiry:
Saturday, May 28, 2022 - 00:00
Johannesburg sits on the edge of the world's largest known gold deposit - deposits which led to the gold rush of 1886, and the formation of the Johannesburg city – the City of Gold.
The fourth object in the Wits Centenary Objects exhibition is one of the world's rarest forms of natural gold – gold-bearing quartz. Other varieties of gold, pyrite and gold-bearing conglomerates found in the Witwatersrand gold fields will also be on display.
From 10H00 to 11H00 Prof Richard Viljoen will present his public lecture.
From 11H00 to 16H00 the Gold-Bearing Quarts will be on display for public viewing.
Please remember that this is a one day ONLY public lecture and exhibition so DON'T MISS OUT!
Click here to purchase your tickets on Webtickets, seats are limited.
Professor Richard Viljoen obtained his degrees, culminating in a PhD in geology in 1970, from the University of the Witwatersrand. During his Phd studies in the Barberton he, together with twin brother Morris, was responsible for the discovery, description and naming of an important new class of volcanic rock called Komatiite. He spent 30 years in the mining industry and has more recently become involved in developing mining and geological heritage products in South Africa for the promotion of tourism and education. Richard is the recipient of a number of top local awards and international awards and was president of the Geological Society of South Africa for two terms. Richard was appointed as an honorary professor at Wits in 1998. He has published over 60 scientific papers and was responsible for the publishing of two books, one on the Great Minerals Fields of Africa and the other on Africa's top geological sites.
Created
Monday, May 16, 2022 - 09:16
Disclaimer: Any views expressed by individuals and organisations are their own and do not in any way represent the views of The Heritage Portal.