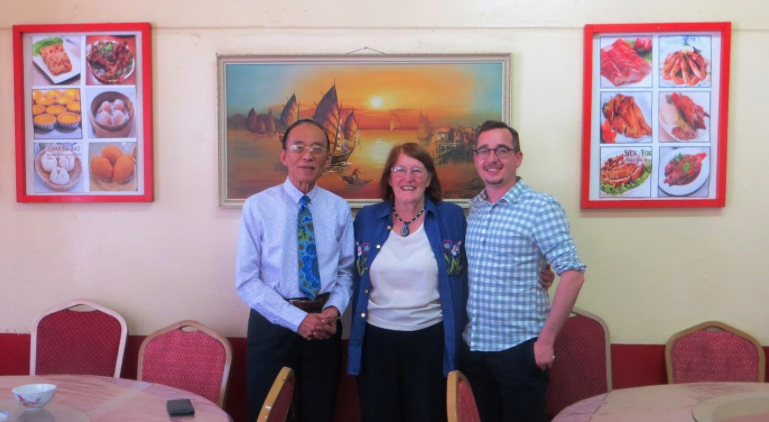 Tuesday, May 7, 2019 - 23:47
A few months ago it was my  pleasure to lunch with Mr Walter Pon, of first Chinatown of Johannesburg and Brett McDougall (Chairman of the Johannesburg Heritage Foundation). Mr Pon has a passion for the history of the Chinese community in South Africa. Lunch was a gastronomic route into Chinese culture and history - our meeting point was the Ming Woo restaurant (corner of Alexander and Commissioner Street) which started and ended with copious small cups of delicate green tea. Lunch was Dim Sum, a variety of enticing servings of Chinese delicacies. This unpretentious family Chinese restaurant is on the ground floor of one of Johannesburg's architectural marvels, Pabst's Chinese United Mansions,  which dates from 1948. We immediately drop into Chinese history and culture, and move into  a deep conversation about heritage, the meaning of a Chinese presence in Johannesburg and the strands of Chinese history that ought to be preserved and presented today.
Pabst's Chinese United Mansions (The Heritage Portal)

The Chinatown area is an area of significance for the small Chinese Community in Johannesburg. There has been a Chinese presence in this area from the 1890s till today despite the restrictions of Apartheid. This is where Chinese culture in Johannesburg is anchored. The original Chinatown of Johannesburg is located in the Ferreirasdorp area, historically known as the Malaikam bounded by Commissioner, Market, Fox, Alexander and Becker Streets. An initiative to regenerate and revitalise the Chinatown area in 2002, emanated from the newly formed Johannesburg First Chinatown Association, an association of shop and property owners in the area. Contact was made with the Johannesburg Development Agency and the Central Johannesburg Partnership, and subsequently, Savage + Dodd Architects prepared an initial scoping study and a Precinct Plan that was approved by the City.
Budget was limited and in the early years of this century, recapturing a Chinese presence tackled some essentials – such as the restoration of the façade of the Chinese Club building, improving the pavements and giving them a boulevard feel with plain trees, adding some storyboards telling Chinese history. Now some 17 years later it is time for a rethink and a fresh plan for reviving Chinatown. We know there has been a downturn in the area in recent years but people still come for the New Year festivals and parade. The area has a Chinese history and ambience that is unmistakable. It is here that you will find the Chinese (Cantonese) Club as well as the Transvaal Chinese Association (TCA).
TCA Building (Kathy Munro)
A storyboard on the corner of Commissioner and Alexander Street tells the story of the First Chinatown of Johannesburg. (Kathy Munro)

Around the Ming Woo and Swallows Inn restaurant there is a strong presence of Chinese culture in the signage, lettering, predominance of red, the symbols and look of the small shops and restaurants plus the history boards on Commissioner Street. We are still discussing the question – is it possible to regenerate first Chinatown and Mr Pon enthuses an emphatic yes. Chinatowns are to be found internationally in major cities around the world where Chinese immigrants were attracted. It is the distinctiveness of the Chinese culture with its  exotic foods, its different script, the ancient Chinese civilization and the appeal of so many beautiful Chinese artefacts, handicrafts and the opening for small commercial shops and businesses that make for opportunities to claim a Chinese space in cities a long way from China. I love visiting Chinese precincts, markets and quarters in places as far flung as London, San Francisco, Los Angeles, New York, Singapore and even in Melbourne Australia. Chinatown in Johannesburg has presence, a promise and an opportunity because the first Chinatown is a small part of Johannesburg, geographically almost in limbo between the ripe for property development old open spaces that characterise old Ferreirastown and the successfully developed Newtown. How can Chinatown of Commissioner Street be resuscitated and given new life? The idea of a memorial garden and history park appeals and has great potential.
One popular Chinese Restaurant in old Chinatown is the Swallows Inn. It was established in 1951 and is well worth a visit. (Kathy Munro)
Another shot of Pabst's modern masterpiece in Chinatown (Kathy Munro)
A view down Commissioner Street between Wolhuter (Margaret Mcingana Street) and Alexander Street - the sense of place is visible in the wide one way street, the generous proportioned pavement and the plane trees which remarkably survive in the inner city. To the right is a side view of the forbidding and notorious in apartheid days, John Vorster Square. (Kathy Munro)
Our host, Mr Walter Pon has been called the "mayor" of Johannesburg's first Chinatown. I like him immediately; he has an old fashioned dignity, is exquisitely well-mannered and concerned about our comfort. He wishes to make sure we are enjoying the delectable portions on our plates. Lunch was leisurely but purposeful as we are here to share heritage possibilities and how best can Chinese history in Johannesburg be commemorated and celebrated. His story is remarkable. Mr Pon's parents fled China in the wake of the Sino-Japanese war  of 1937. They came to South Africa as teachers. Walter explains: "My Dad taught Chinese and in Canton, their home town, he had his own school. He started life in South Africa as the principal of the Pretoria Chinese School. My Mum taught in the Johannesburg Chinese School which was located in the first Chinatown." Walter was born in Sophiatown in 1940.
Later his family spotted a gap in the market and Mr Pon senior became a merchant and established the Sui Hing Hong shop. Originally this was a gift shop that sold Chinese souvenirs, gifts, Chinese herbal medicines, green tea and even furniture. Walter remembers the carved Chinese camphor wood kists and I am able to share that I own just such a Chinese kist that was a wedding gift to my own mother-in-law when she married in Durban in 1938. It has been a much loved item of furniture in our family through two generations. This Chinese family business was opened in 1943 and was named by Walter's father for his mother. Walter tells me that the shop which is now a Chinese supermarket pre dates the "supermarket era". Sui Hing Hong is still a family  business and is in the capable hands of Walter and his wife Maureen. It is worth a visit, the Sui Hing Hong is the oldest remaining shop in First Chinatown, located in a building on the north side of Commissioner Street. Here is treasure house of Chinese products, souvenirs, ingredients for Chinese recipes and fine and useful Chinese porcelain bowls.  I love exploring the narrow aisles and choosing authentic imported components for my next Chinese meal. When I am in this shop I immediately feel transported to the Chinatown of Singapore or San Francisco; my last purchase was a cruet set in delicate blue and white porcelain.
Sui Hing Hong Shop (Kathy Munro)
Mr and Mrs Pon in their supermarket (Kathy Munro)
Opposite the Sui Hing Hong is the Chinese fireworks shop – an emporium of every possible firecracker, decorative rockets to set the night sky alight during the Chinese New Year celebrations or a Guy Fawkes night. This is where you will literally "get your biggest bangs for your bucks". My last purchase was a bulk buy of 20 packets of sparklers which are a great birthday candle alternative or a treat for grandchildren. I am transported back to my own childhood when in the fifties my maternal single aunt had her yearly vicarious thrill as the pyromaniac in the family with her purchase of a giant box of fireworks for the 5th November Guy Fawkes celebration and she made the journey to Chinatown to buy the biggest and the best assorted box. She earned her place in our family history through introducing this Chinese speciality down our Modderfontein Street. Of course the irony that we lived in Liege Avenue at Modderfontein Dynamite Property, completely escaped me, though I knew all about detonators and fuses and why dynamite was so important for the mines.
The Chinese Firework shop in Old Chinatown (Kathy Munro)
Walter Pon wishes to commemorate the history of the Chinese in South Africa. Over lunch he unfolds his list of Chinese people and episodes of history that ought to be celebrated and memorialised. His idea is not a museum, but rather a park that will attract tourists and Johannesburg people to the inner city and commemorates the Chinese presence in Johannesburg. It is a long and distinguished history, not dissimilar to other ethnic immigrant groups. The story of the Chinese in South Africa has been superbly told in the book Colour, Confusion and Concessions, the History of the Chinese in South Africa by Melanie Yap and Dianne Leong Man (Hong Kong, 1996). This book is still the authoritative broad history of the Chinese in South Africa and traces Chinese roots in South Africa back to the 17th Century when Chinese convicts arrived at the Cape of Good Hope. But most South African Chinese (i.e. those with South African citizenship) are descendants of immigrants from China who arrived after 1870 and came from the Kwangtung Province of South China. They came to South Africa with the prospect of a better life in a 'new, young country with anticipated riches and  resources.'  Johannesburg, founded in 1886, drew migrants to its new gold mines to the south. For the Chinese it was the African gold mountain or Gam Saan. This word is a toponym, that is a place name derived from a topographical feature. There are Gam Saans in California (San Francisco), British Colombia and even Australia following the gold discoveries of the mid 19th centuries. The fact that Johannesburg was also a Gam Saan is little known internationally and not even mentioned in the Wikipedia article. Mr Pon wants to celebrate that heritage and we should be backing him.
Over past decades in the 20th century Chinese immigration was heavily resisted. The truth of the matter is that until 1994, the state in South Africa did not welcome the Chinese as free immigrants with the rights of equal citizenship. The ethnic labelling of Chinese people as Asiatic meant that they faced a welter of anti-Chinese legislation both in the Cape and in the ZAR, and again in the Transvaal Colonial era and even more emphatically again during the apartheid era.
Nonetheless, the forefathers of today's original older Chinese South Africans in Johannesburg established old Chinatown in Ferreirasdorp (or what had been the site of Ferreiras' camp). First Chinatown still remains and whilst new Chinatown with more recent Chinese immigrants, mainly Mandarin speakers, throng Cyrildene on Derrick Avenue between Friedland and Marcia Streets, the older First Chinatown of Johannesburg is where you will find a sense of place and a presence of an older  community.  There are reminders in the Chinese scripts and signs, in history sign boards and in two blue plaques and also in the architecture. Mr Pon stresses that the first Chinese of Johannesburg is a small Cantonese community and second, third and fourth generations have moved on to be educated in the professions; they are doctors, dentists, academics, lawyers. Mr Pon laughs as he tells us: "We believed in educating our children and grandchildren; our community is intelligent, industrious  energetic and capable." Remarkably the Chinese culture was preserved in the language, in the education offered at the Chinese School of Johannesburg and in the social, sports and self help clubs and societies. What is interesting about first Chinatown is  that complete sense of community with Chinese schools, clubs, newspaper and shops all operating in different premises in the area.
Catch a glimpse of a golden Chinese dragon protecting a doorway in old Chinatown (Kathy Munro)
As mentioned, Mr Pon has a vision to create a Chinese memorial park and garden to highlight the history of the Chinese in South Africa and it is his vision to locate the park in a now seldom used somewhat rather dead end street in old Chinatown; the street name is Margaret Mcingana Street (why did our City Council not have the foresight to remember and commemorate a Chinese contribution?). It is a quiet stretch between Fox and Commissioner Streets. After lunch we accompanied Walter Pon on a walk up Commissioner Street to old Wolhuter Street (now Margaret Mcingana Street). There is a large vacant stand on the corner; that open land is potentially valuable real estate in the old CBD and must be privately owned by a property developer with an eye oin the future. On the opposite corner stands the old Transvaal Chinese United Club.
One knows that despite the changes in street names, one is in old Chinatown when we notice cast moulded concrete portals such as this one. (Kathy Munro)
Transvaal Chinese United Club (The Heritage Portal)
Transvaal Chinese United Club Blue Plaque (The Heritage Portal)
"This is where we must make a Chinese heritage and memorial garden" enthuses Mr Pon. He can see it in his mind's eye and so can Brett and I. I suggest that the garden should extend on either side of Commissioner Street. 
Derelict land on Commissioner Street and Wolhuter Street. The street could be a garden of remembrance, heritage and Chinese Culture in Johannesburg. (Kathy Munro)
There is an impressive memorial list for commemorating the Chinese contribution to South African history and most particularly the human rights protests, the passive resistance campaigns led by Gandhi and in the anti-apartheid struggles. There is so much more with over a century of a continuous Chinese presence in our city. We should be remembering the earliest of traders, teachers and immigrants. Then there was the era of the Chinese mine labourers; theirs was not an ongoing presence but rather an oddly named "Chinese labour experiment". These were the indentured men who came to provide the hard physical labour for revitalizing the Witwatersrand gold mines between 1904 and 1910. It was a short lived, notorious and highly controversial time; how the Chinese were treated and how they lived as indentured labourers on some of the mines such as the ERPM has been well researched and documented. Yap and Man's book provides a balanced chapter as a starting point. These indentured labourers were not allowed to remain to settle after the end of their contracts but the contribution of over 60 000 such miners left an imprint at least in memory and in images. Chinese history in South Africa is about an ethnic group's presence and their history is a testimony to the human spirit that sought to adapt, resist, respond and survive. Above all clinging onto this very storage society that made up South Africa, they were a people that protected and preserved their culture. It is that sense of culture and community that Mr Pon seeks to celebrate and to add to the rich strands of Johannesburg's totality.
We need to gather support, firm up on a plan and get the Council to make some urgent town planning adaptations to streets, find some funding and publicise a vision.
The most comprehensive and accessible report on the prospects for first Chinatown is the Savage and Dodd report of 2003. Heather Dodd is willing for me to circulate this to anyone who is interested. My recommendation is that we get a community cum property development workshop resurrected and revived. Lets work from the Savage and Dodd report, adapt and adjust where necessary, take in the changes since 2002 and most importantly build in the design of a memorial garden.
Kathy Munro is an Honorary Associate Professor in the School of Architecture and Planning at the University of the Witwatersrand. She enjoyed a long career as an academic and in management at Wits University. She trained as an economic historian. She is an enthusiastic book person and has built her own somewhat eclectic book collection over 40 years. Her interests cover Africana, Johannesburg history, history, art history, travel, business and banking histories. She researches and writes on historical architecture and heritage matters. She is a member of the Board of the Johannesburg Heritage Foundation and is a docent at the Wits Arts Museum. She is currently working on a couple of projects on Johannesburg architects and is researching South African architects, war cemeteries and memorials. Kathy is a member of the online book community the Library thing and recommends this cataloging website and worldwide network as a book lover's haven.
Disclaimer: Any views expressed by individuals and organisations are their own and do not in any way represent the views of The Heritage Portal.