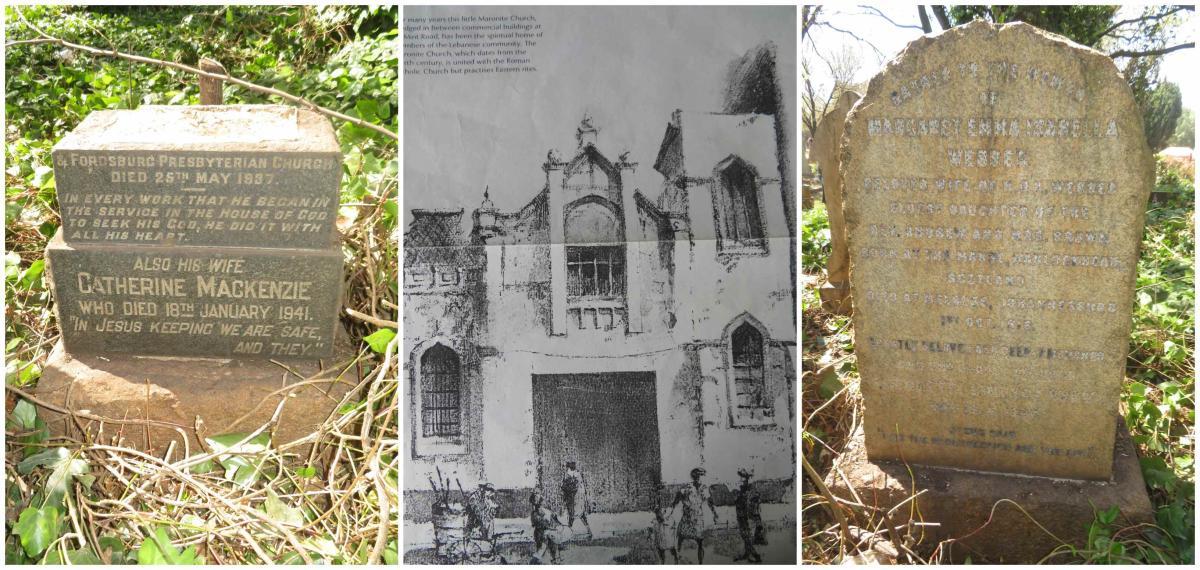 Disclaimer: Any views expressed by individuals and organisations are their own and do not in any way represent the views of The Heritage Portal. If you find any mistakes or historical inaccuracies, please contact the editor.
Wednesday, October 12, 2022 - 21:39
A while ago members of our team were clearing ivy off a large area of the General Section in Brixton Cemetery, to find out whose headstones were poking up through the ivy. Most of the headstones were visible as raised parts of the all-enveloping ivy. In amongst the others was the headstone of Catherine Mackenzie which we had originally found in March 2006. Despite looking up the date of burial for Catherine in the burial registers, I was unable to find her, and she languished in my files for 16 years.
Back then, I was unaware of the resources that were available, so didn't pursue the matter. Having re-found the headstone, I was able to do some more digging. The top half of the base stone (the cross on top has disappeared and I am hoping to find it under the ivy in the vicinity of the rest of the stone) has the date of death of someone else buried in this grave, so I went through the registers, letter by letter, looking for someone who died on that date. My perseverance paid off – this was Catherine's husband but the surname was Brown and not Mackenzie! Mackenzie was her maiden name.
Headstone of Reverend Andrew and Catherine Brown (Sarah Welham)
This is when a lovely story unfolded. Anyone who has been on our Fordsburg tours will know of the Divine Bakery at 55 Mint Road where all manner of wonderful food can be bought. As you step inside the building, you can see high wooden rafters and other ecclesiastical features – this was the Presbyterian Church of Fordsburg, and their Minister was Reverend Andrew Brown. The church was designed by the architect, Granger Fleming, who is buried not far from the Browns in Brixton Cemetery and was built in 1897 for the Scottish miners and artisans living in Fordsburg. In 1967, the building was converted into a cinema and later became the Divine Bakery. The Browns were both born in Scotland and married there in Edinburgh. They lived a long life, dying in 1937 and 1941, well into their 80's.
Fordsburg Presbyterian Church in Mint Road
Drawing of the church by Philip Bawcombe
There were at least 3 children from this marriage. The son, Peter Lindsay Brown, is buried in this family plot – he was a clerk in the South African Railways and died at the age of 62. One of the daughters was the second surprise in this story. There is another headstone on this plot and it marks the final resting place of the Brown's daughter, Margaret Emma Isabella Webber. She was the second wife of an 'old friend' of the Research team of the Johannesburg Heritage Foundation – Henry O'Kelly Webber. Henry was a Director of at least 23 mines on the Witwatersrand and a vice president of the executive committee of the Transvaal Chamber of Mines. He came from an influential family in Kent and arrived in South Africa in 1887, having inherited some money from a great uncle who said he could only have the money if he emigrated to a British colony or entered the diplomatic service!  Things didn't go well for this 23 year old so he returned briefly to England where his father gave him money to start again. He settled in Stutterheim where he became a farmer. He chose, after ten years, to return to England and complete his legal studies; and on the boat, he met Sir George Farrar, who offered him a position in the London office of the Anglo-French Exploration Company. Within five years, he was back in South Africa and so started his involvement with the local mines. He was part of the group who campaigned for the Chinese to work in the mines.
Old postcard of Chinese miners in Johannesburg
But what of him as a person? He married his first wife, May Clark, in 1899. She was the daughter of a Professor at Cambridge University. The couple had 2 children but unfortunately this marriage ended in divorce and May returned to England. His second wife was Margaret, daughter of Reverend and Mrs Brown, and they were married in 1915. There was one child from this marriage but sadly, Margaret died after only three years of married life at the age of thirty three. At the time of her death, the family was living in Melrose and Henry is listed as a Director of the National Bank which later merged with Barclays Bank D C O. Two years later, in 1920, Webber married his third wife, Violet Muriel Bradfield, who was the daughter of a farmer. The couple had two children. It was during this marriage that the Webbers bought Lindfield in Auckland Park, the house currently owned by Catherine Love who has turned it into a museum which many readers have probably visited. If you haven't, it is well worth doing.
Lindfield House (Braamfontein Spruit Trust)
Henry died in Johannesburg on September 5, 1950 (seventy two years ago) at the age of 83. He had prostate cancer. Sadly, he was cremated and the ashes were scattered, so we have no final resting place for him. At the time of his death, he was living at 3 Whitehall Court in Killarney. He was a great polo player and loved travel. He was also a very distinguished looking man, who must have turned heads wherever he went!
Whitehall Court (The Heritage Portal)
Old photograph of Whitehall Court (SA Builder Magazine)
Another project that I had been working on for some time was Henry O'Kelly Webber's wives. I had given up hope of finding any of the family's graves and threw the research away. So, it was a great joy to find Margaret's grave. May she continue to rest in peace. Her grave will be the anchor for the family research I have been doing.
Sarah Welham is the founder of the Friends of Johannesburg Cemeteries