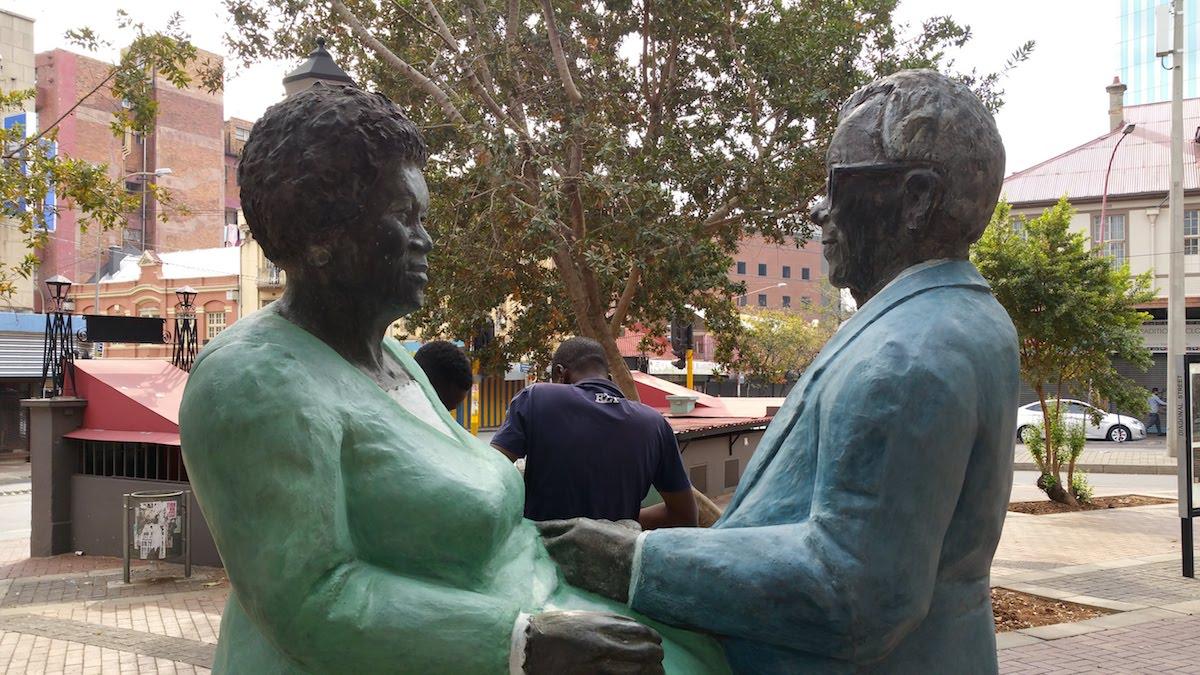 Sunday, April 29, 2018 - 17:49
In the article below, journalist Lucille Davie delves into the powerful story of struggle stalwart Albertina Sisulu. The piece was originally published on 27 December 2008 on the City of Joburg's website. Click here to view more of Davie's work.
Albertina Sisulu, or MaSisulu, the anti-apartheid stalwart, midwife, beloved member of the ANC, and devoted wife of the late Walter, has spent most of her life in Johannesburg.
She married Walter in 1944 at the age of 26, and her 59-year marriage to him endured despite enormous hardships - photographs of the two of them walking hand-in-hand or her hand through his arm, leave no doubt as to their love for one another.
Johannesburg and Gauteng have honoured her, one of their most famous citizens, on several occasions. In 2003, to mark her 85th birthday and to recognise her contribution to the struggle, the City opened a centre for children with special needs in Soweto, named after her.
Albertina Sisulu (via Lucille Davie)
Passed away
Albertina Sisulu died on 2 June, 2011 at her home in Linden.
The airport road that links OR Tambo International Airport with Tshwane was renamed Albertina Sisulu Freeway in August 2007.
In 1999, the University of the Witwatersrand conferred an honorary doctorate on her for her dedication to the cause of democracy and justice. In 2007, she received another honorary doctorate, this time from the University of Johannesburg.
Robert Sobukwe Block at Wits (The Heritage Portal)
Eastern Cape birth
MaSisulu was born in Camama in Eastern Cape in 1918; in 1941 she came to live in Johannesburg. She met Walter in the city, where he was an estate agent. He later became the secretary-general of the ANC and was a source of inspiration to many with his sharp mind and humble leadership. Through his involvement in politics she joined the Women's League in 1949.
Nelson Mandela says of her in his autobiography, Long Walk to Freedom: "Albertina, Walter's wife, was a wise and wonderful presence, and a strong supporter of Walter's political work."
Sisulu qualified as a midwife in 1954, and worked for the city's health department in the townships. In 1980, she was appointed matron to run a small hospital in Orlando East, in Soweto. Three years later, at 65, she retired.
"Albertina took to nursing like a duck to water. Her upbringing, which had inculcated high standards of cleanliness, discipline and a strong work ethic, stood her in good stead. Her compassionate and empathetic nature made it easy for her to relate to patients," recounts Elinor Sisulu in Walter & Albertina Sisulu - in our Lifetime.
The Sisulus moved out of their Soweto home in 1999 and went to live in the northern suburbs, in Linden. They moved against their will, principally because of Walter's health. He died in May 2003, at their home, at the age of 90. She had 14 happy years with him after his release from prison.
The iconic statue of Albertina and Walter Sisulu on Diagonal Street (The Heritage Portal)
Prison
In their first 45 years of marriage, the Sisulus spent barely nine years together as a married couple, with Walter in and out of prison, or on the run, or in court, or travelling the country or overseas, until he was eventually jailed for life on Robben Island in 1964, together with Mandela, his lifelong friend.
From 1958, she too was in and out of jail, spending time in solitary confinement, at times taking one of her children with her. She protested against the carrying of passes, when in 1957 the apartheid government extended the pass laws to women.
MaSisulu brought up nine children in Johannesburg, mostly on her own: her five children who were born here, and four adoptive children, two of whom were her sister's.
In 1964, when Walter went to Robben Island, she was issued with her first five-year banning order. A 10-year house arrest followed. During this period she saw two of her children arrested, and she encouraged both to leave the country.
State of emergency
In 1981, at 63, she was arrested and tried for furthering the aims of the ANC, and sentenced to four years' imprisonment. Although the case was eventually dismissed, Sisulu ended up spending 17 months in solitary confinement. In 1986, she was the first person to be restricted under the newly declared state of emergency.
But one of her happiest moments must have been that Saturday morning in October 1989, when she opened the door to Walter, released from prison after 25 years.
She said of this period: "All these years I never had, you know, a comfortable life."
Despite the hardships, she said in an interview in 2002: "Those negative experiences didn't chase me away from Johannesburg. Even the people who tortured us would always be welcome in our house. Johannesburg is a comfortable place."
Mandela says of her in In Our Lifetime: "Albertina Sisulu is one of those women who suffered immensely and who struggled heroically without ever flinching."
Albertina Sisulu in later years (Information Board on Diagonal Street)
Lucille Davie has for many years written about Jozi people and places, as well as the city's history and heritage. Take a look at lucilledavie.co.za.
Disclaimer: Any views expressed by individuals and organisations are their own and do not in any way represent the views of The Heritage Portal.