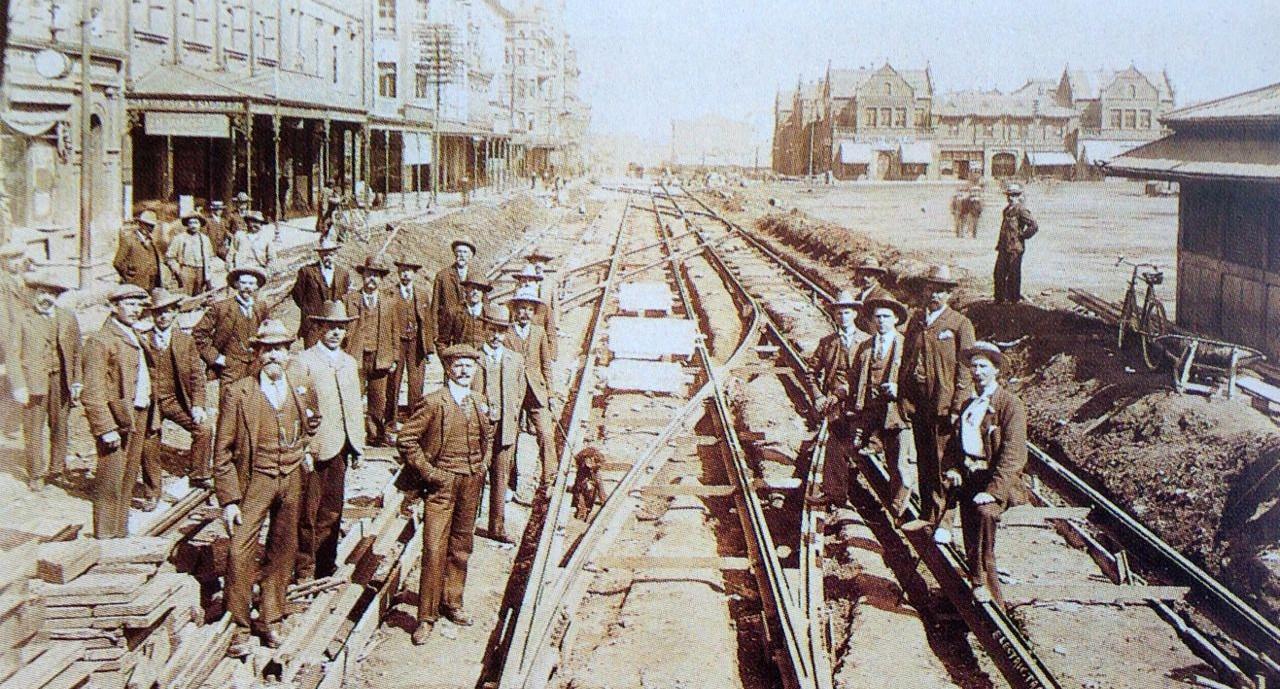 This book is one of those rare specialist items of Johannesburg history. It was published in 1976 some eight years after the death of the original researcher and author, Tony Spit and the project was brought to conclusion by Brian Patton and a number of other contributors and collaborators. It is a book that strangely was published in London and not South Africa and the intended appeal was to a small international group of enthusiasts of trams, trains and trolley buses around the world, as the publishers were the Light Railway Transport League.
Book Cover
Transport history is a crucial specialism and many are interested in railway history and journeys and the nostalgia of steam engines appeals to boys and men. Trainspotting is an arcane hobby and even more so bus spotting. Studies on urban transport systems and hence trams, light railways and underground systems abound. This book starts by fitting into that genre. 
Those interested will find references to other books of a South African interest in a set of short book reviews on the Transport in South Africa website. Trams, trolley buses and railways in Cape Town, Durban, Port Elizabeth and Kimberley have also been the subject of excellent monographs, but this book is the only title on Johannesburg's transport that I know of. However, a very interesting history of trams in Johannesburg has been researched and written up by Marc Latilla and indeed it was this post that sent me in search of a copy of Spit.
I have been interested in transport history as an aspect of economic history as transport systems are essential links in economic change and development. Burgeoning nineteenth and twentieth centuries societies around the world faced challenges of moving people from home to work around ever more densely settled cities. Transport investment requires far sighted transport planners who need to study trends and predict the future. It is all part of the necessary investment in infrastructure, but often involves a leap of faith and sometimes a risky almost speculative investment ahead of demand. Should this investment be undertaken by governments or the private sector? However a lack of a good transport system can cripple or impede an economy and cause hours of wasted time in traffic on congested roads. Because road and transport systems are such a crucial component in development and governments, either national or local, make it their mission to study, invest in, manage and regulate transport systems. Seldom do governments make money out of transport provision and more often criticism comes fast and furiously for both what has been accomplished and what has been neglected.
Johannesburg trams (photos B T Cooke) 
Johannesburg is an interesting case study of success and failure in the provision of roads, motorways and railways throughout its history. It is a topical subject at the moment with e-tolls and Gauteng road improvements being criticized heavily (though less so for the network of roads) and the Rea Vaya being an imported, very expensive intrusive South American system dropped onto the Johannesburg landscape and in an effort to shift usage from private car to public buses has made narrow arterial roads of the city impossible for cars and taxis. The great contemporary success appears to be the Gautrain with its massive confident investment in an underground rail system from central Johannesburg to Sandton, with linkages to OR Tambo airport and on to Pretoria. The late adoption of an underground system left Johannesburg trailing the major cities of the world. 
Transport planners need to be ever aware of chasing technologies. Johannesburg's central train station development in the 1950s is an excellent example of misjudging the timing of new technologies as no sooner was the great concourse completed and it seemed that rail was set to be the primary method of nationwide transport, than the revolution in air travel drew away a significant market share and as the real cost of air travel fell and options extended more people opted to fly rather than travel by train. (See discussion of this subject In Keith Beavon's book on Johannesburg). 
Johannesburg has been somewhat schizophrenic in its approach to transport. Is it to be public or private, car or taxi, bus or tram, horse drawn trams or electric trams, trolley bus or motorized bus, single or double decker buses? Perhaps the city has been too ready to accommodate all options. It's a good moment in view of the flux in city transport systems to dip into this remarkable small book on the history of Johannesburg Tramways.
Central Johannesburg tram routes (Johannesburg Tramways)
The book also has an appeal to me as for my entire childhood and early adult years I was a bus passenger and purchaser of those little books of bus coupons from the Johannesburg municipality. I associated trolley bus travel with independence and through the bus routes found my way round the city. Daily I travelled the route described in this book and took a number 13 or 14 bus to either the Sydenham terminus or the Dolls House on Louis Botha avenue to get to school in Berea or later to Hillbrow and from there a 20 minute walk via the Civic Theatre to Wits in Braamfontein. At the weekends it was a journey to the city centre for cinema and shopping treats. By the time I had travelled by bus for a total of about 18 years and wasted endless hours waiting for the bus, I promised myself a car as a  first purchase once working and never would JMT see me again! My mother insisted on taking me on one of the last team rides to Kensington and insisted that I remember the demise of the Johannesburg tram.  (Dear Mum, who loved Johannesburg as much as I do, I do remember with nostalgia). Now I think about those years of bus travel with some fondness as I spent my time on the bus observing the city scene, the people on the streets and in reading and timing chapter endings with my bus stop! The town terminus for my bus was outside Juta's bookshop and a pleasure was window book shopping as I waited for my bus. 
1961 last tram in Johannesburg.  An unhappy moment. 
Today this marvelous little book by Tony Spit is keenly sought by Johannesburg collectors. It tells the story in a condensed fairly technical manner of Johannesburg's first horse trams, the early routes and the challenges of gradients, finances and operating staff prior to 1906. After that date a tram network was developed and tram lines spread through almost all of the suburbs of the city until 1961. Most of the book is about trams described in a loving, detailed and nostalgic way. Petrol powered buses became an alternative to trams as early as 1913 and a trolley bus network began to be constructed after 1935, as the trolley bus was more versatile than the tram and could access suburbs distant from the city centre. The double decker trolley bus system lasted until well into the seventies. I well remember stoppages when the main power pole disconnected from the overhead power lines and the driver had to step out of his cab with a long hook effect a reattachment watched by impatient passengers.  
The routes, timetables, times and types of vehicles purchased (imported from England) takes precedence over a discussion of the economics, though some factual data of finance and transport commission studies features. I loved the short chapter on a Tramride to Newlands in 1957 contributed by Des Howarth. The issues and economics of racial systems and separating services into European and non-European is not probed and in that sense the Spit book is a product of his time. It was complete idiocy to have to see a bus for "natives" pass one by as you waited impatiently for the right race bus. I recall the difficulties of getting up or down "Death Bend" on Louis Botha Avenue as the familiar red and white double decker buses (segregated for "Europeans") competed for space with the green motorized single decker densely packed green PUTCO buses exclusively for black people. In those days there were fewer taxis and more likely that the taxi was a old Chevrolet, Packard or Valiant.
Postcard showing an early tram
There are some marvelous black and white illustrations in this little book as well as some useful maps of routes. Dipping into the book gives one an itch to take a ride down to the James Hall Museum of Transport at Pioneer park and Wemmer Pan. It is a book to be recommended to the Rea Vaya planners and road destroyers of today... Perhaps a step back in time will find workable solutions for our time. We have certainly had enough past experiments and systems to draw on. 
Tony Spit's book is an essential item of Johannesburg collectiana. Its survival and sought after status is a tribute to Spit and its other supportive authors who took the well researched manuscript to completion and publication. 
2016 Price Guide: If you find it expect to pay over R400 . 
Munro Stars: ***** (5 stars for fascination of topic)
Munro Stars
***** A  superb book , top reference source , recommended to the highest degree and has influenced me in some significant way. 
**** A very good book, a worthy reference or an excellent read
*** Good effort and contains much of interest... the expected norm for a book 
** Some merit, keeping in the library but not overly impressed
* Awful book not worth keeping
Kathy Munro is an Honorary Associate Professor in the School of Architecture and Planning at the University of the Witwatersrand. She enjoyed a long career as an academic and in management at Wits University. She trained as an economic historian. She is an enthusiastic book person and has built her own somewhat eclectic book collection over 40 years. Her interests cover Africana, Johannesburg history, history, art history, travel, business and banking histories.
Wednesday, January 6, 2016 - 10:02