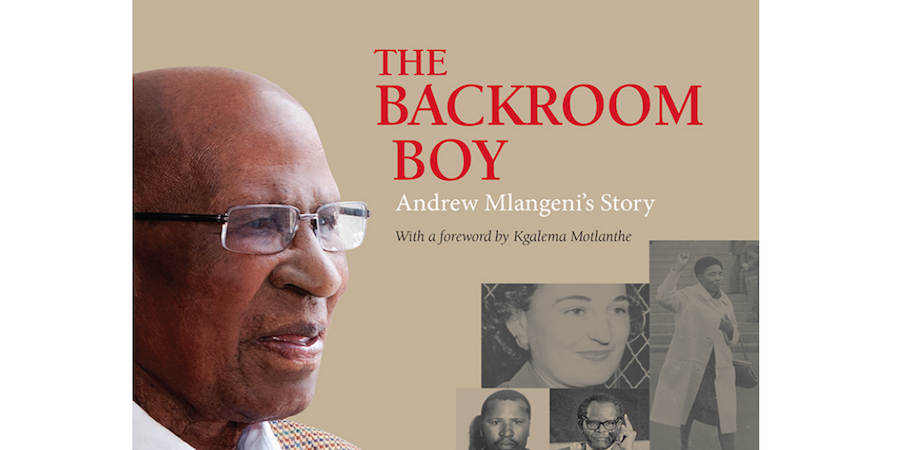 This is the personal story of a remarkable man who lived a long life. Mlangeni lived in the shadows of Mandela and other far better known ANC leaders, struggle icons and policy makers. Hence his self-assumed title of "the backroom boy". He says he was never at the forefront of ANC politics. After 1994 he was not given a senior position in the post-apartheid democratic government, though he became an ANC Member of Parliament and he served on the Sport and Recreation Portfolio committee (hardly a policy driving position). The title of this book raises questions as to whether Mlangeni did not have a certain resentment towards the ANC. Power seems to have eluded Mlangeni or perhaps his principles led him to eschew power. One wonders why he did not attain higher office. But it is evident that here is a struggle figure who remained true to his personal convictions.
Andrew Mlangeni (Lucille Davie)
Mlangeni was a friend of Mandela. He spoke at Mandela's funeral. His prison number was just one digit away from that of Mandela (his was 467/64 ). In his early years he held high office in the ANC and his story mirrors the fortunes of the struggle, the ANC and the Communist party, plus the post 1994 exigencies of government.
This book is a work of oral history as it is based on interviews and letters. His is described as the "unknown legacy" and this biography sets out to record his story in a narrative, almost autobiographical manner. There is a thin line between writing a sympathetic personal story and hagiography but I think it is too soon to coolly assess the effectiveness of a life that covered a youthful and fairly short period of active protest, a training abroad for the coming armed struggle and then a very long period of horrible imprisonment. The experience of one man is an indictment of apartheid but it is also a story of personal courage.
The author Mandla Mathebula is an historian of Tsonga history. He was commissioned by the June and Andrew Mlangeni Foundation to write the biography of Andrew Mlangeni. The Foundation appears to have been established to make known Mlangeni's life experiences. If this is its objective, the publication of this uncritical biography ensures that his life story becomes part of the archive. Biographical history is an important strand in the new 20th century South African history. This is not the normal type of academic publication for which Wits Press is known.
The story is an important one as Mlangeni engaged with and in ANC and left wing politics and labour action from the time of his youth to the present. It's an immensely long record of public life. In his youth, Mlangeni became one of the young bloods of the party. Clearly circumstances of upbringing, being one of fourteen children, black and impoverished in apartheid South Africa limited Mlangeni's life's choices. His formal education as a teenager ended in Form 3. With little education, a series of unskilled jobs followed. An inner resourcefulness, and a widening social network among people on the left led into labour union activity and the emergence of leadership potential. Mlangeni joined the communist party and the ANC Youth league after World War II and this led him to make the fateful choice of armed struggle for liberation as a member of MK.
Andrew Mlangeni was an early activist, stood by his principles throughout his life, sacrificing himself and his family. He had ten children and the unsung heroine of the story is his wife, June, who carried the responsibilities of keeping a family together while he served 27 years in prison. The strong backroom women were the wives and daughters of the sixties men on the island. The tragedy too was that their children were the ones who in 1976 took up the challenge left by an absent or exiled ANC leadership and had another attempt at revolution... But the story of the next generation of the Mlangeni family remains to be told.
Something of an unconventional biography, it is the story of a life devoted to politics, struggle heroism, lengthy imprisonment and commitment to a post 1990 liberated new South Africa. The book opens in the year 1961 with Mlangeni on his way to China to undergo military training in guerrilla tactics. He was one of six chosen comrades. He was 35 years old, a member of the South African Communist Party (by that stage a banned organization in apartheid South Africa) and also the African National Congress. Mlangeni met Mao Tse-Tung not once but twice and drew inspiration from these encounters with the towering hero of the Chinese revolution, a model the ANC and SACP decided to import into South Africa. That journey to China from poverty through conscientisation needs more analysis. Essentially why did this happen? Was the Chinese model the right one for South Africa? Do we see in these early links the first stirrings of Chinese re-colonization of the African continent? Why was China interested in Africa or was it simply a matter of the coming of world wide revolution espoused at international communist conferences?
A while back I attended a prominent Johannesburg antiques and art auction where one item on sale was an Andy Warhol lithograph of Mao. It's one of those iconic defining 20th century images. I turned to the bidder sitting next to me to share the South African connection back to Mlangeni and his having met Mao. I drew a complete blank, we chatted ahead of the sale but there was no interest whatsoever in the link between Mao and Mlangeni. Later the bids for this artwork shot up by the thousands; its value lay in it being a Warhol artwork. What an irony yet such are the ways of the world that art auctions do not worry about politics just icons by icons. Clearly for Mlangeni, meeting Mao was a "life defining moment" that sets the tone for the story ahead; would his children bid on such a work of art of his hero?
By 1962 Mlangeni had returned home to recruit other potential foot soldiers for MK. But the dreams and hopes were shattered by infiltration, arrest and collapse of the liberation efforts after Rivonia. He too made an impassioned statement in court and so followed a lengthy 27 years on Robben Island. Those years were wasted futile decades but also years of education and maturity. I found the details of the personal family story and what happens to a family when the father goes to prison moving and well described.
Liliesleaf, where Mlangeni was arrested in 1963 (The Heritage Portal)
The Palace of Justice where the Rivonia Trial took place (The Heritage Portal)
The book is based on 22 interviews and an archive of family letters. There are no lengthy footnotes, no bibliography, no supporting documentary cross references and no index but it is still a worthwhile read to get a first-hand account of a man who chose to sacrifice his life, and his family for the liberation struggle because he believed in a cause.
Perhaps Mlangeni made his most significant contribution to change in South Africa when he took a courageous stance in recent years. He was not afraid to speak truth to power in calling for Zuma's resignation in 2015 and spoke critically of his party and its modern membership.
The book passes Mlangeni's personal story to his descendants and a wider readership. It is a worthwhile addition to the archive.
Kathy Munro is an Honorary Associate Professor in the School of Architecture and Planning at the University of the Witwatersrand and chair of the Johannesburg Heritage Foundation. She enjoyed a long career as an academic and in management at Wits University. She trained as an economic historian. She is an enthusiastic book person and has built her own somewhat eclectic book collection over 40 years. Her interests cover Africana, Johannesburg history, history, art history, travel, business and banking histories. She researches and writes on historical architecture and heritage matters. She is a member of the Board of the Johannesburg Heritage Foundation and is a docent at the Wits Arts Museum. She is currently working on a couple of projects on Johannesburg architects and is researching South African architects, war cemeteries and memorials. Kathy is a member of the online book community the Library thing and recommends this cataloging website and worldwide network as a book lover's haven.
Monday, July 27, 2020 - 16:38