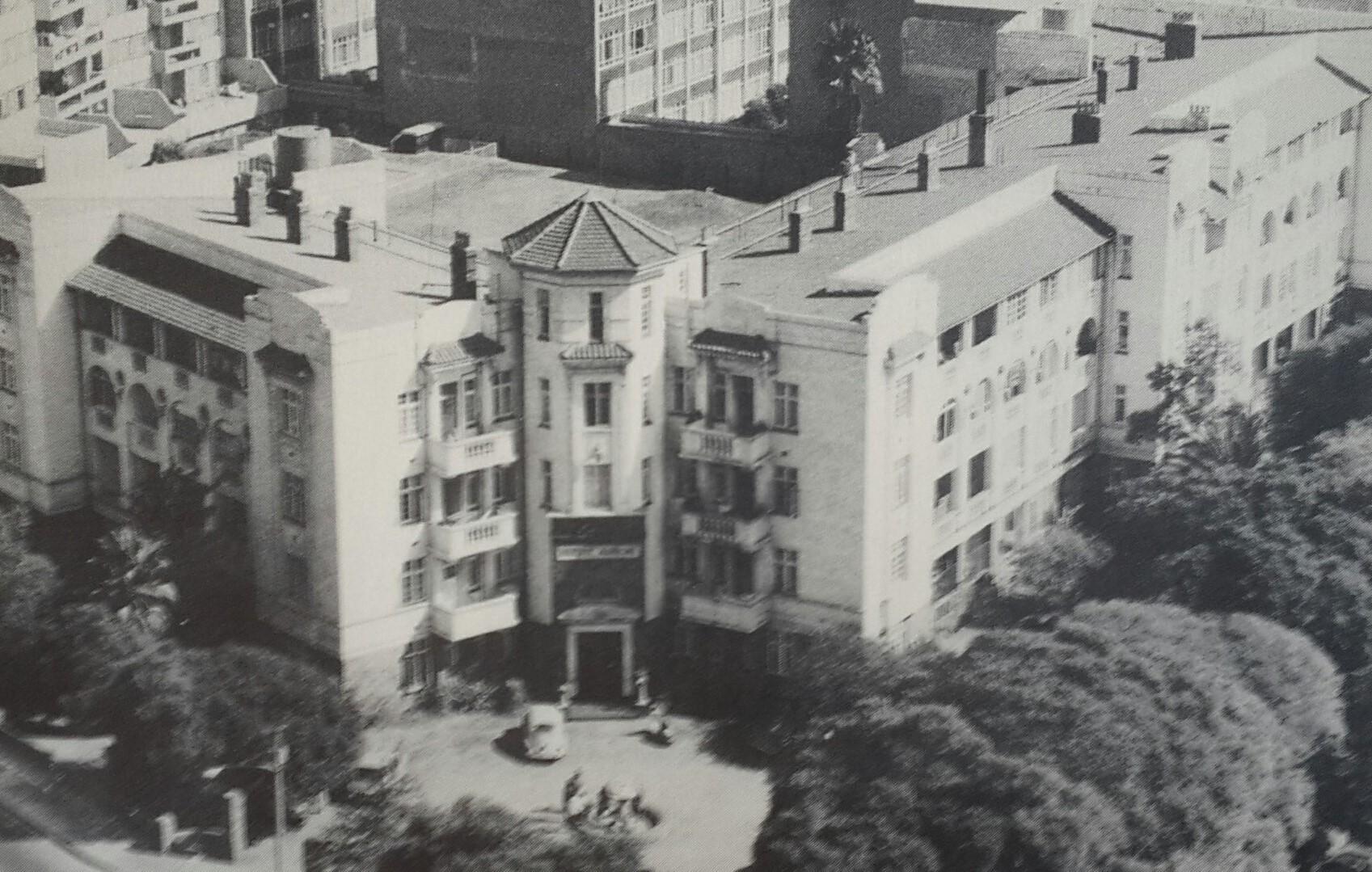 This is one of those dozen or so "must have in a Johannesburg collection of books". Published in 1979, it is a book that reminds one of the passage of time. How recent now seem one's young days and yet how long ago it all was. A friend recently commented that it is impossible to stop the march of progress, when I bemoaned the impact of the new Rea Vaya on Louis Botha Avenue which, as a result of the road works, instead of revitalization, has become a hazardous obstacle course. My friend went on to remark, "but it's our responsibility to document and record the city as it changes". Well said, and as true now as in 1979.
Hohenheim Parktown - Gone but not forgotten (Lost Johannesburg)
We now have a system of documentation involving "heritage impact assessments" and heritage grading and categories. Benjamin in the seventies, a long time before these processes were put in place, set about capturing his Johannesburg buildings as they disappeared. This book is a testament to a valiant lament and protest at the lost edifices of the sixties and seventies. Johannesburg was and perhaps still is a city that 'came and went' in its building cycles.
There is a warm-hearted foreword from Spike Milligan, Irish comedian of the Goons fame, connecting Johannesburg to the doughty preservation lobby of London. It's a surprising foreword as one wonders whether Milligan ever visited Johannesburg? I loved his unfair quip, "modern architecture in Johannesburg will leave an indelible blank on my mind"! The foreword funnily also dates the book, but then there is the cover picture of Unit Security House in the foreground, and 78 Fox St, that seventies marvel of Standard Bank in the background. Now the Standard Bank Centre has been passed on to Gauteng Government and is no longer the state of art banking hall with the plush discreet safe deposit vault down in the basement. 
Book Cover
The introductory essay by Benjamin, makes a good many observations about buildings and fighting for their preservation. These arguments are still valid today. Here is one of many comments worth remembering, "the architecture of an earlier age - quite as much as its paintings, its books, its clothing styles or household objects - tells us about its people: how they lived and thought and designed and diverted themselves. Old buildings, more than any museum exhibit, can still be used as part of a living city environment."
The introduction opens with the marvellous quotation from that astute, off the wall, observer of the Johannesburg scene, Herman Charles Bosman, and ends, "Because I know Johannesburg. There is no other city in the world that is so anxious to shake off the memories of its early origins". This book was about ensuring that there were at least memories, old photographs and some commentary of early Johannesburg preserved within the covers of a book, if not as bricks, mortar and facades. The value of a book is that it enables one to open the covers and be transported instantly to a bygone age, but we should also be aware of romanticizing the past.
This book is a treasured archive of so many buildings which were demolished nearly half a century ago. "Lost Johannesburg" is a ghostly world of churches, theatre, cinemas, hotels, clubs, shopping precincts, grand mansions, banking halls, and beer halls… they exist now only in memories and old postcards. The many wonderful black and white photographs are so utterly period and apt for capturing what was and is no more. 
Joel House (Lost Johannesburg)
Dare I confess my septuagenarian status when I feel a warm familiarity with not a few of the places captured by Benjamin. I went to High school at Barnato Park when Joel House was the smart boarding establishment. I waited on Clarendon place for the Johannesburg no 14 trolley bus outside Majestic Mansions. I enjoyed a thrilling dinner date with a beau who fancied himself as the gourmet at the Langham hotel. I shopped for fabric bargains in Vrededorp. My down to earth husband (he is still my lifelong partner) took me for solid German fare at the Phoenix restaurant. That same husband (then fiancé) and I picked wild flowers In the abandoned garden of Hohenheim before demolition. Back a few years yet and my Dad and I bid on a sack or two of potatoes or oranges at the Newtown Market. I posted letters in the Rissik Street Post Office. I experienced the obligatory teenage swoon watching the latest Elvis movie at the Plaza Cinema. On a Saturday morning I went in search of old car parts with my Dad in the back streets of Alex. I remember the Orange Grove Hotel as a place of popular dances at the Palm grove. I suppose my enthusiasm for old Johannesburg came from my parents who so explicitly made me look at places, the human scene, city life in arcades, clubs and hotels and saying to the just into her teens me, "now look at this, it will soon be gone" or bringing their own history of their young adult life in the city in the thirties and forties to life for me in the next few decades. 
Clarendon Circle (Lost Johannesburg)
Langham Hotel (Lost Johannesburg)
The strength of Benjamin's book lies in the nostalgic reach across old inner city Johannesburg in the text. There is even a poem about the Orange Grove Hotel by David Wright. Sophiatown, Alexandra Township, and Vrededorp all feature as having a heritage and unique character. There are a terrific number of black and white photographs of old Johannesburg and for these alone the book is worth acquiring. 
Orange Grove Hotel (Lost Johannesburg)
The weakness of the book is its failure to discuss or explain the motivation and economics of the cycle of demolition and redevelopment. Since Benjamin's time, Johannesburg went into decline and inner city decay took over but a cycle followed by doughty revival and a renewal of faith in Johannesburg, despite the city moving north to Sandton, or east to Eastgate. the old city had preservation and heritage survivals by decay and neglect. Economics, both of the macro and micro varieties, determined what remains and what is demolished. Private enterprise and the hand of government and NGO's shaped the new patterns of use. As we have seen with the recent fire at the old Manchester Hotel shell, neglect can end in collapse. Each year more buildings join the list of candidates for heritage protection but browsing Benjamin's book is a timely reminder that heritage has to live on in new roles to serve the city. 
Manchester Hotel (The Heritage Portal)
2016 Price Guide:  Problematic as book is long out of print. You may pick up an inexpensive copy on an online auction such as Bid or Buy (as little as R75 to R350 )  but if you turn to Amazon expect to pay from $37 to $70 
Kathy Munro is an Honorary Associate Professor in the School of Architecture and Planning at the University of the Witwatersrand. She enjoyed a long career as an academic and in management at Wits University. She trained as an economic historian. She is an enthusiastic book person and has built her own somewhat eclectic book collection over 40 years. Her interests cover Africana, Johannesburg history, history, art history, travel, business and banking histories.
Wednesday, April 13, 2016 - 12:32