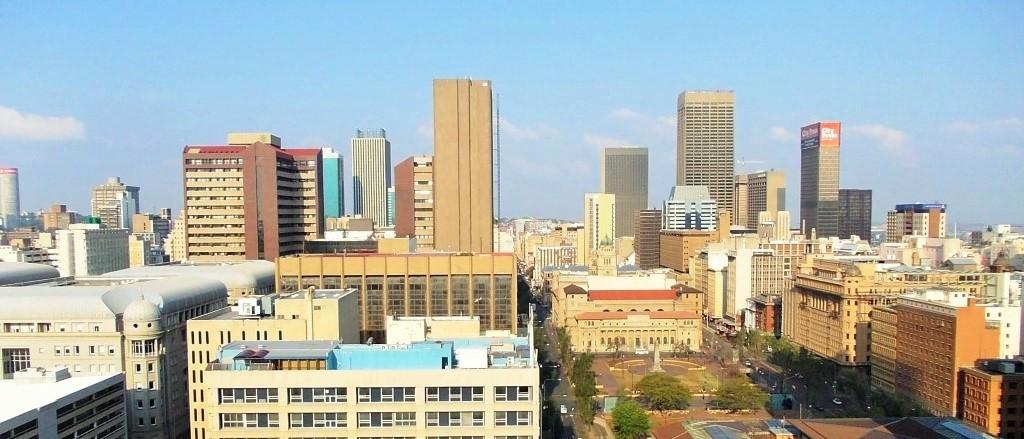 From Jo'burg to Jozi Stories about Africa's infamous city, edited by Heidi Holland and Adam Roberts, 2002, paperback, 258 pages, ISBN 0143024191
What is your name for Johannesburg? The answers are varied and your answer will depend on how long you have lived here and where you live. Jozi, Egoli, Jo'burg are just three of the familiar names. Since the 1980's Johannesburg's fortunes have declined, revived, taken new directions, gone up, wobbled again and the city has spread in all directions with hopeful shifts. In the face of the municipal refuse workers strike last month, it is the stench and smells of the city streets that raises the question, why do I and three or four million others live here? A combination of sigh and snigger escape when that slogan "A world class African city" is trotted out. An expletive bubbles when the  city's call centre puts through a courtesy cell call to inform me that unless I pay a municipal account for thousands of rands for a house I do not own in another suburb entirely, I shall be meeting the city in court! Eight visits to the metro centre still does not set right another erroneous bill for R100 000 for electricity on a property we do actually own. Everyone has their own Johannesburg story to tell. That is part of the edginess of the city, if you like living on the edge.
Book Cover
This anthology of stories about Africa's neglected, under rated megalopolis was assembled by the late Heidi Holland and Adam Roberts. The book was published in 2002 and most of the contributors were or still are journalists. Some of the stories are enduring essays from long standing Johannesburg writers and academics. The star studded cast of writers captured within the covers is extraordinary. Visitors, sojourners, immigrants, old locals and raconteurs are all on parade.  
The book started as a project to write a thousand words of Jozi on a theme or topic of choice in any style. It was a project that took five months from conception to sales shelves. It is an expression of Johannesburg energy. 
There are 60 stories and poems here from as many thoughtful contributors. Despite the passing of 13 years and the fact that my paperback has yellowed (the paper was not acid free), I think this is still a worthwhile read not least for Johannesburg people. Despite the fact that there are no dates or indicators where an essay was first written or published, my take on this book is that it reflects a diversity of views and writing on Johannesburg at dates any time and up to  eight years after the 1994 "all change" date. Each contribution stands alone and almost every contribution is a sad, funny or reflective read. Most of the stories are of personal experiences, incidents and episodes that show off human nature at both best and worst in the infamous city at the turn of the 21st century. Sometimes you are attacked by a criminal and are lucky to escape with your life. Other vignettes show people going out of their way to help, aid and rescue the victim. There are stories of black and white interaction and there is a deep strand of racial awareness. In 2002, the apartheid world was still too close to the present and the truth and reconciliation experiment does not feature in a single story.  
Hold it right there, why has "infamous" crept into the subtitle? Outsiders too often see Johannesburg as a place of high walls, violent crime and visible inequalities. They would rather be in Cape Town or Cairo than here. Insiders take the pace in their stride, know the pleasures and have welcomed the fascinating mix of cultures, living warily and taking precautions. Those who live in Jo'burg are tough survivors of muggings, carjackings and burglaries. Insiders share the secret as to why they love Jo'burg with all its surprises. We recognize the infamy but also enjoy the excitement, living on the edge of daily danger, with a foolish fatalism and stoical anxiety. Outsiders are drawn to become insiders. 
Heart of the CBD (The Heritage Portal)
Has much changed since 2000? Jozi has grown. There are more foreigners and more immigrants. The city is less a place to pass through than to linger and explore. There is more diversity, wider geographical spread, and perhaps the contrasts are greater than 15 years ago. There are more problems and more solutions too. The weather is still tops and the open blue sky viewed from the tops of the local koppies is as special as ever. 2010 and world fame and less infamy came with the soccer World Cup, but that too was a moment that passed.
It's impossible to single out favourite essays but Max du Preez, Ivan Valdislavić, Marlene van Niekerk, Christopher Hope, Phaswane Mpe, Mark Gevisser, Jo-Anne Richards and Gcina Mhlope are among my favourite writers. There is a taste of their work right here with all having written more substantial novels or books. Among the academics and writers, I enjoyed the contributions of Alan Lipman, Stephen Gray and Lindsay Bremner. Quite a few of the contributors have departed since 2002, the Bernsteins, Lionel Abrahams, Ken Owen, Anthony Sampson, Alan Lipman, Arthur Maimane. 
This is a book of essays worth reading and coming back to to reflect on the essence of Jo'burg, what has remained constant and what has changed. It is a book of stories that should inspire you to write your own story. Each of us has a Jozi story and indeed more than one at that. 
Overall this book is a creative expression, highly readable, and entertaining in giving 60 glimpses of the spirit of Jo'burg. The book captures a creative decade in the city's history. 
A second revised edition was published in 2010, attesting to the success of the book and making it a good seller for the influx of soccer fans. Royalties were donated to Cotlands.
2016 Guide Price: Second hand copies can be found easily at about R40. The book is still in print and available at Exclusive Books.
Kathy Munro is an Honorary Associate Professor in the School of Architecture and Planning at the University of the Witwatersrand. She enjoyed a long career as an academic and in management at Wits University. She trained as an economic historian. She is an enthusiastic book person and has built her own somewhat eclectic book collection over 40 years. Her interests cover Africana, Johannesburg history, history, art history, travel, business and banking histories.
Wednesday, May 4, 2016 - 07:10