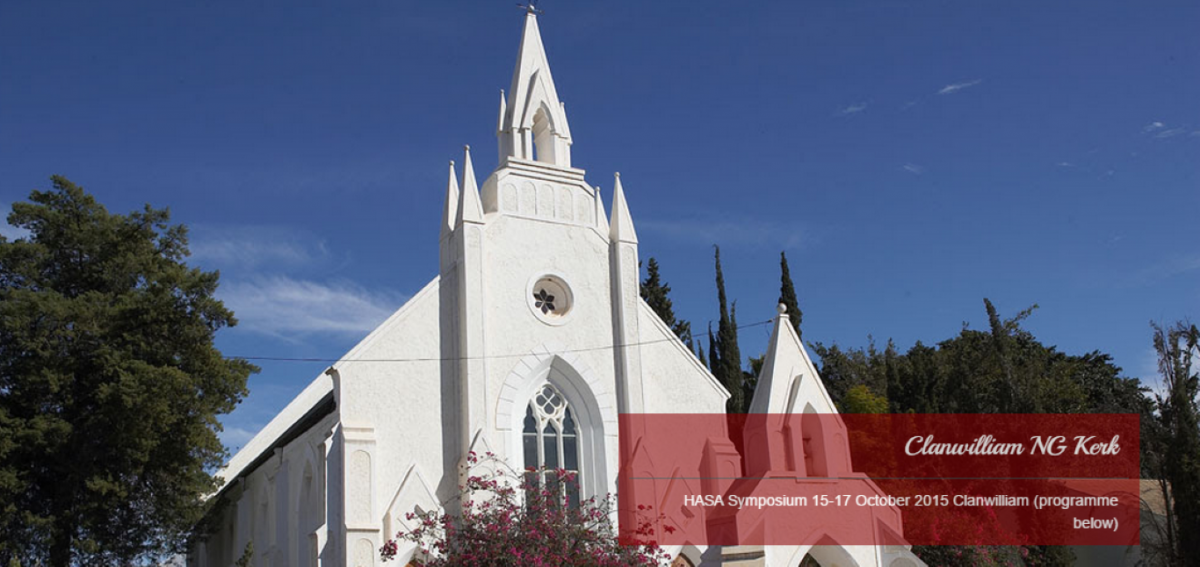 Expiry:
Sunday, October 25, 2015 - 02:00
Once a year the Heritage Association of South Africa (HASA, formerly the Simon van der Stel Foundation) hosts its annual heritage symposium in a heritage town or village.  In exactly one week HASA affiliates will descend on Clanwilliam in the Western Cape – this year's selected host.   
The gathering is HASA's most prestigious annual event. Over three days, an anticipated one hundred heritage activists and professionals from around the country will network, share the latest knowledge, discuss pertinent issues facing the sector and highlight conservation challenges in particular communities.
Not only is Clanwilliam one of South Africa's rock art hotspots but the area has some excellent examples of vernacular architecture – both in the town itself as well as at historic farmsteads in the surrounding area. Clanwilliam – like many other towns – suffered  when the community of Sederville was moved and their houses demolished. It is also the home to the Clanwilliam Living Landscape Project, which presents an interesting case study in how to involve local communities in the preservation of both tangible and intangible heritage resources. In the wider area there are historic caves as well as mission villages such as the famous Wupperthal station. It is of course also the centre of the Rooibos industry in South Africa.
For these reasons Clanwilliam can be regarded as one of South Africa's top heritage towns, however it is a fragile heritage. The Clanwilliam dam wall has been earmarked for upgrading which will increase water levels. Specialists and activists argue this will impact on important heritage resources and other aspects of the environment. The community needs to urgently formulate a plan for rescuing and documenting these invaluable resources before they disappear. This is but one urgent area the symposium will explore – how to get the best conservation minds together to look at possible conservation strategies.  
In addition, heritage houses and farmsteads will be visited both in the town and at Boskloof while the community and the demolished buildings of Sederville will be commemorated.
Click here to download programme
94 Mill St, Paarl, Western Cape, 7622. South Africa
T: 082 651 9252 E: info@heritagesa.org W: www.heritagesa.org
During the Annual General Meeting, HASA affiliates will report back on their activities over the past year while current council members will report on HASA activities and progress made on specific issues – in what has been an eventful year for heritage. The association will focus on current challenges regarding the development of a new white paper for the sector as well as government proposals in respect of contentious colonial and apartheid era public monuments and memorials.
The symposium will also culminate in the annual Simon van der Stel award dinner when HASA will present its annual gold awards for outstanding conservation work in South Africa.
During the three days of jam-packed activities, tours, traditional food, local arts, crafts and culture will be on offer to delegates and visitors to Clanwilliam.
This year's symposium is supported by:
Tourism Clanwilliam, Rooibos Ltd, Cederberg Winery and HASA.
Any media enquiries may be directed to:
Len Raymond
Chairperson Heritage Association: of SA
082 651 9252
Email: dalrest@iafrica.com
ABOUT THE HERITAGE ASSOCIATION OF SOUTH AFRICA
The Simon van der Stel Foundation, known today as Heritage Association of South Africa, was established in 1959 and is currently the largest and oldest non-governmental (NGO) organisation involved in heritage conservation in the country.
For more information visit www.heritagesa.org or follow us on Twitter at @HeritageAssocSA.
Created
Monday, October 12, 2015 - 18:58
Disclaimer: Any views expressed by individuals and organisations are their own and do not in any way represent the views of The Heritage Portal.