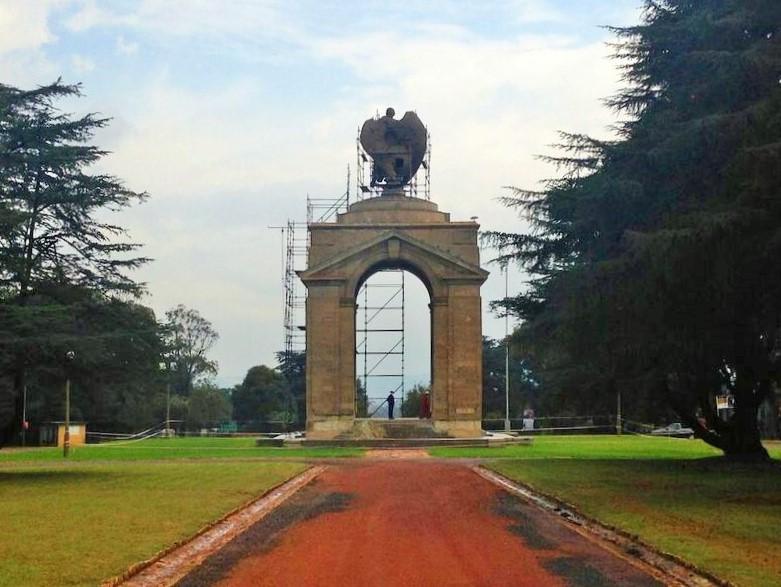 Thursday, November 12, 2015 - 10:46
[Originally published in April 2015] At a time when many memorials have been neglected and dozens of statues have been vandalised it is wonderful to report that the landmark South African / Anglo Boer War Memorial in Saxonwold is being restored. Scaffolding is in place and a competent contractor has been appointed.
It appears as though this will be a comprehensive restoration which will include the iconic bronze winged figure positioned on top. The City of Johannesburg must be commended for initiating and financing this important work.
The memorial was designed by the famous architect Edwin Lutyens and completed in 1910. It was known as the Rand Regiments Memorial and honoured British soldiers killed during the conflict. This one sided approach meant that the memorial stirred controversy for many years.  In the late 1990s this was rectified when the memorial was rededicated to "the memory of the men, women and children of all races and all nations who lost their lives in the Anglo Boer War, 1899-1902".
We were lucky enough to be taken around the site on two separate occasions to look at the work being conducted. The second visit included a once in a lifetime journey to the top of the memorial to see the winged figure of Victory, Nike. Enjoy the photos below.
Disclaimer: Any views expressed by individuals and organisations are their own and do not in any way represent the views of The Heritage Portal.